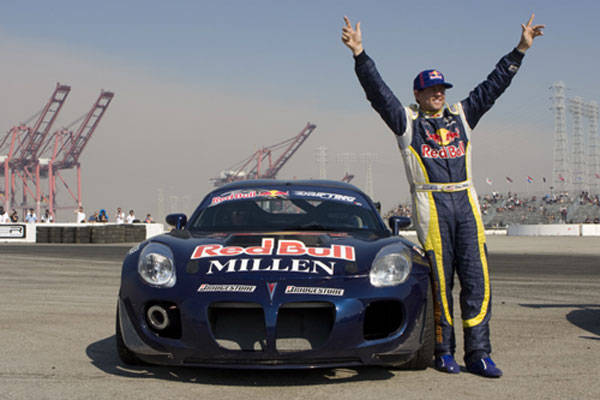 Last Friday, April 27, we announced a "Meet Rhys Millen in person" contest, in which five (5) TopGear.com.ph readers will get to hang out with the popular rally driver and drift racer. As you know, Millen is in town to promote Red Bull energy drink. The event organizer has been kind enough to squeeze an interview and photo shoot for Top Gear Philippines in the celebrity driver's Manila schedule.
Of course, us being your friendly neighborhood car magazine, we wanted five of our readers to tag along with us when we go meet Mr. Millen. So we thought of this contest. We simply asked you the question: WHY ARE RED BULL DRIVERS AWESOME WITH THE STEERING WHEEL?
Continue reading below ↓
Recommended Videos
Below are the five (5) winners--they who sent the best answers to the question. They will be receiving an e-mail from us, instructing them on how to show up at our meeting with Rhys Millen. Thanks to all who joined!
(1) ERWIN TALAVERA: When you're studying for a big exam for the next day at 1am in the morning...Red Bull. When you're rushing through a 12-hour workday straight...Red Bull. When you're getting the last pair of those hard-to-get limited-edition shoes for your GF during a big sale...Red Bull. And when you're in a drift circuit with professional drivers sponsored by energy drinks...only Red Bull makes a driver AWESOME!!!
(2) ENRICO ANTONIO YLANAN: Ever since birth, Red Bull drivers have been given Red Bull as a substitute to milk. As they grew older, their dependence on Red Bull also grew, becoming their water for most of their lives. When they started out in motorsports, their reflexes and skills were already maxed out. It was only natural for Red Bull to choose them as their drivers in various motorsport disciplines. Red Bull runs through their veins and has replaced all other forms of bodily fluids.
(3) ERNEST JOEL CABANILLA: Because just like real bulls, they focus on their target and charge head-on without fear.
(4) VINCENT CHUA: They are considered to be awesome because Red Bull drivers are aggressive and precise when behind the wheel. Nothing can stop their raging hunger for adrenaline. Pretty much like a bull.
(5) MARVIN SY: My girlfriend says that when im on Red Bull, I drive her crazy!