We're told that imitation is the sincerest form of flattery, so Ken Block should be mighty flattered at the car above. It's the work of a bloke called Alex Saint, who has taken a look at Kenny B's 900hp slammed pickup from Gymkhana Ten and thought, "I want one of those." Just smaller.
So, instead of using a 1977 Ford F-150 as a base, he went for a 1971 Honda N600 pickup and lobbed an old Suzuki GSX-R 1000 bike engine in the back to give the 487kg mini-truck a power-to-weight ratio of 390hp/ton. Which is a lot in something that has a tube chassis, minuscule eight-inch wheels wrapped in 9.5-inch-wide, 18-inch-tall tires, a six-speed sequential gearbox, and seemingly the complete absence of suspension.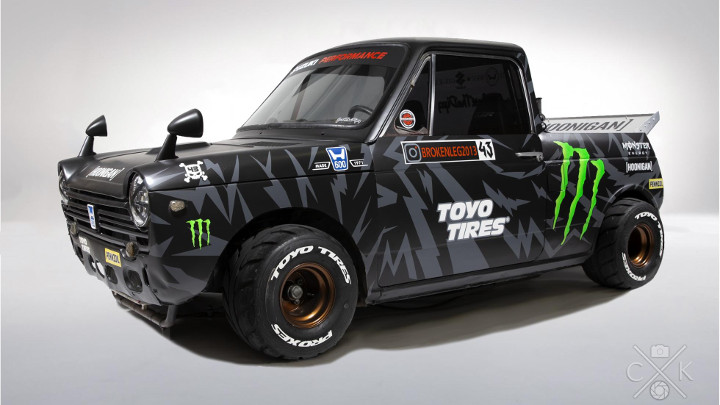 However, it also means it's terrifically fast. A keen drag racer, Alex has managed to get the pocket-sized pickup down the quarter-mile in 12.4 seconds at 167kph. But that's just the start, as he wants to strap a turbo to the engine to give it 400hp (so somewhere in the region of 821hp per tonne) and get it into the low tens. We think Alex may need some medication.
What we love about this build is the detail that's gone into it. And the insanity. It's like a driveable scale model with a confused identity: a Japanese pickup pretending to be American but with a bike's heart. And if you think the paint job is some fancy wrap, think again. It's the painstaking work of Jason Brozak who opted not to use paint, rather sprayable rubber known as Plasti Dip. Then stencilled all the logos rather than opting for stickers.
Now, who wants to see Ken's truck meet its little offspring? Because we sure do.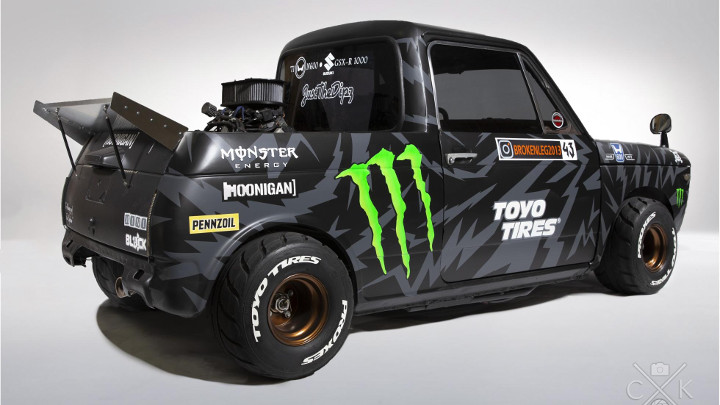 NOTE: This article first appeared on TopGear.com. Minor edits have been made.