So, how about that Lotto jackpot, huh? Wait, you haven't heard? It's already totalled at over P700 million--a mind-boggling amount for all but the filthy rich 1% of car guys.
The sum has us thinking: Supposing you're the sole winner of that amount, what cars would you buy? And just as importantly, how many?
P700 million is a lot of money. We did some math, and came up with a few rough estimates. With that much money, you can buy 1,221 units of the Mitsubishi Mirage G4 or around 845 units of the all-new Toyota Vios. While you're at it, might as well secure a sizeable portion of the country's ride-hailing industry, too. Grab, you had better watch out.
Not the enterprising type, eh? How about 680 units of the Ford Ranger or 552 Isuzu MU-Xs? Here's a better idea: Buy just a fraction of those units, purchase a mountain, give away a few of them and start your own off-roading community.
ADVERTISEMENT - CONTINUE READING BELOW ↓
Still too tame? Okay, okay. With P700 million, you can purchase almost 100 units of the Nissan GT-R (does Nissan Philippines even have that many to spare?). Or you know, you could buy 50 and build a small racetrack to kickstart a local grassroots racing program.
Of course, these are just our pitches. What cars would you buy if you became a multi-millionaire overnight?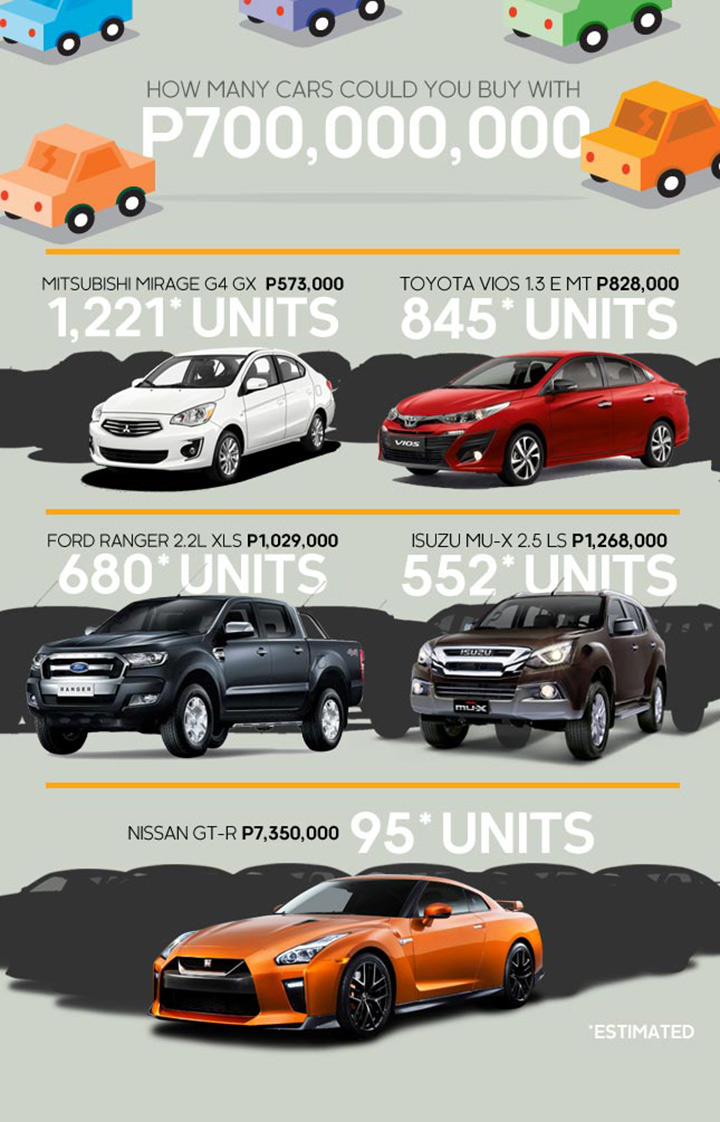 ADVERTISEMENT - CONTINUE READING BELOW ↓
Recommended Videos