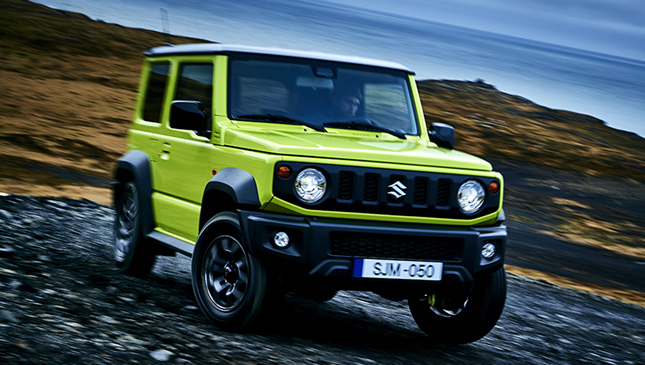 When the all-new Suzuki Jimny was revealed last month, many likened the iconic off-roader's new look to that of a miniature G-Class, something that didn't sit well with some of the vehicle's die-hard fans.
While most embraced its updated design, others were quick to label it a rip-off. But is this really the case? Well, the Japanese carmaker recently released more photos of the Jimny online (this time doing what it does best), and we have to say we don't care what the 'influences' are, if any. The Jimny looks awesome.
Sure, it might look like it took design cues from other rugged SUVs. And maybe it has (that neon/lime green paint finish is reminiscent of the Mercedes G500 4x4² that blew up the internet back in 2015). But it's clear that most of the inspiration for the Jimny's aesthetic overhaul has come from previous generations of the beloved crawler.
Continue reading below ↓
Recommended Videos
For starters, those minimalist round headlights and the turn indicators flanking them are carried over from the first-generation Jimny LJ10 released during the '70s. Then you have the feature lines running along the sides and rear combination lamps from the second-gen model. Plus the grille design and clamshell hood look like tougher versions of those found in the third-gen Jimny.
Check out the photos below and judge its design for yourself. Whatever the case, we think everyone will agree that they're just glad the boxy little Jimny has finally made its comeback. Are you as excited for its Philippine arrival as we are?