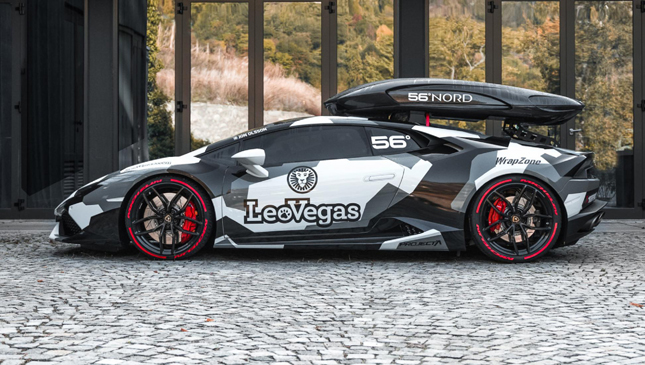 Jon Olsson is a man who has fine form when it comes to his car collection. In the past, he's modded and slapped a roof box onto a GT-R, Audi R8, Lamborghini Gallardo, Murcielago SV, Le Mans-style prototype race car and, his pièce de résistance, a DTM-inspired Audi station wagon with enough power to reverse tectonic movement.
This is his latest daily driver, an 800hp Lamborghini Huracan. Again wrapped in camo with a roof box plopped on top. Yes, and yes.
Jon is a professional skier, Gumball 3000 veteran and now, a YouTube star thanks to his Insta-worthy life and insane dedication to pretty much everything. Which includes his cars.
Not a fan of half-measures, Jon saw the Gallardo's successor and decided to turn it up to 10. Something he explained to us after revealing the new car.
"I wanted a sick-looking car with great tuning capabilities," Jon said. "Four-wheel-drive was high on the list, so I started with a list of potential cars including a new RS6 DTM, Nissan GT-R and Ferrari FF. But then I moved over to sports cars as I love the reaction when I arrive at ski slopes in them. I then narrowed it down to the Audi R8, McLaren 650S and Lamborghini Huracan. I fell for the Huracan as I love the design and the V10 kills it sound-wise, plus it has four-wheel-drive."
ADVERTISEMENT - CONTINUE READING BELOW ↓
After driving the car for just 478km, Jon started work on stripping it down in order to build it back from the ground up. He enlisted the help of Swedish tuner Stertman (the same tuner who fitted two 18-karat gold anodised turbochargers to Jon's RS6, raising the horsepower to a nice round 1000hp) for something a little more ambitious.
"Initially, I planned to build a crazy widebody kit. But after driving the stock Huracan, I realized that I did not want to mess with the suspension geometry. And to be honest, I thought it looked so good stock that I did not feel that it was worth the amount of time it would have taken to build a new body. I just told Stertman to build me the fastest car possible while maintaining the driveability and feel of the car."
They accepted the mission. First thing the Swedish tuning firm did was get a VF supercharger kit. A lot of big horsepower Lambos normally go down the twin-turbo route, but because Jon needs it to be reliable and do a lot of mileage (Jon put 50,000km on his Lambo in one winter), putting a blower on was a lot more sensible. As standard, the kit makes 800hp, but it's been tweaked and optimised over the last few months to give more. Definitive stats are currently unknown, but during testing, it was pulling from 100 to 200kph times in around 5.3 seconds. A Veyron does the same in five flat.
ADVERTISEMENT - CONTINUE READING BELOW ↓
Recommended Videos
There's also Eventuri carbon fiber air intakes (good for noise) and a full Akrapovic exhaust system with customized cats built into the headers (very, very good for noise). It's been lowered with a K&W suspension kit but apparently not to the detriment of handling. Then the carbon ceramics brake discs were shelved in favor of steel. Before you cry foul, Jon wants to use the Huracan in the winter and around ski resorts where temperatures are cold, and grit and salt is plentiful, so steel is actually a better option than carbon.
Nine months and €100,000 (about P5.26 million) later, the car was complete. So off it went to be wrapped in Olsson's infamous camo design (his house is covered in the stuff) then to for Nord 56, where they lobbed a wonderful full-carbon ski box on top. Just look at those mounts. Stunning.
So how does it drive?
"Like a tighter, lower, faster Huracan," Jon told us. As a man who's owned many Lambos (including a two-wheel drive Murcielago SV), he's loving the new-fangled comfort from the Italian supercar brand.
ADVERTISEMENT - CONTINUE READING BELOW ↓
"It's 10 times more refined than the Gallardo, which is the huge difference. But I think the handling is the biggest difference. I have never been in a car that gives me this much confidence in high-speed cornering."
There're no plan for it to enter next year's Gumball just yet. But he does plan on putting lots of miles on it while doing crazy things. If he decides to drive up a glacier again, don't worry, we'll be the first to tell you.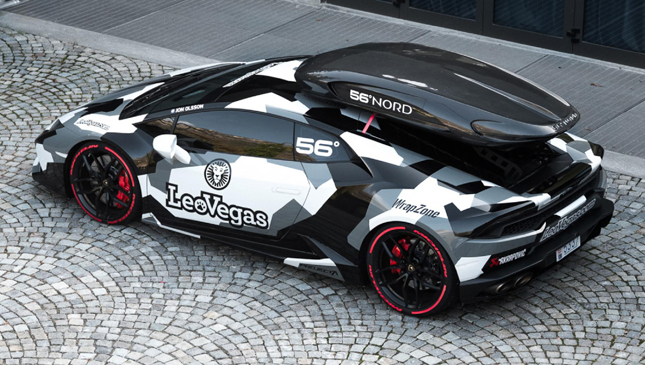 ADVERTISEMENT - CONTINUE READING BELOW ↓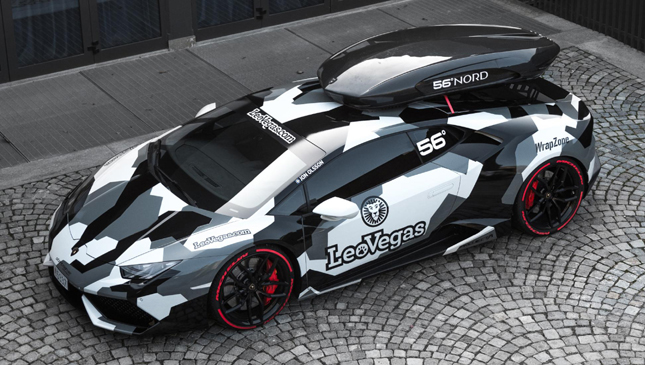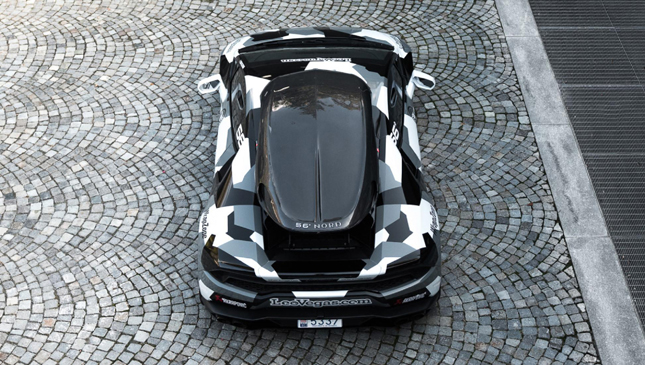 ADVERTISEMENT - CONTINUE READING BELOW ↓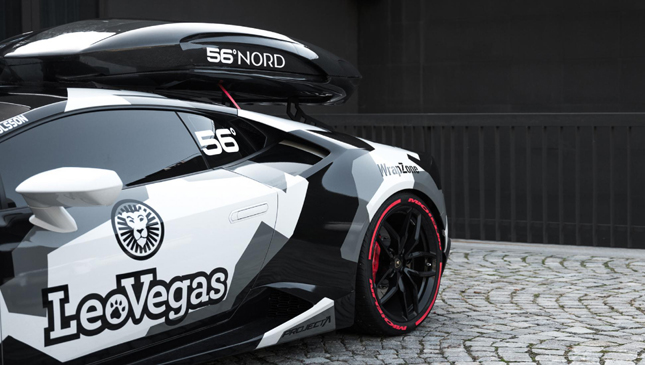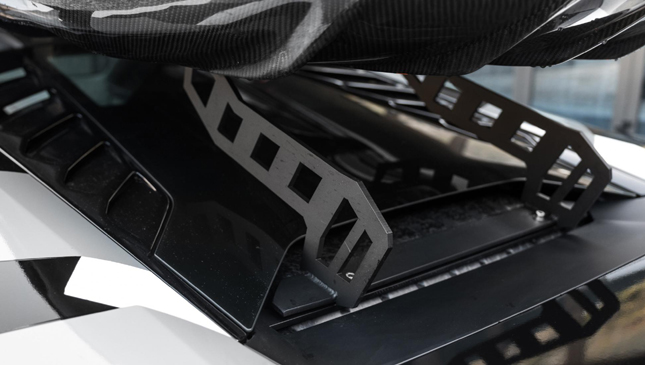 ADVERTISEMENT - CONTINUE READING BELOW ↓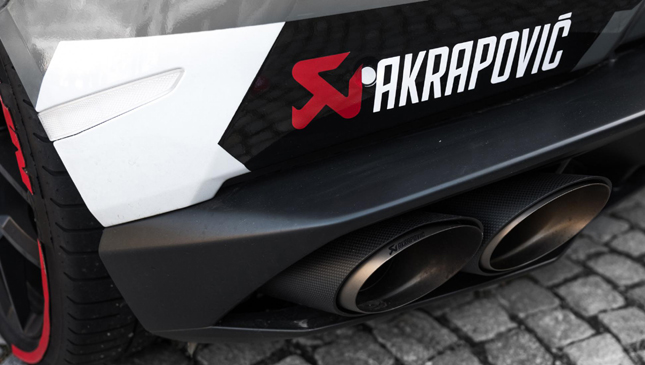 NOTE: This article first appeared on TopGear.com. Minor edits have been made.