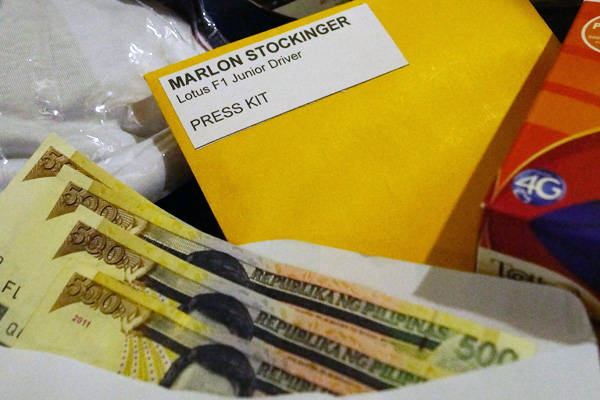 I recently got an invite to the press conference announcing Fil-Swiss racer Marlon Stockinger's upcoming test drive of Lotus F1's car, which would make him the first driver of (half) Filipino descent to try out an actual Formula 1 car. While I fully support the young driver, I skipped the event and simply sent a writer to cover it for TopGear.com.ph, not least because Stockinger's PR handler is the same lifestyle PR person who used to invite me to his events by enumerating all the "raffle prizes" that he intended to give away to salivating journalists.
It turned out my decision not to go to the press conference was a good one.
For starters, I learned that only a handful of the motoring press were present; most were from the entertainment beat. As such, the questions thrown at Stockinger went something like these:
"Who is your crush among the young actresses in Philippine showbiz?"
ADVERTISEMENT - CONTINUE READING BELOW ↓
"Are you willing to go daring when you enter show business?"
"What if Kuya Germs asks you to be a mainstay host on his show? Can you afford not to sleep?"
Okay, I invented the third and last one, but you get the point.
Now, I understand the desire by some people to see Marlon on the silver screen. Like karter-turned-actor Mateo Guidicelli, Stockinger boasts movie-star looks that can endorse products left and right. But the time to consider a fallback career in show business isn't now--now when Marlon has a legitimate chance to be a huge star in international motorsports. We have never been this close to possibly having a driver in F1. And if he makes it big in his current field, whatever he stands to earn from movies and product endorsement is loose change by comparison.
ADVERTISEMENT - CONTINUE READING BELOW ↓
Recommended Videos
That said, I do recognize the importance of inviting showbiz reporters to the press con, considering their audience reach. And this kind of reach is what attracts sponsors, which Stockinger needs now and will badly need in the future if he hopes to snatch a driving seat in Formula 1. One such corporate sponsor is Globe, whose Tattoo broadband service is presently being endorsed by Marlon.
ADVERTISEMENT - CONTINUE READING BELOW ↓
But questions about going "daring" in the movies? Seriously?
Here is the best part. According to Top Gear Philippines writer and Top Bikes editor-in-chief Brian Afuang, the media people in attendance were handed the customary loot bag after the press con. Inside it were the following items:
* Event shirt;
* Two CDs containing press information and photos;
* Globe Tattoo broadband stick; and
* A sealed envelope with P2,000 in cash
"Real classy, guys," says Brian, who will turn over the envelope to his boss at The Manila Times, where he is also motoring editor.
Not being self-righteous here or anything, but I like that the motoring beat is generally clean when it comes to payola. The only instance--in my opinion--where money is okay to change hands in our line of work is during overseas assignments, as per diem (acceptable but not advisable). Cash envelopes at press conferences or thanksgiving parties, however, should be frowned upon.
ADVERTISEMENT - CONTINUE READING BELOW ↓
Then again, what do I know? I only write about cars.