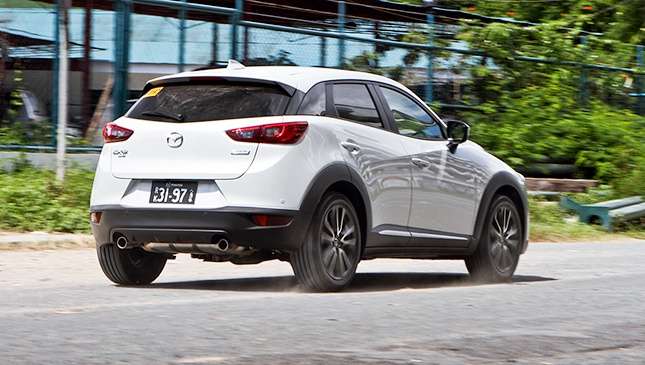 To us, there are two kinds of subcompact crossovers. First is the practical bunch: relatively cheap with an emphasis on getting occupants from point A to B in as efficient a manner as possible. They're okay as daily drivers, but expect more and you might be left disappointed.
Then there are the 'sporty' ones. And among these, the Mazda CX-3 is probably the best. Here are a few reasons why:
1) The availability of AWD.
Who doesn't love the extra grip a good old AWD system provides? The top-spec CX-3 runs on one, and it should come in handy whether you're plying wet and unfamiliar roads or taking on some mountain twisties during a road trip. Which brings us to…
Continue reading below ↓
Recommended Videos
2) The engine will make you grin.
That aforemention AWD system works beautifully with the CX-3's punchy 2.0-liter SkyActiv gasoline engine and all the 146hp and 192Nm of torque at its disposal. Together, they offer the most enjoyable driving dynamics in its class, and will be sure to put a smile on your face.
The refresh, which was just recently unveiled at the 2018 New York International Auto Show (NYIAS), has had its torque bumped up to 200Nm. No word yet on when an update will arrive for the Philippine market.
3) It's a sight for sore eyes.
Muscular, sporty and low--the CX-3's Kodo design looks sort of like a mix between a small SUV and a subcompact sedan. If you've ever wondered how the offspring of a Mazda 2 and CX-5 would look, here's you answer. And we mean all of that as a compliment by the way. The vehicle is particularly dashing in white compared to other Mazdas, too. At NYIAS 2018, the new version showed off updated taillights, nicer trim, and a new wheel design. So there's that to look forward to as well.
4) It's the little things that count.
And boy, does this Japanese carmaker know how to deal with 'the little things.' We're talking about everything from paddleshifters, to a very upscale-looking interior with relatively premium trim all around, and an incredibly easy-to-use infotainment system.
Of course, all of the above comes at a price. The top-of-the-line Mazda CX-3 AWD Activ comes in at a costly P1.6 million, and the base variant carries a price tag of P1.290 million. That's steep, but again we aren't talking about any run of the mill subcompact crossover here. The CX-3 is sporty, sexy, fun to drive and one of the best in its class.