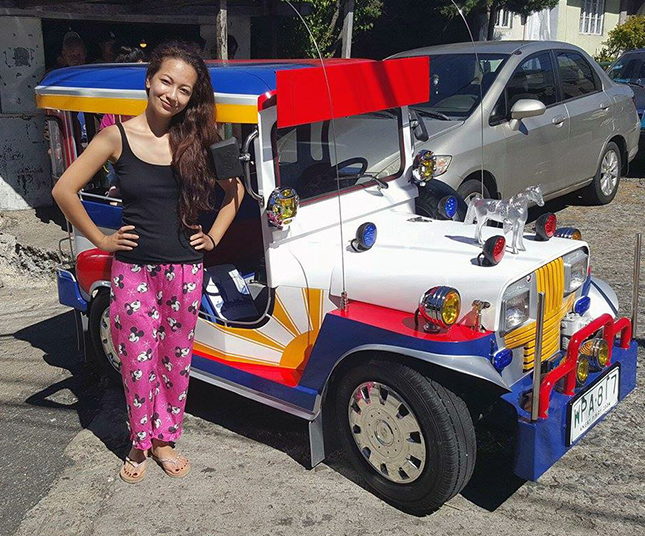 On December 23, we posted on our Facebook page a photo of a cute little jeepney aptly named Jeepito by its owners. Yep, the same vehicle you now see here. One of the owners, Tante Galang, saw the post and sent us more pictures of their pride and joy.
According to her, Jeepito is based in Baguio City, and that it has been "patented and registered." She also added that the diminutive jeepney--measuring 92 inches in length, 42 inches in width and 55 inches in height--is fully functional and can be used on the highway. Using a three-cylinder Suzuki Multicab engine, Jeepito can haul four passengers, including the driver.
Tante then sent us a narration of Jeepito's beginnings as told by Tonton Papa Tan, who we presume is her husband.
"The idea for Jeepito came about when I decided to give back to the community, and share my blessings because my company had been blessed and was really earning well," Tan writes. "I decided to promote social responsibility by giving to the orphaned and the homeless. I then had an idea that the best way to deliver charity to people was to give them a reason to be excited and smile about. Delivering charity using Jeepito would surely make people happier and more conscious about social responsibility."
Continue reading below ↓
Recommended Videos
With that, Tan also wanted to promote tourism in the region, proudly calling himself a "Baguio boy." He considered promoting tourism as another way of giving back to the community.
Tan shares that he designed Jeepito in their private garage in Baguio City, but that it was assembled in Mabalacat, Pampanga. He also claims that it took him and his co-builder Arnel Pacia just one month to finish the project, costing him a total of P165,000 in the process. He spent another P50,000 for the vehicle's registration so it would be classified as street-legal.
"Jeepito was first supposed to roam the subdivision that I was developing in San Leonardo, Nueva Ecija, but the clamor for launching it in Baguio was so great that I decided to drive it up to Baguio City from Mabalacat, in time for the Christmas holidays. Launching Jeepito in Baguio during the holidays would guarantee that it would entertain a lot of tourists."
And now that the project is finished, Tan has dubbed Jeepito as "the world's smallest Philippine jeepney."
"I made it a point to give the paint job a Philippine-flag theme because I wanted Jeepito to be a symbol of nationalism and of the country itself," Tan points out. "Watch out! Jeepito will soon visit your city to give everyone the smile that our country has always been proud of."
We hope the owners can bring Jeepito to our office so we can ride it. There are at least half a dozen things we want to do with it in our neighborhood.
Photos from Tante Galang