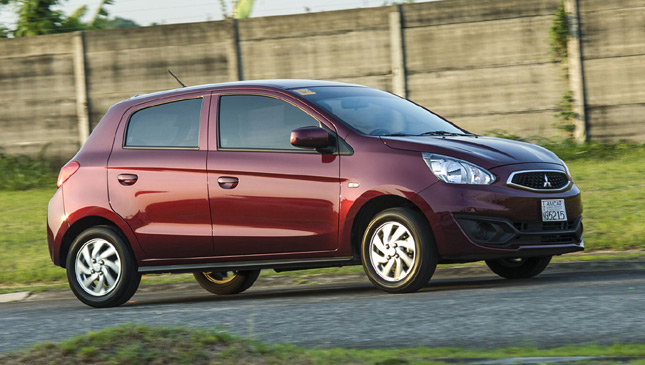 In 2016, Mitsubishi Motors Philippines (MMPC) gave the Mirage, the company's hugely successful hatchback offering, a refresh.
At the time, the vehicle was already one of the most popular cars in the country--you couldn't turn a corner in the city without coming across a unit. By endowing it with a more dynamic look and adding to its refinement, Mitsubishi's update only solidified the Mirage's place in the automotive landscape.
Simply put, MMPC easily made the Mirage one of the most attractive choices in its segment. But does this still hold true today? We think yes, and here are five reasons to back up our stand:
Continue reading below ↓
Recommended Videos
1) It's one of the best-looking hatches.
Or rather, it still is. Almost two years later, the Mirage's 2016 aesthetic update--which included projector headlights, a new front grille, and nicer trim--still gives it one of the more pleasing designs in the segment. Frankly, anyone would be hard-pressed to name a better-looking direct competitor.
2) It's a great city car.
Nice visibility? Check. Compact size? Check. A capable engine with decent fuel economy? Check. A cabin you wouldn't mind sitting in traffic in? Check. And the list goes on. If you're a car buyer on the hunt for a small daily driver in 2018, we have to say the Mitsubishi Mirage might just tick all the right boxes.
3) The cost is still reasonable.
Even with the recent implementation of the Tax Reform for Acceleration and Inclusion (TRAIN) law and the onset of higher car prices, the Mirage still remains well within reach of the average motorist. The top-of-the-line GLS variant jumped up by P13,000, and that's already the most significant increase.
4) There's room inside.
Don't let its compact size fool you--the Mirage makes nice use of the space its design affords it, and it can easily seat five average-size Filipinos. We do have to say that the cargo area's space leaves a little to be desired. But this is something easily solved by folding down the rear passenger seats.
5) You're supporting our country.
In case you missed it, MMPC recently opened its own body stamping plant in Santa Rosa, Laguna. It's the biggest facility of its kind in the Philippines, and is expected to increase local production of Mitsubishi vehicles--Mirage included--by a substantial margin.