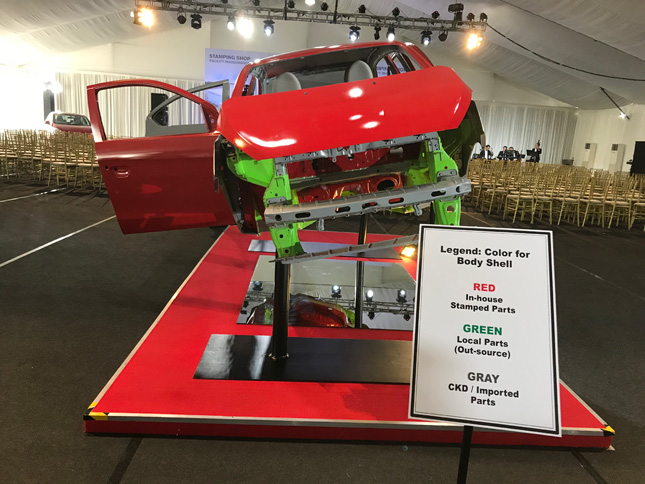 Last week, Mitsubishi Motors Philippines Corporation (MMPC) formally announced the opening of its new body stamping facility in Santa Rosa, Laguna. After the Japanese carmaker—and it really does make cars now more than ever—opened its Laguna plant in 2015, it has sought to strengthen its presence in the growing Philippine automotive market.
This is a big deal for Mitsubishi, as the stamping machine will allow it to manufacture its own body panels. As you can imagine, this significantly streamlines the manufacturing process for the Philippine factory.
The stamping machine is the biggest in the Philippines, and it has the capacity to produce 35,000 units per year via two shifts. This will allow MMPC to scale up local production dramatically of the Mirage and the Mirage G4.
Continue reading below ↓
Recommended Videos
After the formalities and the speech by Secretary Ramon Lopez of the Department of Trade and Industry, we were given a quick tour of the impressive facility. In typical Japanese fashion, everything was clean and organized; I could tell this wasn't just for show.
There are actually two stamping machines: one with a capacity of 1,000 tons and another with 2,000 tons. Sheets of steel are brought in to the facility, where they are washed, stamped and then trimmed and pierced before being sent to the assembly line.
With the new equipment, MMPC has raised the local content of the Mirage to 35%, and will increase it further to fulfill its requirements for the government's Comprehensive Automotive Resurgence Strategy (CARS) program. You might recall that, as part of the CARS initiative, the first locally assembled Mirage was presented to President Duterte last year.
Since 2015, Mitsubishi's Santa Rosa plant has already generated 600 new jobs. And by 2023, MMPC plans to have produced 200,000 Mirage and Mirage G4 units.
MMPC president and CEO Mutsuhiro Oshikiri expressed optimism about the new facility: "The opening of our new stamping shop is the beginning of a new chapter in the story of Mitsubishi Motors' operations here in the Philippines. The stamping shop enables us to turn the aspiration of localized production into a reality, further building our presence in the Philippines, at the same time strengthening our offering to consumers."
We've always believed that Filipino labor, properly trained and guided, is second to none. We hope MMPC increases the local content of its products even more in the future.