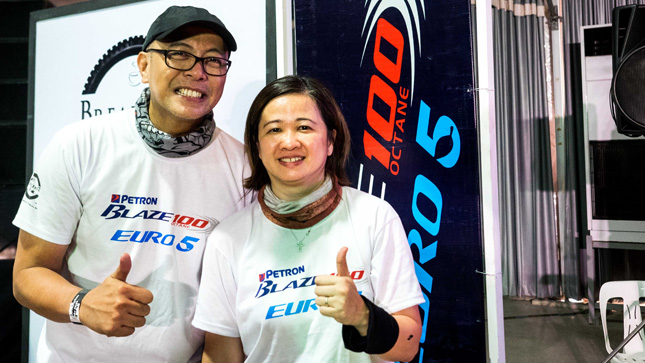 After successfully conducting four Breakfast Ride events, big bike groups have again bonded together, but not for happy times and motorcycle talk. It's time to be Good Samaritans, they say.
Organizers of the Breakfast Ride, led by riding couple Raymon and Malou Gabriel, are now calling on fellow riders to help in relief operations for the hundreds of thousands of victims of super typhoon 'Lawin' (international name: Haima), that hit many parts of Northern Luzon last October 20.
ADVERTISEMENT - CONTINUE READING BELOW ↓
Worst hit areas include Cagayan and Isabela, where weather officials hoisted Typhoon Signal No. 5—the highest tropical cyclone signal. At the height of its devastation, Lawin packed maximum winds of up to 225kph and gustiness of up to 315kph.
Also affected were the areas of Apayao, Kalinga, Ilocos Sur, Ilocos Norte, Abra, Mountain Province, Ifugao and the Calayan islands. Thousands of houses were swept to the ground by Lawin's strong winds. Heavy flooding and landslide incidents were reported in many areas in the region. Two weeks have passed after Lawin wrought havoc in the area, and affected Ilocanos are still appealing for assistance.
Dubbed as "One Ride, One Mission," the Breakfast Ride participants will proceed to Cagayan and Isabela on their motorbikes on November 5 and 6 for the outreach program. The Breakfast Ride community has around 1,500 members, and it is composed of different big bike groups coming from the various parts of the country.
ADVERTISEMENT - CONTINUE READING BELOW ↓
Recommended Videos
In partnership with Petron Corporation, the Breakfast Ride movers are asking for donations from the riders before they motor to the Lawin-affected areas in Regions 1 and 2.
"We are knocking on your doors. Let us help our kababayans," Raymon posted in the group's Facebook page. "Distribution will be done to families that need it the most as assessed by fellow riders in the badly affected areas," added Ada Bautista Mamon, another BR official.
Volunteers are expected to converge at the Petron Marilao station at 4am on November 5, before they proceed in two groups to Ilagan, Isabela and Tuguegarao, Cagayan for the relief operations. On November 11, another group of riders from Mindanao will join the Breakfast Ride community for the second relief mission also in Isabela and Cagayan.
The riders will be given the chance to interact with the affected residents, who are willing to share not only their hardships, but also their resilience in recovering from the calamity.
ADVERTISEMENT - CONTINUE READING BELOW ↓
A good motorcycle group promotes camaraderie and companionship. A great one helps those in need. We're glad to know one of the latter.