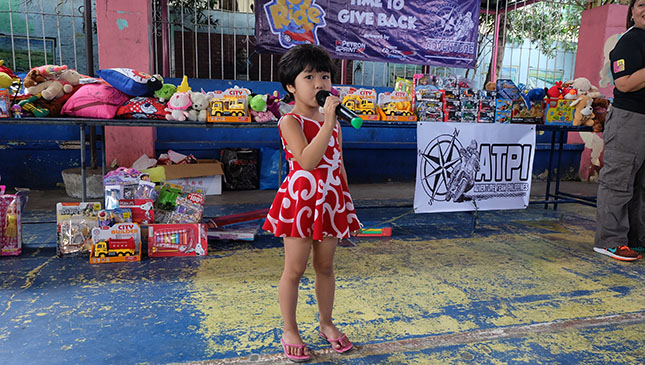 Undisciplined, arrogant, rebellious, self-centered. These are only a few of the words that many people typecast motorcyclists not only in the Philippines but almost everywhere. As a result of this stereotyping, the two-wheelers end up as one of the most hated creatures on earth.
But motorcycle riders are quick to debunk these claims, saying that they are also responsible citizens who have noble purposes in life. They have soft spots, too.
This was proven last Sunday, December 18, by members of two big motorcycle organizations in the country—the Adventure Team of the Philippines, Inc. (ATPI) and the Pinoy Ninja Club. Mounted on their big bikes, the two groups braved intermittent rain and rode to Malabon and Calamba, Laguna, to meet with children from indigent families. Dubbed as the "Toy Ride," members of the ATPI and Pinoy Ninja gathered toys among themselves and friends two weeks before the event.
ADVERTISEMENT - CONTINUE READING BELOW ↓
Also present was Petron, a long-time partner of ATPI for charity undertakings with orphanages and homes for the aged, according to ATPI president Francis Rivera. "It was one way of giving back for the countless blessings we've received," says Bong Paguia, local station manager of Petron.
At Barangay Tinajeros, Malabon City, more than 150 boys and girls gathered at the barangay hall received toys from ATPI members who arrived at the area around 10am. Barangay Tinajeros was chosen among other barangays because it was considered the poorest among them.
Packed in boxes, the toys included teddy bears, dolls, Transformers characters, mini cars, and toy kitchen items among others. To the kids' delight, Petron also gave out Avengers toys. The kids, who were mostly accompanied by their parents, were also treated by ATPI to delicious lugaw (porridge) and bibingka (rice cake).
To express their gratitude, the children rendered song and dance numbers for their visitors. Tinajeros barangay captain Alvin Manalac was among those who welcomed the ATPI riders and thanked them for their generosity. It's the best way for the kids to feel the true meaning of Christmas, he said.
The same is true with the ATPI and Pinoy Ninja Club members.