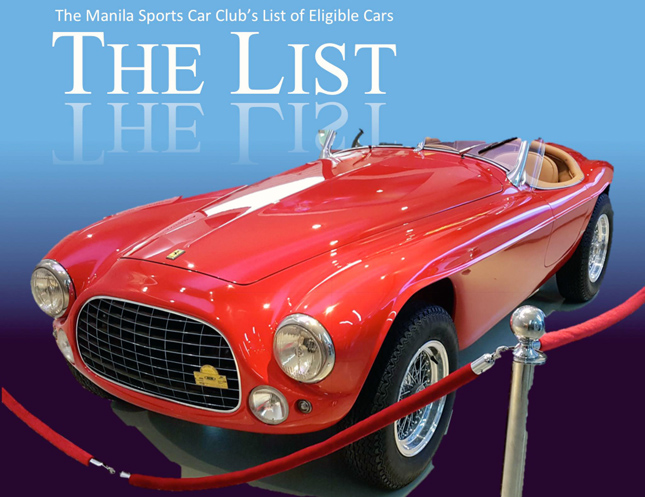 Any car guy has a pretty solid idea of what a "sports car" is--or at least recognizes one when he sees it. But for the sake of better understanding, we refer to our trusty dictionary for definition: A sports car is "a low-built car designed for performance at high speeds." By that very definition, it is not enough for an automobile to be extremely fast--if it's not sitting merely inches from the ground (and doesn't have two doors), it can't be considered a proper sports car.
This, perhaps, was the unadulterated guideline of the Manila Sports Car Club when it put together its "List of Eligible Cars," or what the group describes as its "list of cars that it considers sports cars." Which means that if you don't see your car on this list, you probably shouldn't be referring to it as a sports car regardless of its horsepower rating. Yep, the likes of the BMW M3, the Subaru WRX (or STI) and the Mitsubishi Lancer Evo are not on this list. And neither is the much-revered Nissan GT-R, because, as MSCC explains, "for all Nissans, only two-seat models are eligible."
The popular Toyota 86 did make the roster, even though it is also a 2+2 car just like the GT-R.
According to MSCC, the club is "a nonprofit organization dedicated to the preservation and enjoyment of sports cars." Anyway, we know you're already itching to see each and every sports car included in the list, and so without further ado, here is that list. See if you completely agree:
ADVERTISEMENT - CONTINUE READING BELOW ↓
* AC: Ace, Aceca, Cobra
* ALFA ROMEO: 8C2300 (1931-1934), Disco Volante (1952), SZ-1, SZ-2 (1959-1961), TZ-1, TZ-2 (1965-1988), Giulietta Spider (1955-1962), Veloce (1955-1962), Tipo 33 Stradale (1967-1969), Duetto and Spider (1966-1993), 126 Spider, Giulietta Sprint (to 1962), Veloce (1955-1962), 8C Competizione (2007-2008), 4C (2013-2014). By way of exception: 105 GT Junior, 105 1750 and Sprint, 105 GTV and GTA, 4C (2014+)
* ALPINE: A110
* ARIEL: Atom
* ASA: Ascari, Ecosse
* ASTON MARTIN: 1.5-lite Le Mans (1927-1936), DB1 to 6, Vantage V8/V12 (2005-2015), Vanquish (2012-2015)
* AUDI: R8 (2006+)
* AUSTIN HEALEY: Sprite, 100, 100/6 (1956-1959), 3000
* BECK: 550 (reproduction)
* BERKELEY: B65 (1956-1960)
* BIZARRINI: GT Strada
* BMW: 328 (1936-1939), 507 (1956-1959), M1, Z1, Z3, Z4, Z8
* BRICKLIN: SV-1 (1974-1976)
* BUGATTI: Types 35, 37, 55 (to 1932), EB110 (1991-1995), Veyron
* CHEVROLET: Corvette
* CISITALIA: 1100 202 (1948-1952)
* DAIMLER: SP250 (1959-1964)
* DELOREAN: DMC-12
* DE TOMASO: Mangusta, Pantera
* DONKERVOORT: All models to 2015
* ELVA: Courier
* ERA: Cobra (reproduction), GT40 (reproduction)
* FACEL VEGA: Facella
* FERRARI: All models to 2015, except 400 (1976+), 412 (1985-1989), 456 and 456 M (1992-2003), 612 Scaglietti (2004-2010), FF (2011+)
* FIAT: Balilia 11005 (1932-1937), Otto Vu or V8 (1952-1954), 1500/1600 (1959-1967), 124 Spider and Coupe, Dino (1966-1973), 850 Spyder (1968-1973), X1/9 (1972-1989), Barchetta (1995-2005)
* FORD: GT, GT40. By exception: Shelby GT350 (1965-1966)
* FRAZER NASH: Le Mans Replica (1948-1955)
* GINETTA: G4 (1961-1968)
* GUMPERT: Apollo
* HEALEY: Silverstone (1949-1950)
* HONDA: S600 (1965-1966), S800 (1966-1970), NSX, S2000
ADVERTISEMENT - CONTINUE READING BELOW ↓
Recommended Videos
* HRG: 1500 (1946-1954)
* ISO: Grifo, Rivolta
* JAGUAR: SS 100 (1936-1939), XK 120, 140 and 150, C-Type, D-Type & XKSS, XKE (including 2+2), XJR (1990-1992), XJ220 (1992-1994), F-Type (2013+)
* JENSEN-HEALEY: Jensen Healey (1972-1976)
* KOENIGSEGG: CCX
* LAMBORGHINI: All cars to 2014, except Espada
* LANCIA: Aurelia B24 Spider (1955-1956), Beta Monte Carlo (1975-1984), Aurelia B20 GT (1951-1953), Appia GTE Zagato (1960), Flaminia GT (1956), Flaminia Supersport Zagato (1958), Flavia Sport (1954-1957), Stratos (1974-1976), Zagato (1979)
* LEXUS: LFA
* LOTUS: All models to 2015
* MARCOS: 1800, Mantula, TSI GTC, R/T
* MASERATI: AGG 2000 (1954-1957), 3500, Bora, Ghibli (1967-1973), Khamsin, Merak, Mexico, Mistral, Urraco, 4200 Spyder (2001- 2007)
* MAZDA: Cosmo, RX-7, Miata (Eunos, MX-5)
* MCLAREN: All models to 2015
* MERCEDES-BENZ: 190SL (1954-1962), 300SL (1954-1962), 230SL, 260SL, 280SL (Pagoda 1962-1972), 280, SL 350SL, 450SL (1974-1980), SLK (1998-2014), SLS AMG Gullwing (2010-2014), AMG GT/GTS (2015+)
* MERCER: Raceabout (1911-1914)
* MG: K3 Magnette, M-Type Midget, D and J Series Midgets, all "T" Series, MGA, MGB, MGB GT, MGC, MGB GT, Midget, MGF (1995-2002)
* MICHEL: TC (reproduction), TF (reproduction), Seven (reproduction), Cobra (reproduction), 550 (reproduction), Speedster (reproduction)
* MORGAN: Aero, Super Sports Aero (1920-1932), Grand Prix (1926), Super Sports (1927-1939), Sports (1932-1939). All post-war models to 2014, except Four-Seater
* MOSSLER: MT900S, T, RGT3
* NISSAN (DATSUN): Fairlady 1500 (SP310/SPL310, 1963-1965), 1600 (SP311/SPL311, 1965-1970), 2000 (SR311/SRL311, 1967-1970), Fairlady Z (1970-1978), 240Z, 260Z, 280Z, 300ZX (Z31 body, short-wheelbase), 350Z, 370Z, Fairlady ZG, 240ZG, 432/432R. For all Nissans, only two-seat models are eligible
ADVERTISEMENT - CONTINUE READING BELOW ↓
* NSU: Wankel Spider (1962-1967)
* OPEL: GT
* PAGANI: Zonda, Huayra (2012+)
* PORSCHE: All cars to 2014, except Panamera, Cayenne, Macan
* RENAULT: Caravelle and Floride (allowed by way of exception), Sport Spyder (1999)
* RILEY: Brooklands (1929-1932), Sprite (1936-1938), 2.5-Liter Roadster (1948-1950)
* SAAB: Sonnet
* SALEEN: S7 (2000-2007)
* SINGER: Le Mans (1933-1937), 4AD, Nine
* SUBARU: BRZ
* SUNBEAM: Talbot Alpine (1953-1955); Alpine, Harrington Le Mans GT, Tiger
* STUTZ: Bearcat
* SUPERFORMANCE: Cobra, Daytona, Corvette Grand Sport (reproductions), GT40 (continuation series)
* TOYOTA: Sport 800; 2000 GT (1967-1970); MR2, MR-S, 86
* TRIUMPH: TR2, 3, 3A, 3B, TR4 and 4A, TR5, 250, TR6, TR7, TR8, Spitfire (including GT and GT6)
* TVR: All models to 2007
* VOLVO: P1800 (including ES, 1969-1972)
* WESTFIELD: Seven (reproduction), Eleven (reproduction)
* WOLSELEY: Hornet Special (1932-1938)
Image from Manila Sports Car Club's Facebook post