The Kia Pride was literally flying off the shelves to be used as taxicab, fleet service and the 'official' automobile for med reps, and more importantly, to transport young college students.
It was a simple car that got you from point A to point B without any frills, but the comment from the colegialas as you make a pa-pogi drive by probably was, 'Ay, naka-Pride?' If you were a straight-up kind of person and had your priorities right, that wouldn't faze you at all, but imagine pulling up to the curb in a Picanto today. Indeed, Kia has come a long way, and I'm sure you wouldn't mind hearing, 'Ay, ang cute!' even if the comment wasn't referring to your person.
The Picanto is a looker. It was probably created to erase any of the Pride stigma carried on from years passed. It will turn heads. Inside, the Picanto feels much bigger than it looks. It has the most 'cabin forward' layout among the bunch, thus giving the driver and passengers more headroom, or the feeling of it. It is quite airy inside as there are what seem to be acres of glass. For a little car, it is quite big inside, perfect for hauling your study group. Five people can fit, though rear passengers will be rubbing elbows and thighs. Not a bad thing if you study at a co-ed university.
Carry a lot of junk like trigonometry and philosophy books? The Picanto has plenty of cubby-holes that can accommodate anything. The dash alone has four receptacles, and there are a total of 18 cubbies throughout the entire interior. There are bins and pockets on the doors and center console. The only drawback would be the possibility of losing track of your stuff, but a diligent student never would, right?
ADVERTISEMENT - CONTINUE READING BELOW ↓
Though bland (all you see and touch is dull gray), the interior still has an edge over the Spark and the Alto. It looks modern and well-thought-out. All of the controls are within easy reach and there are hardly any gaps between the interior trim. The rear seats also fold down for that extra space, but there really isn't a lot of room back there. A few overnight bags will fit, but if you play a musical instrument, a dreadnought guitar wouldn't even fit without retracting the rear seat back.
Get behind the wheel and the 1.1- liter engine revs enthusiastically. There is a lot of pep for those quick launches. Surprisingly, the automatic transmission is quick on the draw, almost rivaling the favored manual transmission when it comes to acceleration. It is a hoot to drive, but don't expect it to keep up with the larger sedans when it comes to top speed, as after 60kph the engine begins to struggle somewhat. Strange that the speedometer dial has the 50kph position marked in red. I think it indicates when to rev the engine mercilessly hard, especially when loaded to capacity with passengers.
Around tight eskinitas, weaving in and out of stop-and-go traffic, and maneuvering around cramped parking lots, the Picanto excels. It is nimble and predictable, and for a small car, it doesn't really feel like one. This can be seen as a plus or a minus depending on your preferences. The challenge was keeping track of the dimensions. The side mirrors magnify the images a little too much and cause a little disorientation. The 'blind spot' is also unusually large. Be mindful when changing lanes or executing U-turns as you might end up cutting off a jeepney or large SUV without even knowing it.
The Picanto also has an unusually large steering wheel. This wouldn't be too bad if it weren't too stubby and unweildly, but then again, when you are driving the Picanto, it feels as solid as any new sedan. Bumps and ruts are isolated. There is no kalampag to speak of.
Kia's build quality has vastly improved. Based on initial impressions, it seems that this car can handle plenty of abuse, especially from first-time license holders. Plus, it is fuel-efficient despite the constant mashing of the gas pedal. Unfortunately, there are no airbags in the test unit that we drove.
The Picanto redeems Kia from the Pride reputation and the overall package is more than satisfactory for a first-time car for a student. The Picanto is an excellent budget college cruiser.

Here's the inside story.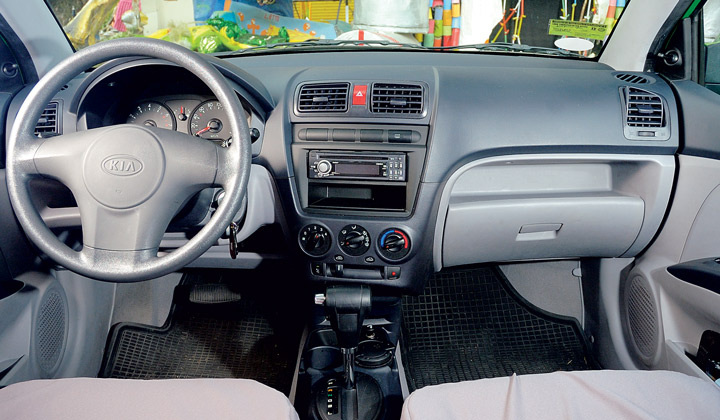 STEERING WHEEL
It is huge for a car of this size, plus the massive bottom spoke makes it a little unwieldy. It is made of a plastic material that doesn't offer too much grip, so you have to clasp it firmly. But while driving, it offers solid feel, though slightly disconnected.
ADVERTISEMENT - CONTINUE READING BELOW ↓
AUDIO HEAD UNIT
Here's Clarion, notorious for not being user-friendly. This is a confusing unit to operate, but it offers enough in terms of sound quality. Too bad that there are only two speakers at the front. Sadly, there isn't any iPod or MP3 gadget connectivity. An easy upgrade.
CABIN FORWARD
A very large expanse of dashboard. This adds to the illusion of space in the interior. A definite plus in a car of this size. If only it was finished in beige, then maybe it won't look too cheap. This is a lot of plastic to look at. No airbags, unfortunately.
GAUGES
It is all here. Tachometer is accounted for, and all the other gauges are arranged neatly. Electronic LCD odometer comes standard. Why the '50kph' mark is rendered in red, we don't really know.
CUBBY-HOLES
Count the number of receptacles in the dash and they will reach double digits. The Picanto has so many places to stash your things, and cup holders abound. Convenient. 
Note: This story first appeared in Top Gear PH's May 2007 issue. Minor edits have been made.