As film plots go, Smokey And The Bandit is particularly flimsy.
Bo 'Bandit' Darville (Burt Reynolds), is a hot-shoe truck rodeo driver approached by a wealthy, and extremely thirsty, businessman looking to throw a party in the dry state of Georgia. He offers the Bandit $80,000 if he can drive from Atlanta, GA to Texarkana, TX and return within 28 hours, bringing back with him a truck-load of bootleg Coors beer.
Being the world-class opportunist he is, Bo insists on an advance to buy a brand-new 1977 Pontiac Trans Am to act as an outrider for his friend Cledus Snow, aka the Snowman, who'll be driving the truck.
Punch the route into Google Maps, and you'll notice it's a fairly casual 19-hour round trip. Problem is, Bo insists on picking up a runaway bride and flirting incessantly. He clearly hasn't been studying his Highway Code either and dislikes driving anywhere without armfuls of opposite lock. As a result, he's pursued relentlessly by gurning Texas Sheriff Buford T. Justice.
ADVERTISEMENT - CONTINUE READING BELOW ↓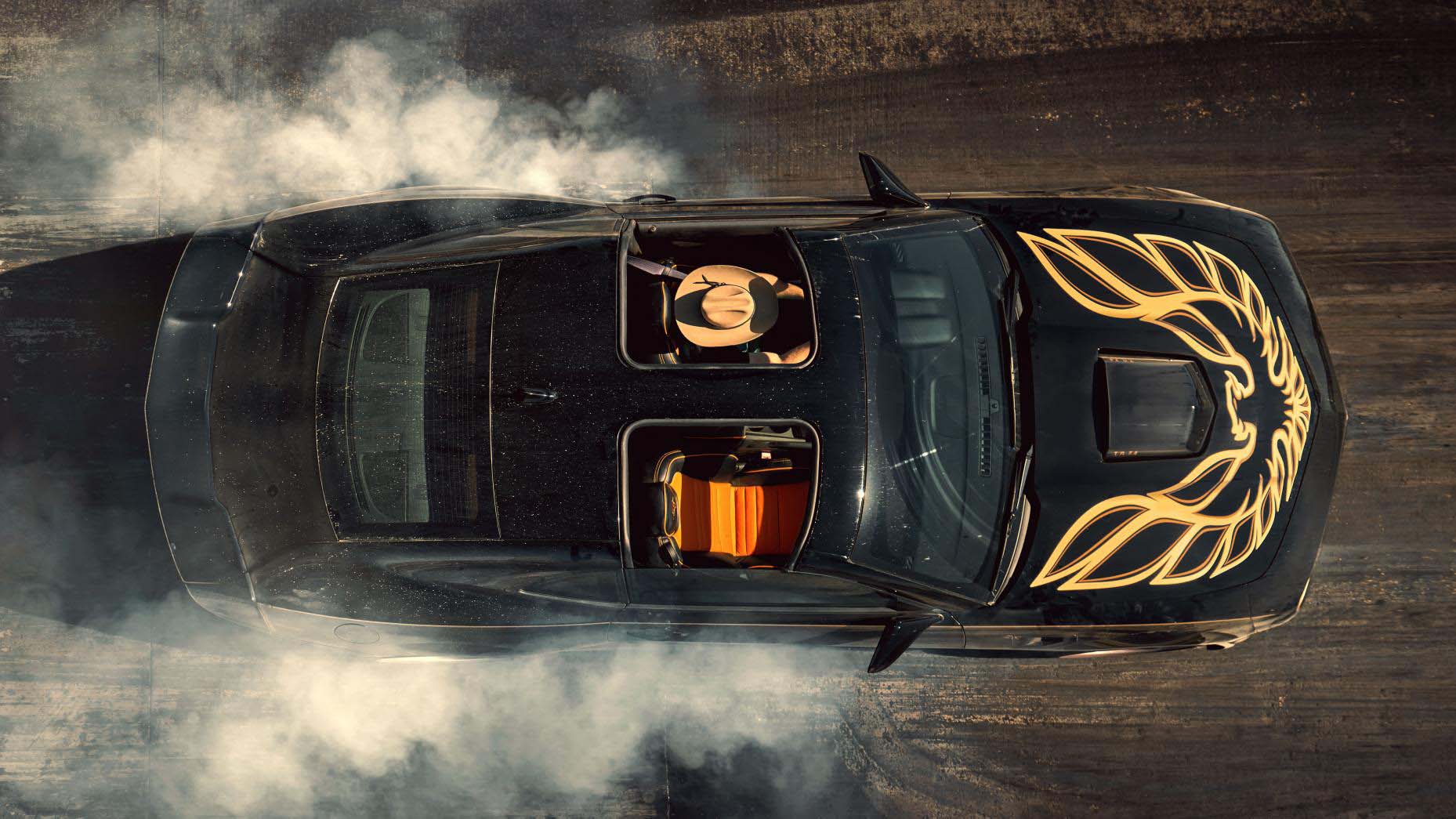 Now, decades after Smokey And The Bandit cemented the Trans Am into muscle-car folklore, the screaming chicken has been reborn. Pontiac is no longer with us, but the team at Trans Am Worldwide (TAW), new owners of the Trans Am name, have done a remarkable job of converting a Chevrolet Camaro SS into the authentic tribute you see here.
ADVERTISEMENT - CONTINUE READING BELOW ↓
Recommended Videos
This is the range-topping Bandit Edition, complete with removable T-top panels, black and gold in all the right places, and a 7.4-liter V8 with a 2.9-liter twin-screw supercharger producing 717hp and 1,132Nm—that's more twist than the twin-turbo V12 in a Mercedes-AMG SL65. Yikes. And before you ask, yes, it comes with a Stetson as standard.
Our mission is simple: To take the '77 Trans Am's spiritual successor and follow in its father's tracks. We have 28 hours to buy some beer in Texas and get back to our starting point—the very Lakewood Fairgrounds in Atlanta where Bandit once plied his trade. Sounds easy? In the movies, perhaps, but in the real world, eating, sleeping, refueling and photography will need to be budgeted for. And when you've got a car like this, where's the fun in taking the direct route? Start the clock.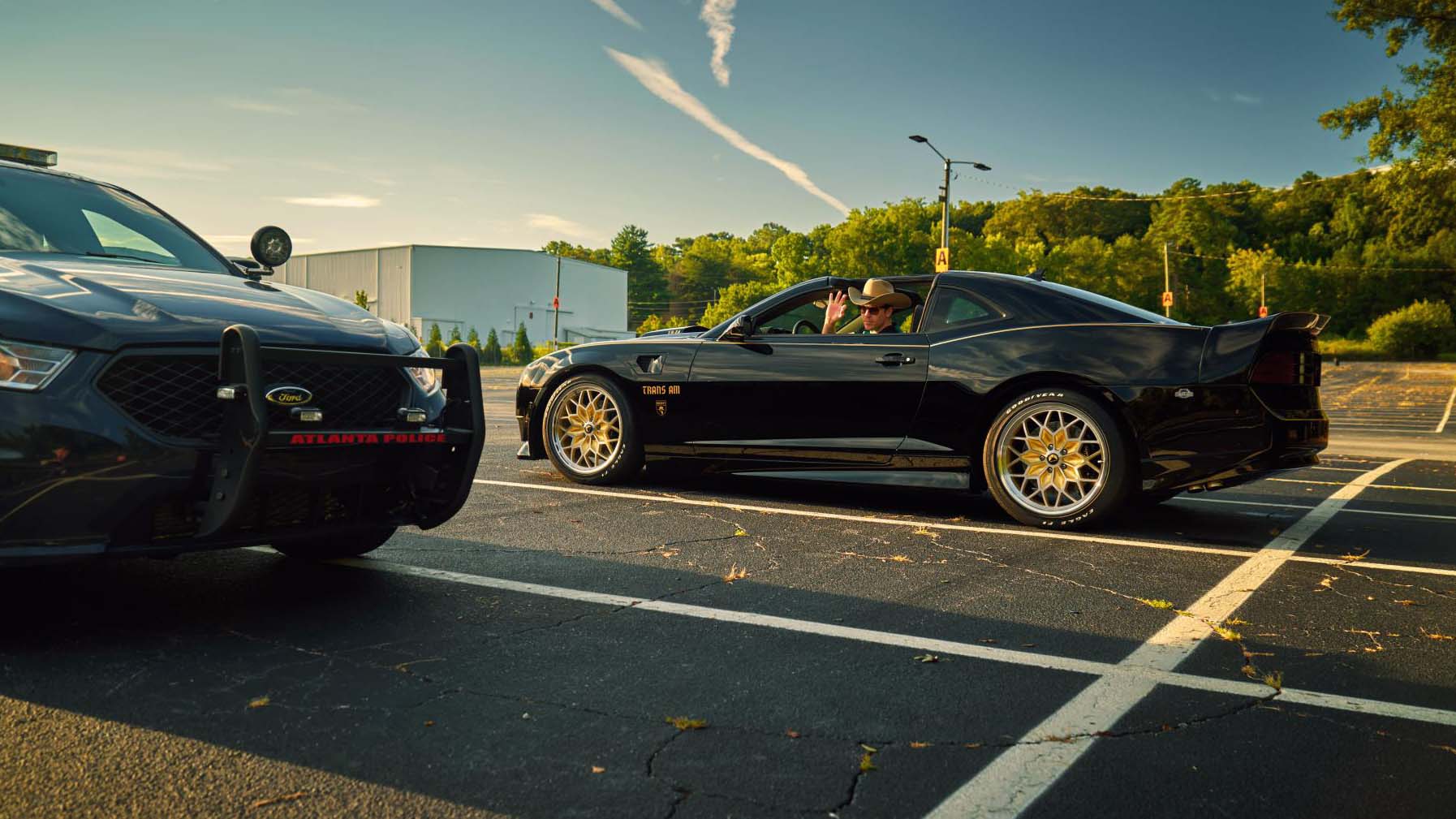 ADVERTISEMENT - CONTINUE READING BELOW ↓
00:00 I've massively underestimated the time and care it takes to cultivate facial hair anywhere close to Burt's glossy 'tache. I gave myself a week and now look like a 15-year-old who's shaded his upper lip with a pencil in a sorry attempt to get served his first beer. No matter, this is America, and there are all sorts of strange-looking people here. Maybe I'll blend in.
We grab the keys to our Trans Am in the Lakewood Fairgrounds. Within minutes a policeman pulls up and tells us to "unleash those hungry horses, boys". I eye him and his enthusiasm suspiciously—he's clearly lulling us into a false sense of security before warning his radar-wielding Smokey buddies up ahead that a fast-moving Trans Am is on its way. Then again, he could just be friendly.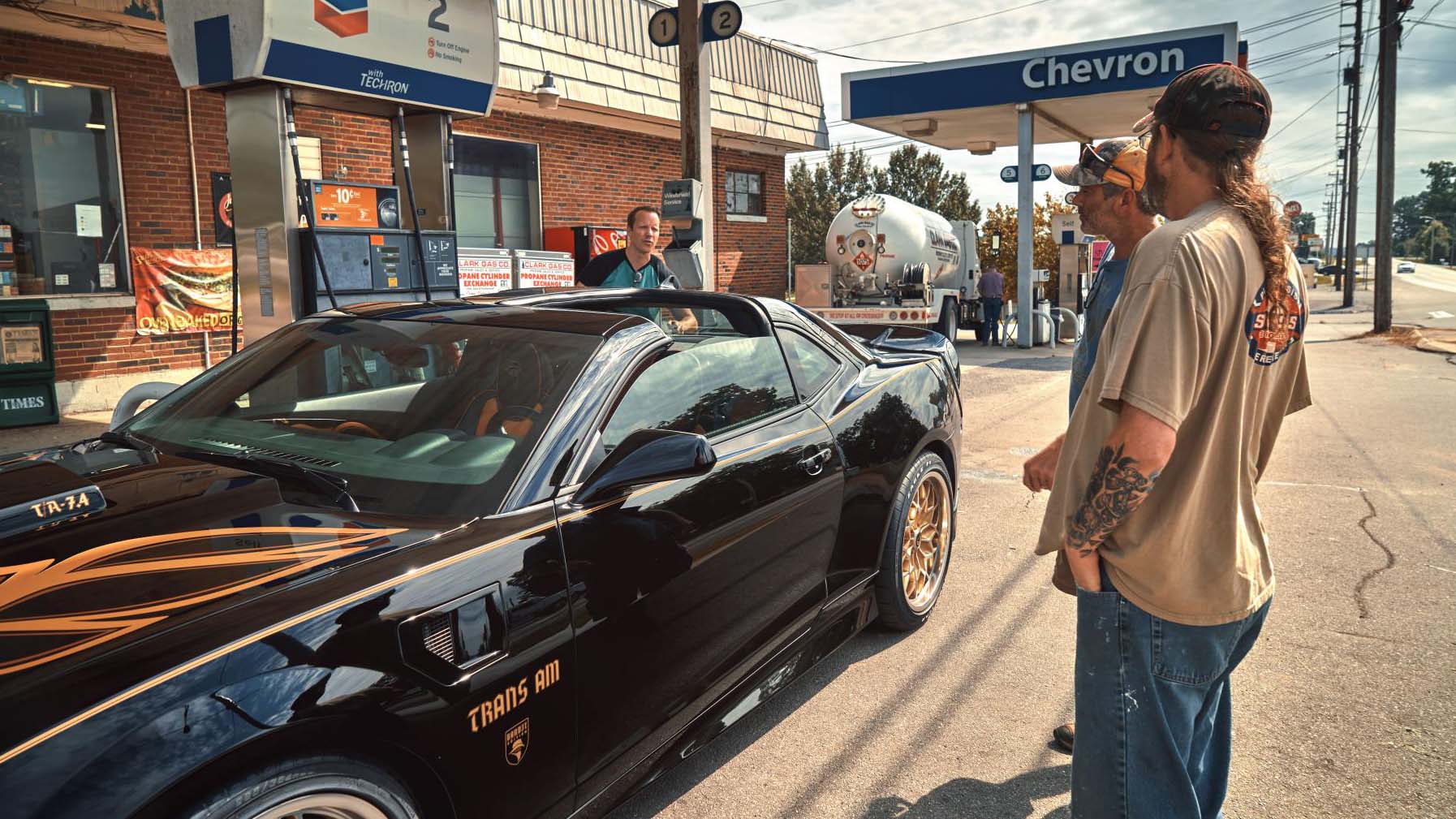 ADVERTISEMENT - CONTINUE READING BELOW ↓
01:15 Disaster narrowly averted. With the T-roof open and the panels stored in the boot, the wind whips off my Stetson and snapper Webb Bland takes a glorious overhead catch. Burt's must have been glued on.
03:05 First fuel stop in Holly Pond, Alabama, 265km into the trip. That sort of range doesn't bode well for a schedule with less wiggle room than Coulthard's tighty whities. There's no such thing as a short stop in this car, people swarm around it. One of them claims to have watched the film an oddly specific 109 times.
After giving a third stranger the full tour—this includes pointing out Burt Reynold's endorsement signature on the dash, the buxom lady on the aircon graphics, and original '77 Trans Am font on the dials—we make our excuses and run. But here's the thing; to some this car will be the tackiest thing on four wheels, but here in the Deep South, it's the second coming. We feel safe and accepted. Actually, scratch that, we feel like royalty—something exotic and Italian wouldn't get this much attention.
ADVERTISEMENT - CONTINUE READING BELOW ↓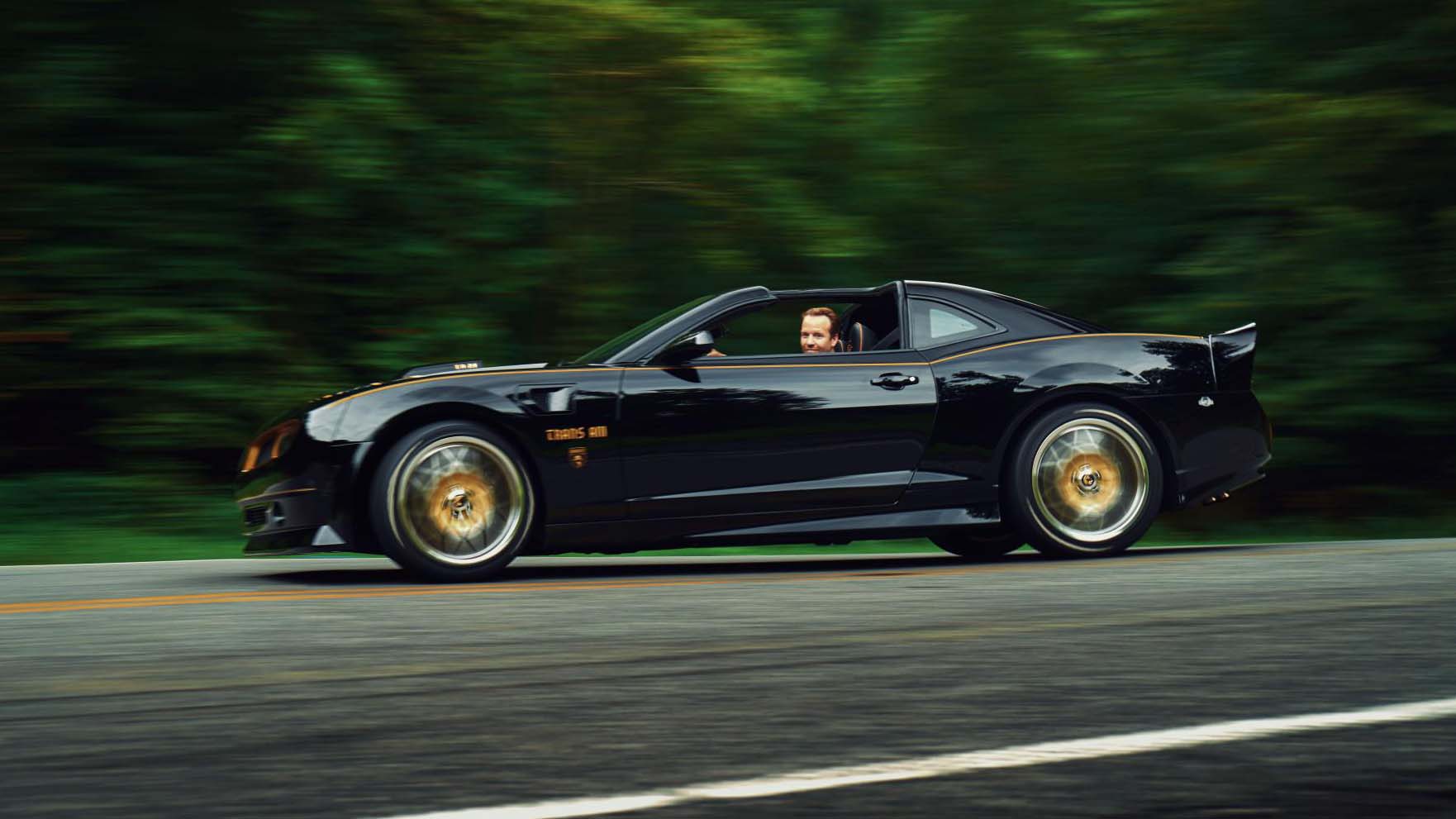 03:55 We've found a hairpin in Alabama. Wasn't expecting that. My explosion of excitement is diffused immediately when I can't find a way to turn the traction control off. We decide to run the corner a few times anyway, to get a feel for the car, and there are some, erm, issues.
ADVERTISEMENT - CONTINUE READING BELOW ↓
The first is the six-speed auto gearbox. It's a proper old-school slushmatic—you could smoke a brisket between gear changes. Best to use the paddles because they at least let you choose the shift points and plan your gearchanges in advance. Better still, save yourself $3,600 and buy the manual.
It can go around corners, it just doesn't really want to. But then, like the new Mustang, this isn't a sports coupe in the European sense—it's much lardier than that. You feel that weight in the turns, but roll is pretty well contained—the main barrier to precision cornering is the truculent engine. Ask for a bootful at low revs, and it coughs, complains and goes nowhere until the corner is disappearing rapidly in your rearview mirror.
Then it catches, unleashing a war cry through the quad down pipes that's startling in its intensity, unsticking the 305-section Goodyear Eagles (with custom white lettering, oh yes) and then the traction control cuts in violently. Nothing happens smoothly: It's schizophrenic this car, only happy when it's ticking over or biting your face off. And I love it already.
ADVERTISEMENT - CONTINUE READING BELOW ↓
04:20 Damn it. Have just discovered the traction control off button. Would dearly like to head back to the hairpin and see how it behaves fully lit, but the clock is ticking.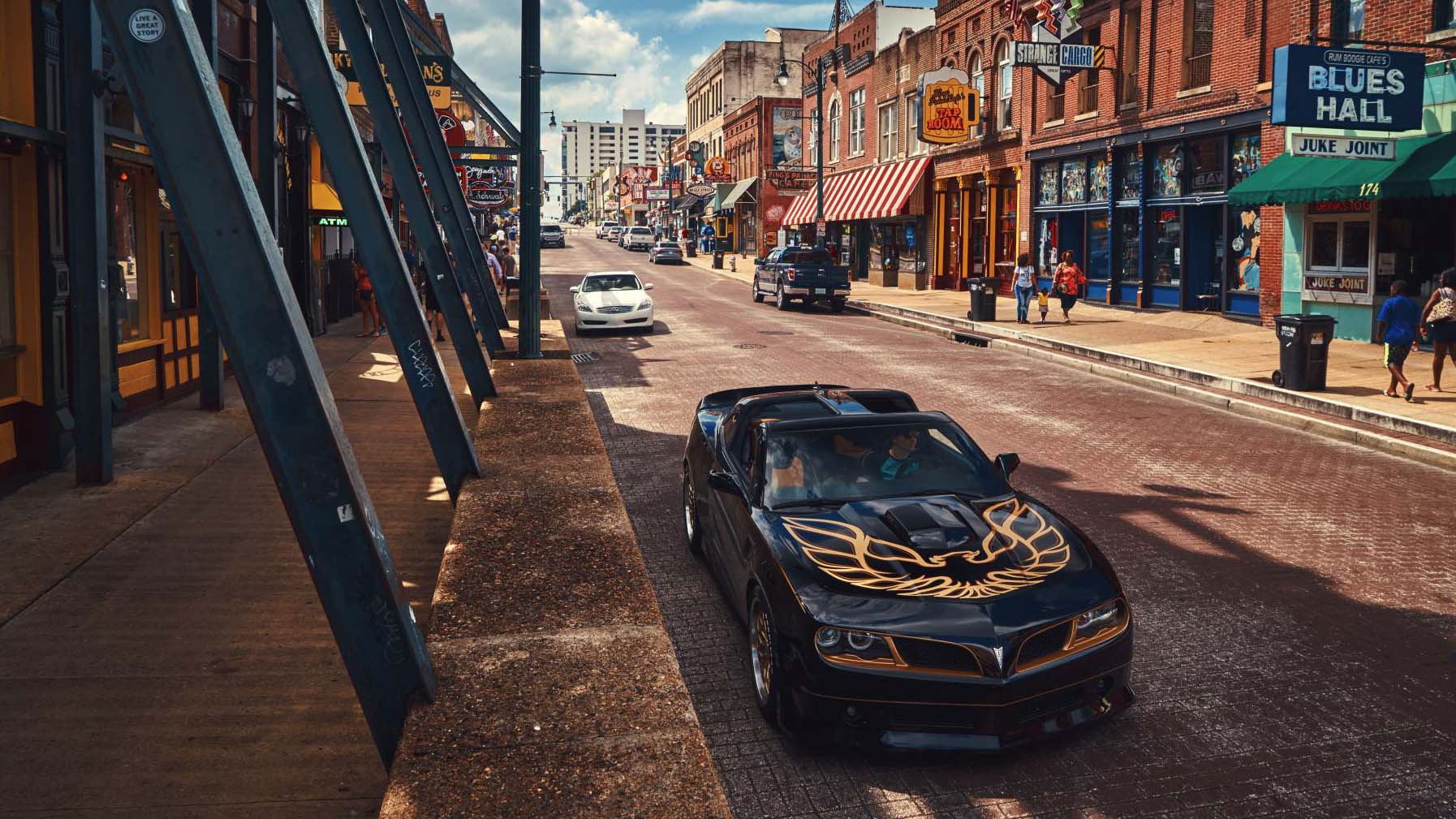 04:45 It's raining. No matter, because even with the roof panels off, the drops fly straight over the top of us. Neat trick. This is a long, straight road, the cruise control is on, the engine is settled and we're eating the miles—feels like the road trip has found its rhythm. Quite literally, in fact—we have country music on the radio and the interstate to ourselves. We're going to Graceland, sort of, and I can't stop smiling. It may have something to do with the four liters of sugary drink I've just ingested.
ADVERTISEMENT - CONTINUE READING BELOW ↓
08:00 Beale Street in Memphis is an explosion of color and music courtesy of the back-to-back blues bars. We're playing something a little more heavy metal out of our exhausts. It's a hit—love for the Tranny is strong. Soon there's a crowd firing questions at me: "How much power?", "Is that a Pontiac?", "How much does it cost?", "What's that on your lip?". We humor them for a minute, but I wish I'd printed handouts for any curious bystanders, rather than repeating myself until blue in the face.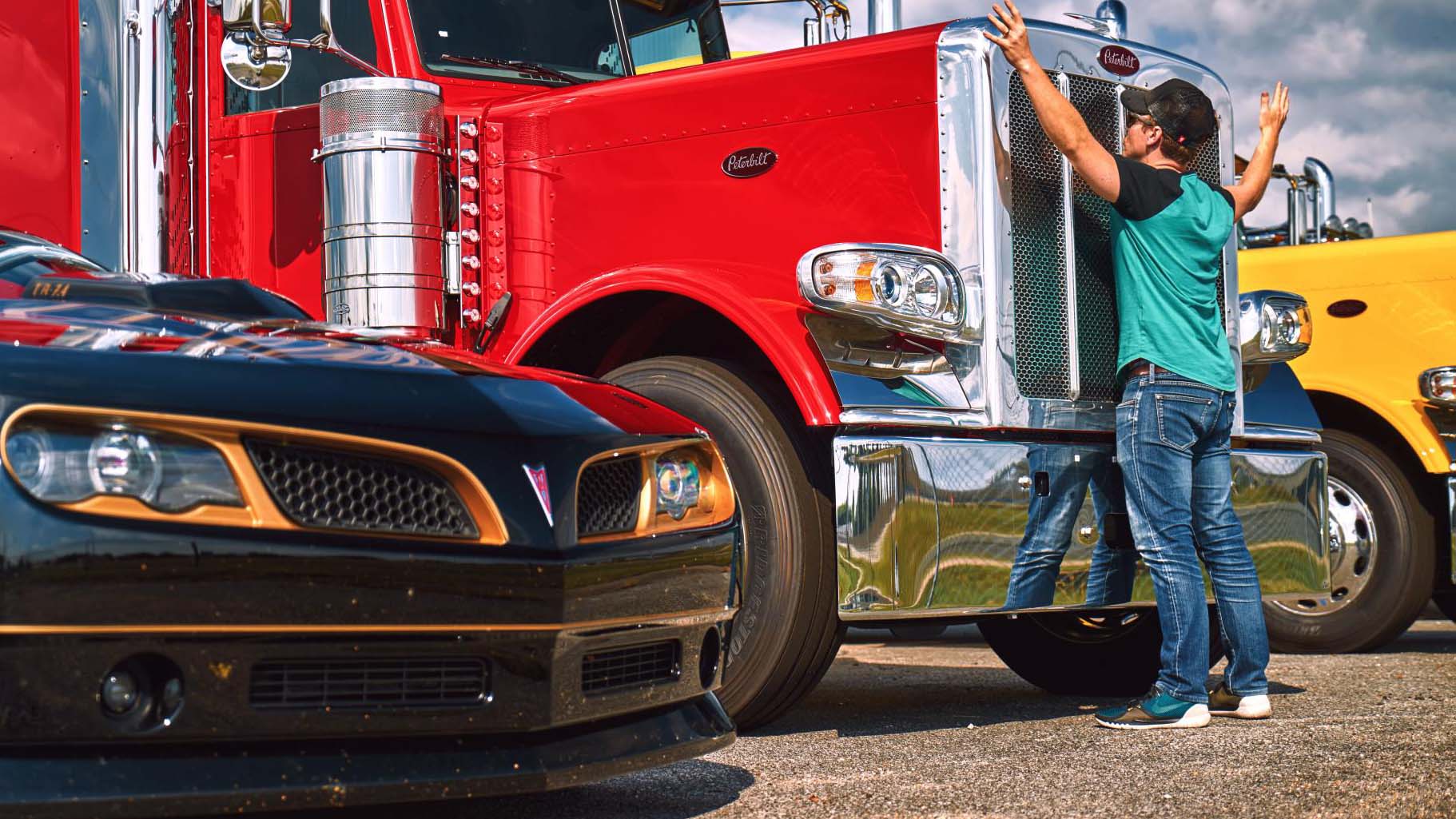 ADVERTISEMENT - CONTINUE READING BELOW ↓
09:04 Pit stop at a Peterbilt truck dealer just outside Memphis, the same make as Cledus's in the film. They haven't changed much in the intervening 39 years—still perfectly bluff and unfeasibly shiny—the quintessential American big rig. I want one immediately and start weighing up parking options in central London.
09:10 Fuel stop number two: 690km covered. A dash light tells me we also require oil—worrying, as fluids were topped off when we set off this morning. Without a funnel to hand, an enthusiastic truck driver shows me how half a plastic bottle works just as well.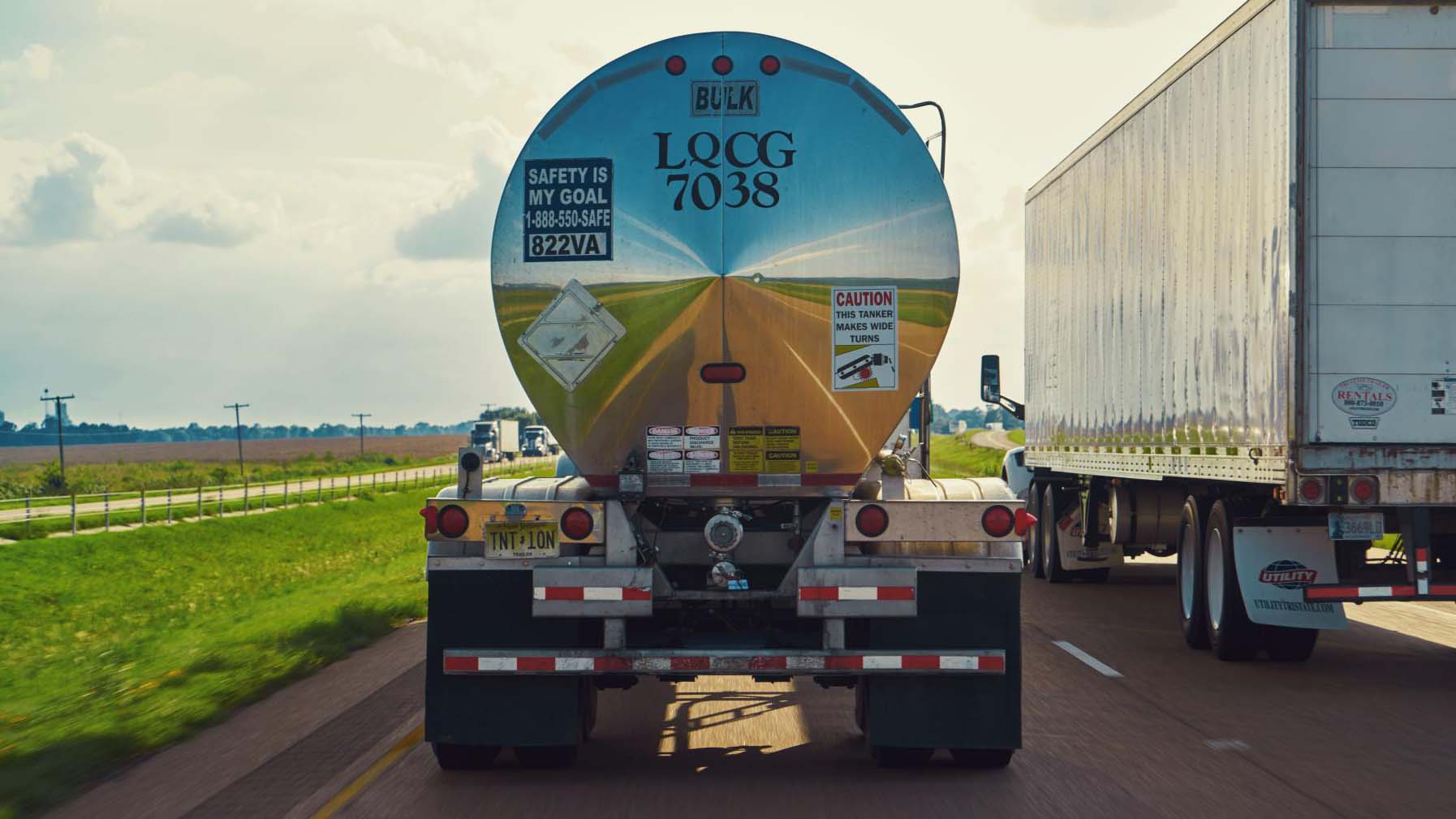 ADVERTISEMENT - CONTINUE READING BELOW ↓
09:50 Sneaky. We slide between two lorries in the slow lane and allow a third to pass on the outside. For a few seconds we're invisible to other cars on the road. This move is called the 'Rocking Chair', a firm favorite with the Bandit. Shame there weren't any cops we needed to evade.
11:38 Full disclosure: I'm feeling a bit tired now. I have horribly dry eyeballs. Want some genuine travel advice? The road from Memphis to Texarkana is seriously boring—avoid it at all costs. I find myself favoring binary throttle inputs to try to burn fuel quicker, so we can put the roof on and stretch our legs.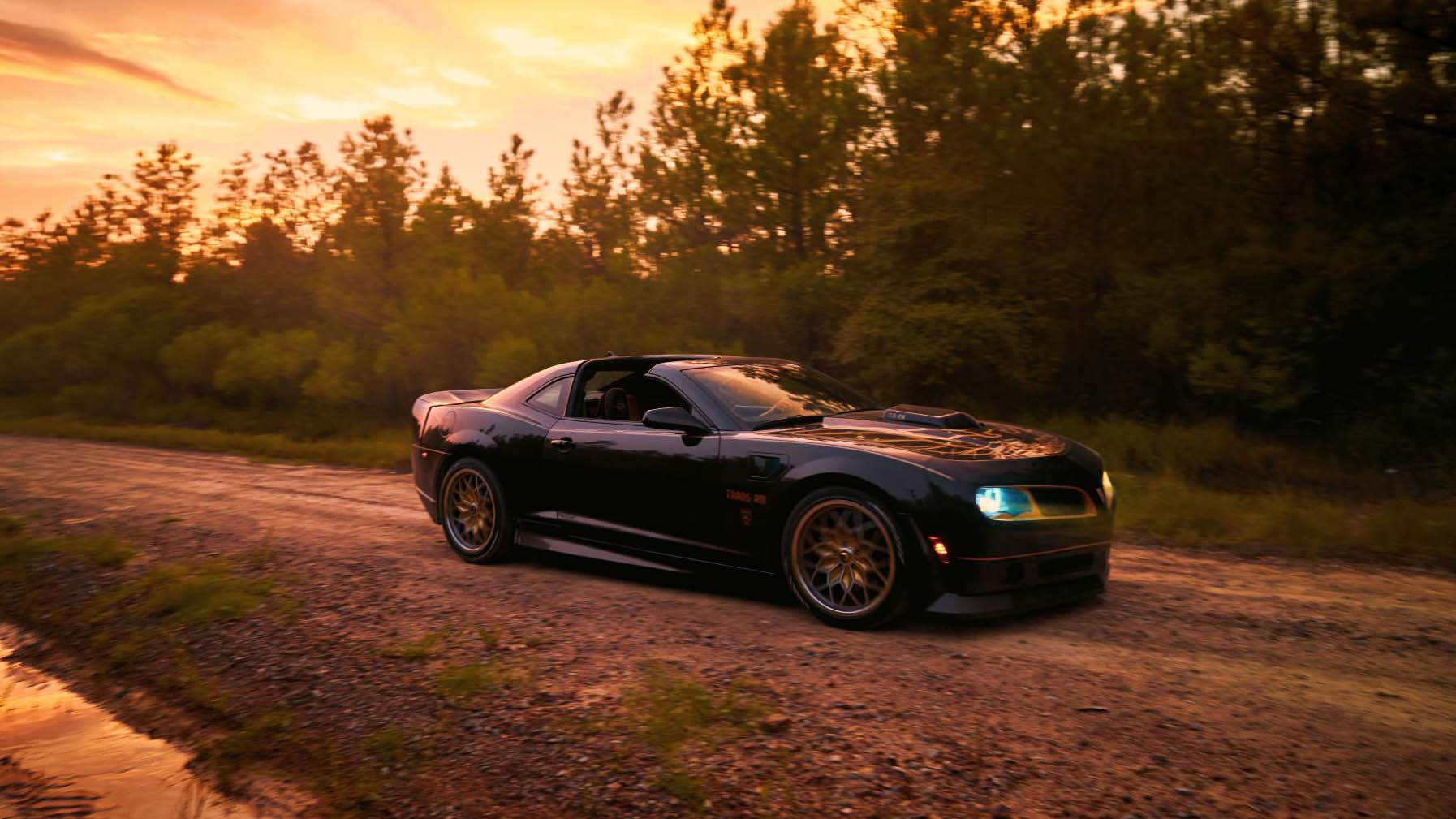 ADVERTISEMENT - CONTINUE READING BELOW ↓
12:00 For no reason other than extreme boredom, we pull off the interstate and find a gravel road the Bandit would be proud of. Conclusion: 717hp and dirt equals limited traction (and a thick layer of dust everywhere if you don't put the roof panels back on). Idiot.
13:00 Fuel stop three: 999km. Putting the roof on takes 20 mins and requires biceps like Burt in his prime, but more important leaves Webb and I sweating profusely. This is much to the amusement of a group of schoolgirls who want to get a picture in front of the car. "Do you guys Snapchat?" one of them asks. We back away slowly, not entirely sure what this means.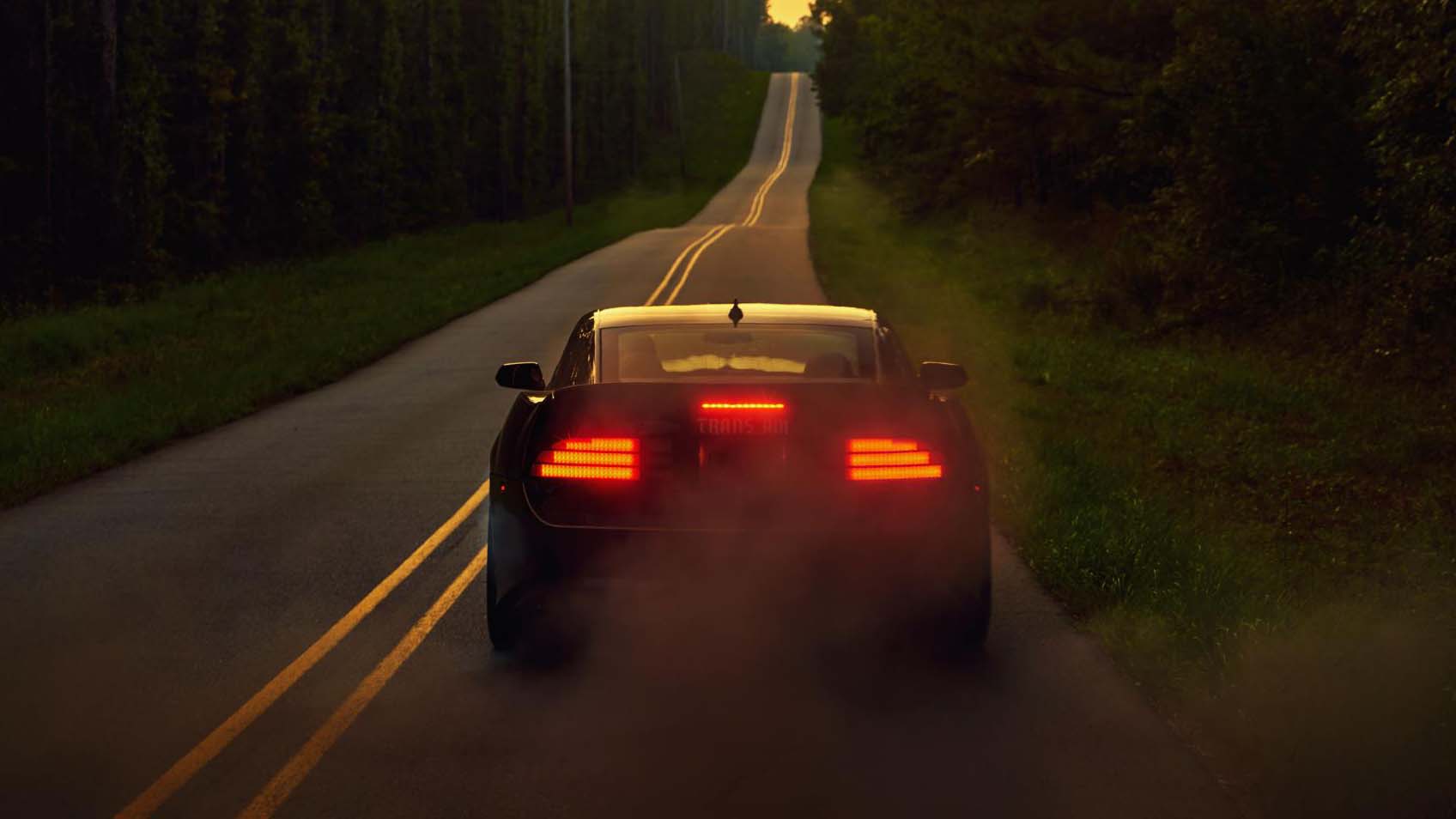 ADVERTISEMENT - CONTINUE READING BELOW ↓
13:02 An old-timer flags us down before we leave and regales us with the story of his '66 Pontiac GTI in midnight blue, with a white interior and the 421 engine. I tell him TAW will make you a recreation of one of those, too. Seeing the Trans Am has made his month, and it's a moment of enlightenment for me, that the car appeals on so many levels; to fans of the film, fans of the Trans Am, fans of Pontiac, and fans of fast, extrovert things in general (this final point applies to 99.3% of all Americans).
13:21 A man in a Porsche 911 tries to race us at the lights, I let him go and luxuriate on the moral high ground. I don't blame him for having a pop, though. Even idling at the lights the lumpy cams shake the entire car on its springs, while the shaker hood wobbles in front of us. This car is a weapon of mass antagonism.
ADVERTISEMENT - CONTINUE READING BELOW ↓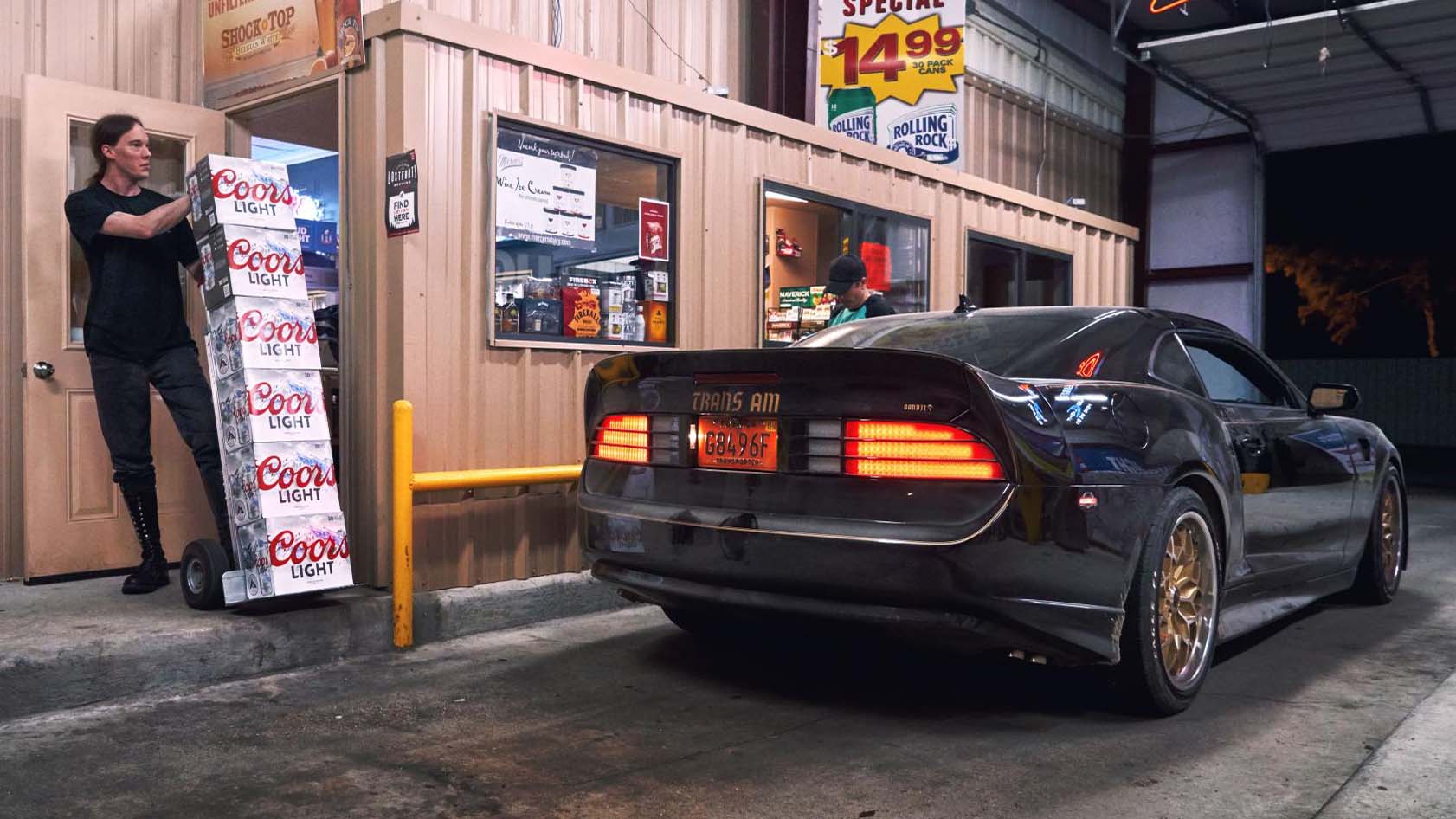 14:13 Thirteen minutes behind schedule, we hit our halfway point. Texarkana, a town straddling the Texas/Arkansas border, isn't somewhere worth hanging around for long, so we head straight for Chubby Cheeks Liquor—the finest, and quite possibly the only, drive-thru booze vendor in town.
14:46 We have the beer. Euphoria is quickly followed by melancholy, as we punch in our next stop. The Montgomery drag strip in Alabama is 901km back where we came from, or eight hours in a straight shot. Atlanta is a further two hours past that. Hmm. Time to revise the schedule. We need sleep, but we only have 13 hours before our self-inflicted deadline and 11 hours of driving, without stops. This is going to be squeaky. We decide to break the Mississippi border before any shut-eye. Webb knows a "welcome center"—essentially a car park with an armed guard. It's not The Ritz, but right now it'll have to do.
ADVERTISEMENT - CONTINUE READING BELOW ↓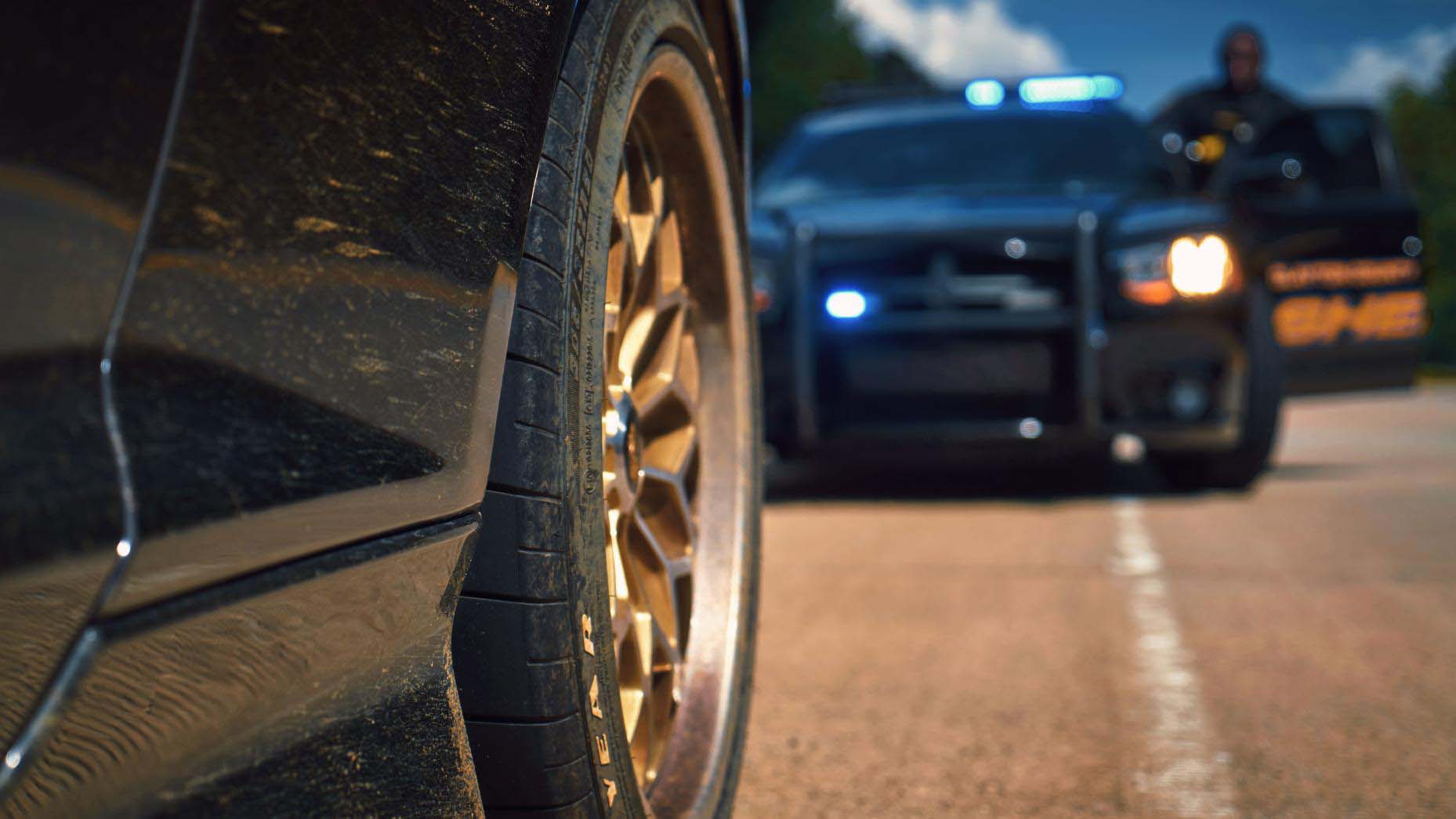 17:16 Fuel stop four: 1,384km driven. Our chosen gas station has a permanent cop assigned to it, sitting on the forecourt in his patrol car. This doesn't fill me with confidence. How many murders does a gas station need before you get a permanent cop? Ten? I realize I have no idea what state we're in, let alone where. Cop car decals tell me it's Louisiana. The Tranny swallows another couple of quarts of oil. Seriously, what is it doing with all the oil?
ADVERTISEMENT - CONTINUE READING BELOW ↓
17:45 It was inevitable I suppose, but as the trooper approaches my window, flashlight in hand, I can't help but fear the worst. Webb isn't helping: "Turn the engine off, hands on the wheel, window down and don't get out, he'll shoot your ass," he tells me with the wide eyes of a man who has first-hand experience. I've been clocked doing 129kph in a 97kph zone and I'm already picturing my cellmate, Big Bubba. But I won't be meeting him tonight—it's just a ticket. If I were the Bandit, I'd drive off, drift across the central reservation and make a dash for the border, but I'm a Brit with a bad mustache, so I take my punishment and pull away as slowly and smoothly as the Trans Am allows.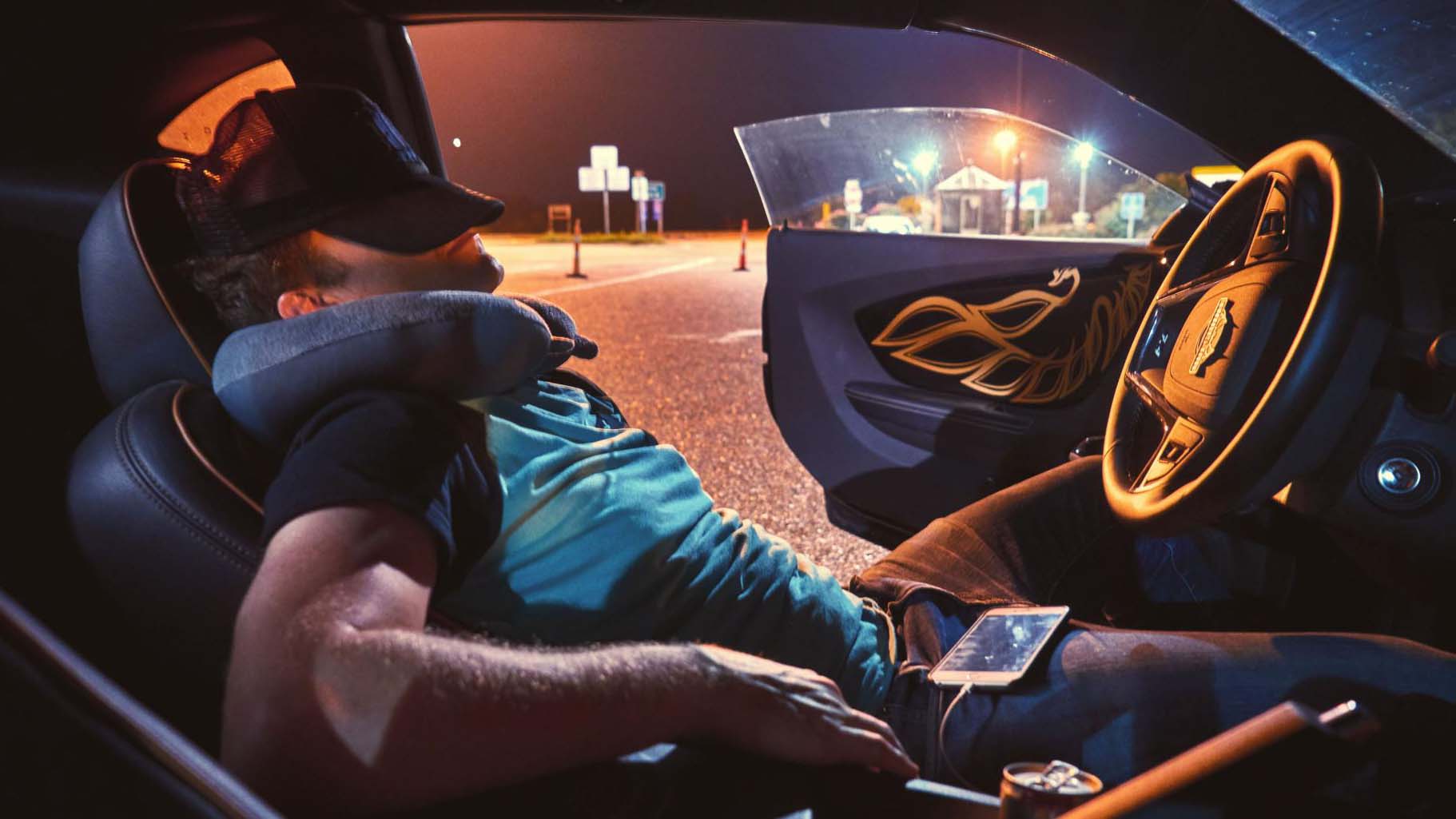 ADVERTISEMENT - CONTINUE READING BELOW ↓
18:59 Bedtime. I pull up at the welcome center, brush my teeth in a toilet that looks like bad things have happened in it, and pass out in the car with a hat over my face. Thank you, Americans, and your sizable behinds—these soft seats are mercifully accommodating. Alarm is set for 90 minutes later.
20:34 There's the alarm—sweet Jesus, that's harsh. I am so sweaty. I'm sweating in places I have never sweated in before. And what the hell is that smell? It's a cross between a farmyard and a gym sock. Oh, it's us: The stench of two tired, clammy men.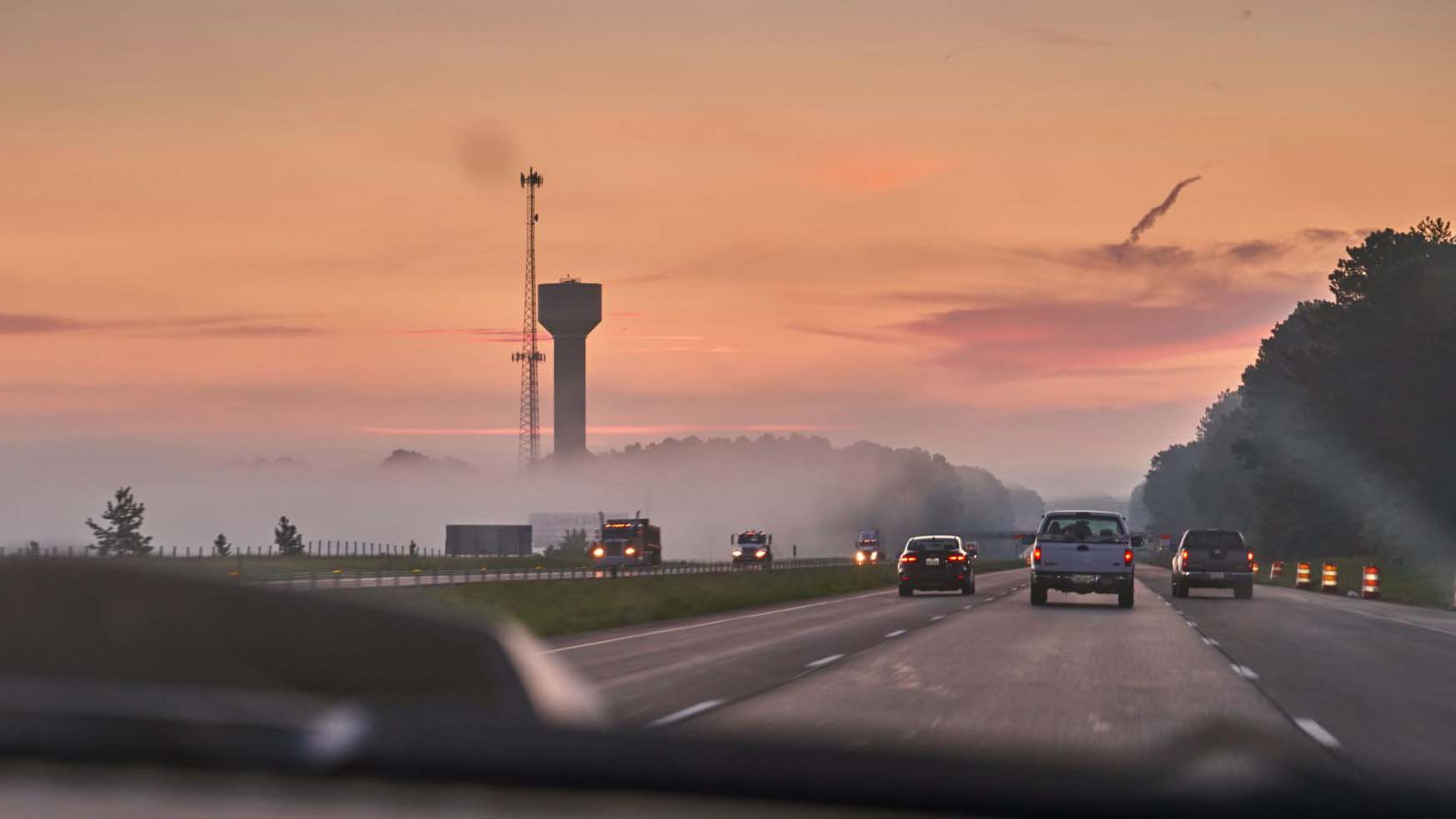 ADVERTISEMENT - CONTINUE READING BELOW ↓
22:36 It's impossible to underestimate the restorative effects of a sunrise. It resets your body clock and offers new hope. I feel my brain forgetting the lost night's sleep and steeling itself against the day ahead. And my goodness, Mississippi in the morning is worth getting up for—pink clouds above, a fine mist at ground level—the eyelids of the south are opening.
23:15 Fuel stop five: 1,816km covered. Another quart of oil. Chips for breakfast. Living the dream.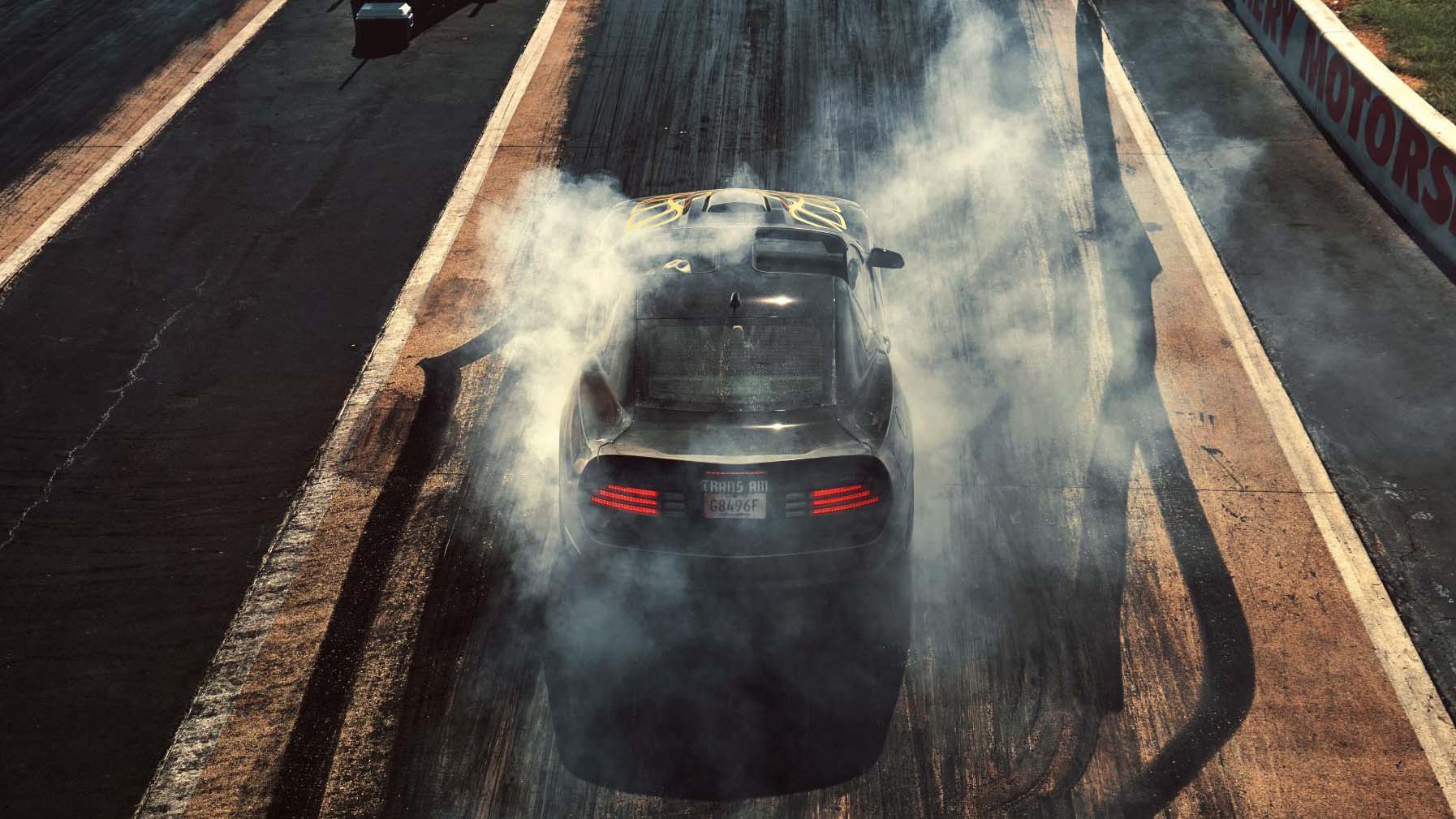 ADVERTISEMENT - CONTINUE READING BELOW ↓
26:30 Right. Decision time. If we make a beeline for Atlanta we might just scrape 28 hours, but how many times will I find myself in a 717bhp muscle car with an entire drag strip at our disposal? It's a no-brainer, we sacrifice the grand prize for adventure along the way.
26:36 Arriving at Montgomery Motorsports Park, we're greeted by Robert Griffin, a one-legged man in a wheelchair who's delighted to see us, but has a southern accent so thick I can't understand a word he's saying. Turns out he's the cherry picker operator. Webb shoots me a terrified look. I'm introduced to Slick Jim, the boss, and given the world's briefest safety briefing. The look on their faces when it turns out a Brit knows how to do a burnout is priceless.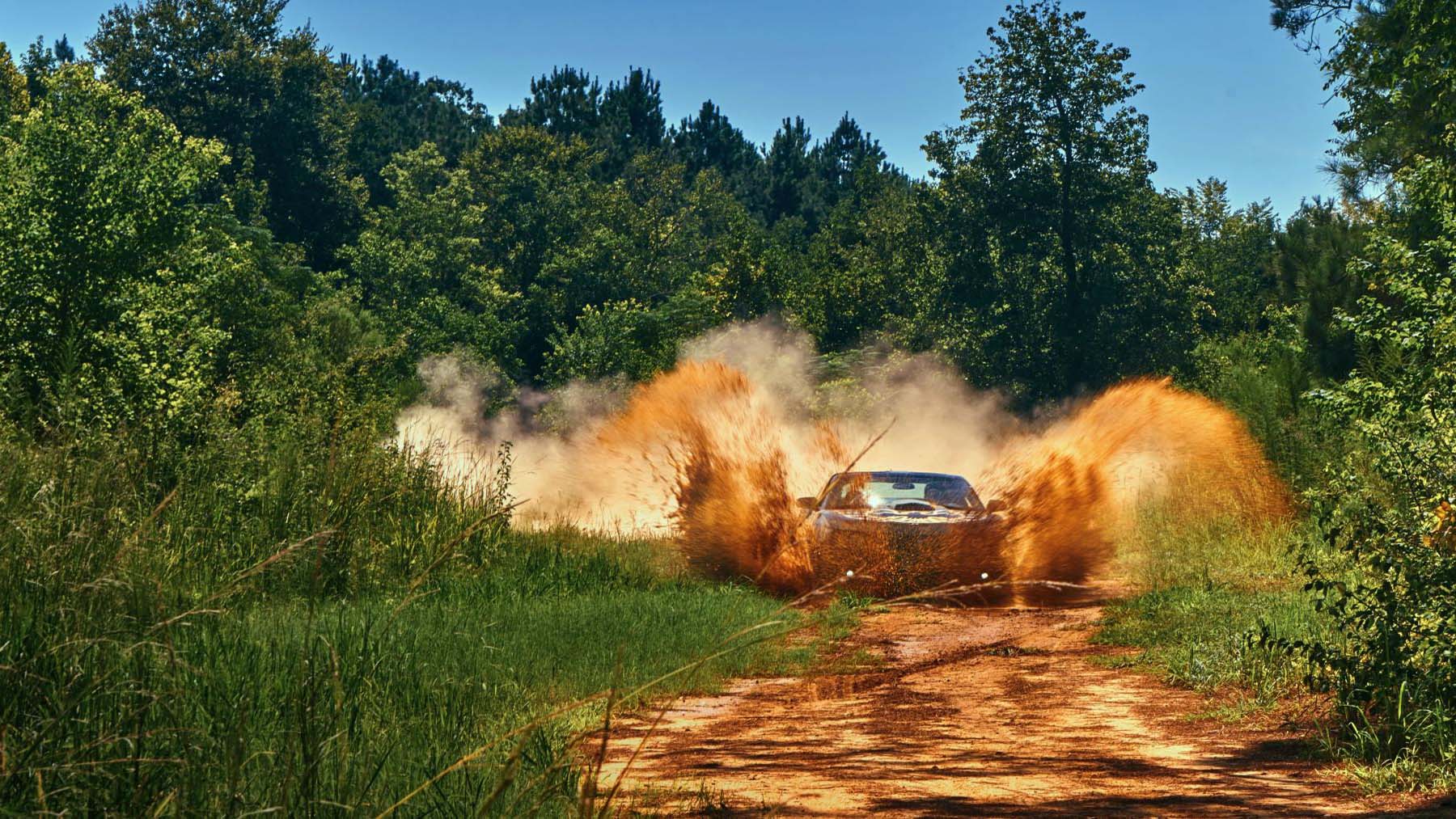 ADVERTISEMENT - CONTINUE READING BELOW ↓
26:58 Lights out and I'm off the line, slewing sideways, going nowhere fast with the rear wheels spinning hopelessly in first, second, third, fourth. Frankly, I'm an embarrassment. The key I discover is less revs and starting in second, taking it easy on the gas and getting it hooked up earlier before unleashing the screaming mass of energy under the hood. The guys at TAW claim to be regularly hitting sub-11 quarters. Let's just say my three runs weren't quite there yet, but given more time and a pile of tires, it could probably go even lower.
27:15 This place has everything, even a dirt road where Slick Jim lets me uncork my inner Bandit and crash through puddles (sorry, Webb—send the cleaning bill to the editor), confirming that with the traction control off, the Trans Am's natural angle is very sideways indeed.
28:00 There goes the deadline.
ADVERTISEMENT - CONTINUE READING BELOW ↓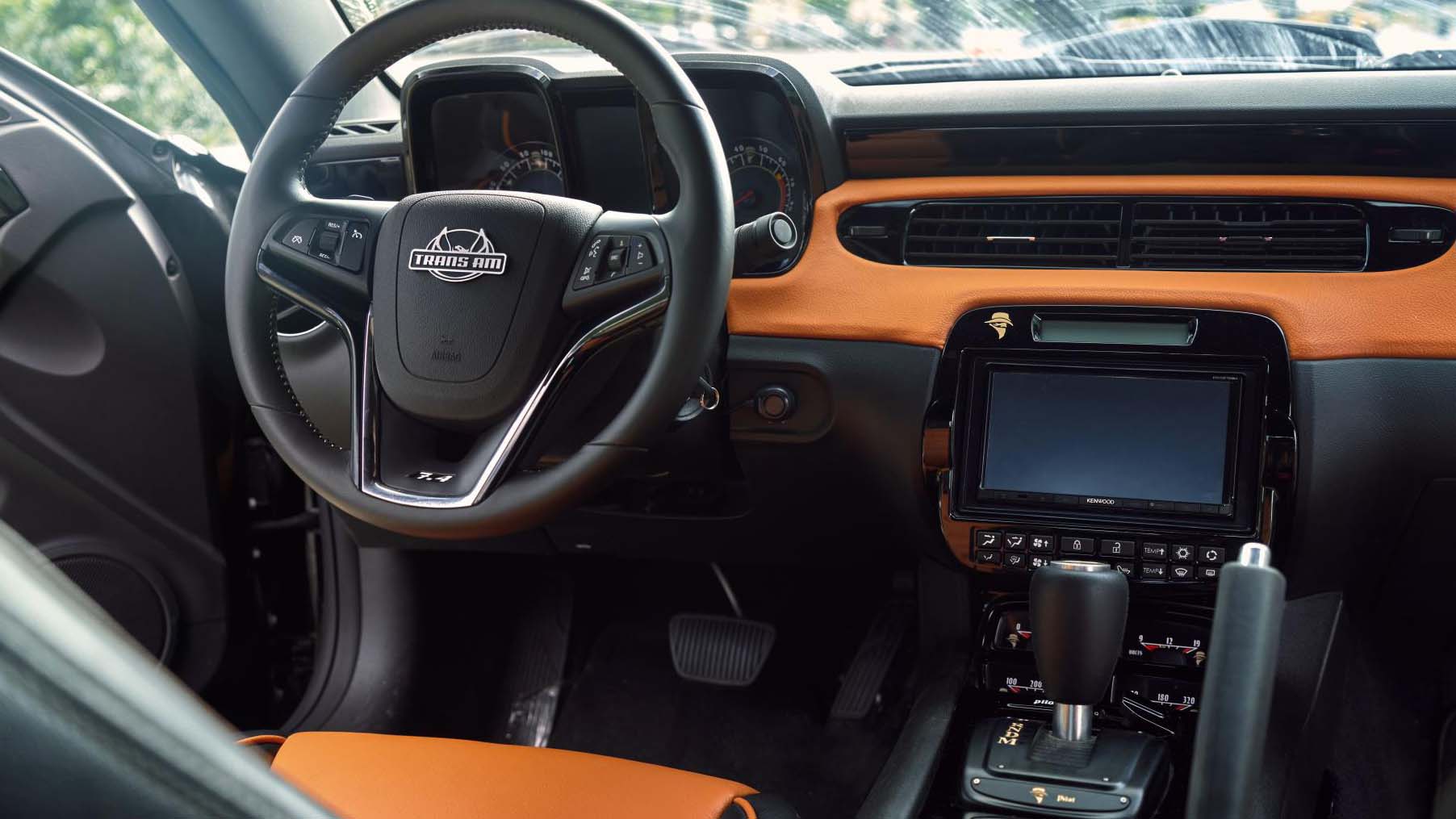 30:56 We stop by Mulberry Bridge, or what's left of it, where the Bandit's monumentally silly jump took place. The cops pull up, but know immediately why we're here. In fact, they know an officer who helped out the film crew with the stunt in 1977. The road through the trees to the bridge no longer exists, but that film is in the fabric around these parts.
ADVERTISEMENT - CONTINUE READING BELOW ↓
31:47 Stop the clock—we're done and back at Lakewood. The car is intact (the driver less so), and what a companion it's been. It's dumb, it's brash, but it's the American dream. Nothing I have ever driven has had such a positive effect on the people around it, myself included. So if a performance car's remit is to entertain and delight, the reborn Trans Am knocks it out of the park.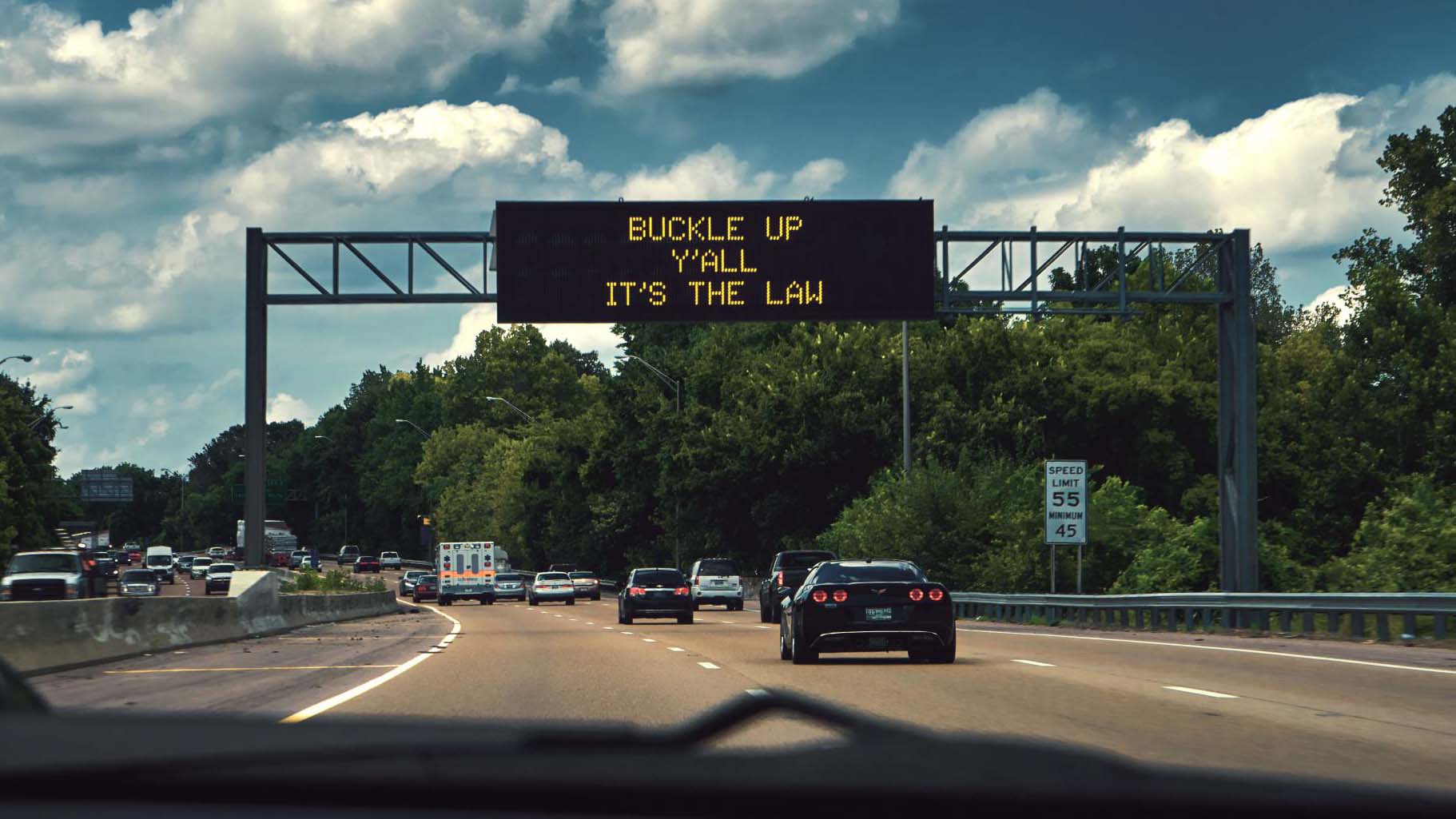 ADVERTISEMENT - CONTINUE READING BELOW ↓
I hope you appreciate, dear readers, that I could have lied to you. I could have fudged the result and claimed a spectacular victory against the clock, but I didn't. I wanted to tell the truth… and make excuses instead. The fact is the Bandit didn't have to take pictures, he had a CB radio and a lorry to work with to avoid cops, and he had a much smaller excess on his insurance policy. But 2,334km in a little under 32 hours? I'll take that.
Some will say driving across seven states to get beer you can buy in any store along the way is foolish, and I'd wholeheartedly agree. But any excuse for the road trip of a lifetime has to be worth grabbing. Warm Coors has never tasted so good.
NOTE: This article first appeared on TopGear.com. Minor edits have been made.