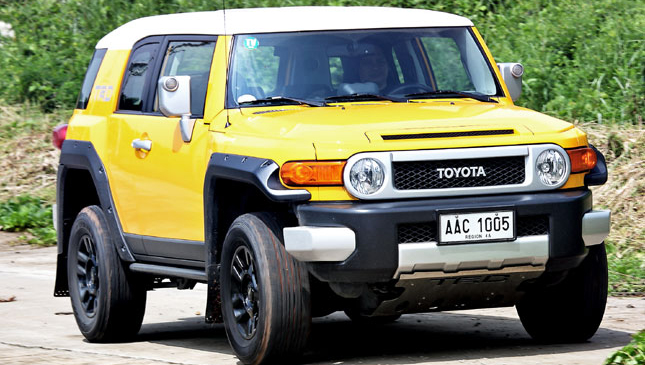 I remember my dad telling me that he wants an Isuzu MU-X. I coughed and asked him if it was a new pair of shoes he's been eyeing before changing the topic. Of course there's nothing in this world I would not give my father, the man who's given our family everything. But for now, other than the promise of a new welding machine and pitching in for some chickens, I'll put off bringing him to the nearest showroom and talk about how we can afford to buy his MU-X. Sadly, at that time, I couldn't even tell him how the SUV is so him: reliable, no fuss, and sturdy, or how good he would look driving one instead of our old family van.
ADVERTISEMENT - CONTINUE READING BELOW ↓
And so For Father's Day, we asked our followers on Facebook what car they would give their fathers.
Czarina Miranda-Mallare: My dad would really look more handsome and cooler with a Toyota FJ Cruiser. If I have all the cash in the world, I would buy him one in every color and variant. But what he really likes is a pickup, maybe a Ford Ranger or a Toyota Hilux. Maybe one day I could get him one. I would like to give him only the best. He worked for almost 30 years as an OFW. Nawalan na nga ng buhok dun, I mean, umalis dito afro, pagbalik 'where is the moon?' na, all because he wants a better and future for us. My father, for me, is like my all superheroes combined, and even if I give him the best or most expensive car in the world, it still wouldn't match up to him.
ADVERTISEMENT - CONTINUE READING BELOW ↓
Recommended Videos
Kyle Dacdac: I'd get my father a 2009 Mazda 3. He is a doctor and a very simple man. He has always wanted what's best for me. He taught me values and restraint from material things in this world. Yeah, I could give him a Huracan or even a Veneno, but he will probably still not accept it. Growing up, I've always asked him about [why he's] not driving even though he can afford a car, and he told me to make use of my feet, and if I can't use my feet, that's when it's time to buy a car. It's been a few decades and he's aged, so I might as well surprise him with one.
Augie Lantajo: I would love to give him a brand-new Isuzu Crosswind. We have a secondhand Crosswind and papa always makes sure that it's clean. He always maintains its engine every morning. He wouldn't let me or my brother drive the car because he doesn't trust us. The Crosswind he loved and he cleaned every day was what I drove when I rushed him to the hospital. He's gone now but I know that he is watching us and his beloved Crosswind. Love you pa! I sooooo miss you!
ADVERTISEMENT - CONTINUE READING BELOW ↓
Ken Real: LiteAce sana kase family driver ang tatay ko for 30 years (isang amo lang) and isa sa naging sasakyan ng amo nya ang LiteAce. Pangarap ko talaga para sa tatay ko na someday ang i-drive naman nya ang sarili nyang sasakyan.
Renato Fernando Millares Jr.: Matagal na taxi driver ang tatay ko at sinasabi saakin dati na lagi nyang tinititigan 'yong Porsche Carrera 911 sa may EDSA showroom tuwing madadaan sya don. Kahit ma-drive nya lang daw ng saglit okay na, kaya yun ang ibibigay ko sa kanya kung may pera ako.
Niel Mercado: Matagal na pangarap ni papa magkaroon ng sasakyan. Kaso dahil sa gastos sa pag-aaral naming magkapatid hindi siya makabili ng gusto nyang sasakyan. Ngayon na may trabaho na ako, pinilit namin na maka-ipon ng pera para kahit papaano ay maka-bili kami ng sasakyan kahit secondhand lang (Crosswind XT 2005). Yan yung napili ni papa kasi sabi nya "Hindi pwede yung maliit dahil para pag umaalis tayo madami tayong maisama." At least kapag umulan o uminit ang araw, any season pag may gusto silang puntahan ni mama, may sasakyan sila na comfortable sila sa byahe. Pero kung dadating yung time na ako naman ang magbibigay ng sasakyan kay papa, pipiliin ko Isuzu MU-X with Blue Power. Comfort, style, and class all in one. Para mas comfortable at mas ma-enjoy nila papa at mama ang road trips nila.
ADVERTISEMENT - CONTINUE READING BELOW ↓
Dennis Romero: My dad passed away before I could give him his dream car. A black S-Class Benz. Even during his businessman days he rolled in a midsize Japanese executive sedan. He could have bought a Benz, he just opted not to for business reasons. His employees always came first, but damn how he deserved a Benz!
Bobby Bacay: A Ford Ranger Raptor siguro, cause we had to let go of our red Ford Ranger pickup when we fell on hard times due to the global financial crisis back in the early 2000s. It made us appreciate car ownership. I choose this pickup because of my Dad's personality, he's not afraid to go anywhere and he has never let us down.
Mon Castillo: When my father was still alive, his dream was to ride in a Pajero Fieldmaster. He always said to me "Son, basta isakay mo ako sa SUV na sana Pajero." At that we didn't own a car, I was also studying during that time so the family finances was very tight. Now, Tatay, I know you can hear me. After spending all your earnings on me to become what I am now, I want you to ride with me in my Forty or MU-X. Love you!
ADVERTISEMENT - CONTINUE READING BELOW ↓
Edgar Pinlac: If I have money to buy my dad a gift, it would be a Mitsubishi Pajero, his dream car. He loves it kahit nung bata pa sya. He dreams about it. We had one way back but my dad needed to sell it. I remember that day, my dad cried and kissed our Pajero goodbye and even talked to him like a son, thanking our Pajero for its years of service. I want to give him that Pajero again
Jomark Ovejera: My dad and I recently got a Honda Civic Mugen FB. It has the best stock mods of the Type R prototype of that series. Months passed and the Honda Civic RS Turbo came out. My dad hasn't stopped talking about it. He's like, "Bummer! I should have waited for the RS!" And he's even talking about replacing mags with CE28, giving it a red Honda badge, and so much more. I can see how he likes the RS Turbo more than our FB. I told him that I'm going back to the States for greener pastures. But the truth is it's for his RS Turbo. Dad, hope you wouldn't read this. I love you so much. Baguio tayo sa Sunday, okay?
ADVERTISEMENT - CONTINUE READING BELOW ↓
Aaron Santos: When I was little, five or six years old, my father had this Ford Escort. And then he sold it. He told me that I would not leave the passenger seat when the buyer came to pick it up. That car has greatly influenced me and my love for cars. Some people have supercars as their dream. Mine is a Ford Escort MK2. I even have it as my phone screen.
Jonel Benedictos: Toyota Land Cruiser. Kasi nung nabubuhay pa sya lagi nyang sinasabi pag may sira ang sasakyan namin, "Okay lang yan bibili nalang tayo ng bago. Yung Land Cruiser!" Happy Father's Day in heaven, Daddy! Sana naka Land Cruiser ka na dyan.
Franklin de Leon: Isuzu MU-X kasi more than 20 years ng Isuzu truck driver ang papa ko, kaya sigurado ako na mapapasaya ko sya kapag nabigyan ko sya ng Isuzu MU-X. Happy Father's Day sa papa ko. Safest driver ng Tondo, Manila to Novaliches, Quezon City and hopefully pati na rin sa West Covina, California
ADVERTISEMENT - CONTINUE READING BELOW ↓
Carl Aguilar: My dad was never a fan of modern cars. I can still remember him driving our old '79 Corolla and how all traffic enforcers would give him a salute kasi mukha syang pulis when we pass by. Our Lancer box-type na pula ang plaka, our Opel Vectra na hirap na hirap sya kasi di sanay sa 'matic, our Colt Galant two-door na panay masilya, our Fiat Uno na nasagi ng jeep yung side mirror, our Suzuki Samurai na ako ang nag lilinis ng bubong, our 1989 Lancer GLXI na nabili namin sa pulis na after 3 days namatay, our stainless owner-type jeep na hindi pwede gamitin pag umuulan, our Tamaraw FX na laging binababa ang makina, our Volkswagen Beetle na nasunog. To be honest I can never think of a car na pwede kong bilhin para sa kanya kasi lagi syang may counter (nag buy and sell kasi) pero if given a chance, I would buy him a Suzuki Samurai. Because on that car, our family went to so many places, told many stories, saw lots of things, sang lots of songs, told lots of jokes. On that car, I saw my dad get out and went to the church where he and my mom got married. The Suzuki Samurai, a tough car for the toughest man I've ever known, my dad. PS: My dad is still as strong and tough as a Suzuki Samurai.
ADVERTISEMENT - CONTINUE READING BELOW ↓
JR Recla: Hey, Top Gear Philippines, If I could, I'd get my dad a Ford F-150 Raptor and give him a big budget for gas. See, my dad is a missionary and is often going up the mountains of Sarangani and Davao. He uses his dirtbike to get to some places and to others he just walks by foot for hours through mountainous areas. But aside from missionary work, he also initiates programs and projects with the local farmers to teach them new farming methods to maximize the income of their fields. (Take note these fields are mostly on mountain slopes.) I think a sturdy, reliable, off-road pick-up like the F-150 Raptor would be put to great use there. My dad said he wants a Nissan Navara but I'm pretty sure he doesn't have much time to browse pickups online and that he'd break down in tears of joy if I showed up with the Raptor in tow (and my hypothetical Yamaha Serow 250 in the trunk). My dad won't be home this Father's Day but he'll be here for my graduation on the 25th, I don't think he'll break down in tears for that though. Thanks for reading!
ADVERTISEMENT - CONTINUE READING BELOW ↓
Carlo Ray Esteban Caballero: Hyundai Santa Fe. This is the car he keeps mentioning when he was working as a security guard at a subdivision. "Balang araw pag ako nagka sasakyan 'nak gusto ko yung ganyan." Me: Ah, eh, oo ba. I was a sales person at a shopping mall at that time. A few years later, I decided to go abroad and I promised myself that no matter what, I will buy a car para sa parents ko. First car I bought was a Honda City 2000 model, then few years I sold it and bought a Civic FD 2008 model, the same year I bought another one, a hulugan Honda Brio. Now my tatay has two cars, a Honda Brio and a Lancer EX 2010 model, nabenta din yung FD. Just sharing.
Adrian Rico: Toyota FJ Cruiser! Kasi ito yung dream car nya eh. Naalala ko pa nga yung sinabi nya nong may nakasalubong kami na ganitong sasakyan sabi nya ito daw dream car nya at yun someday daw kung bibilhan ko sya ng ganitong car he would be happy. Bukod sa rason na dream car nya ito, ang isang rason pa ay ayoko ko nang humihiram si Daddy sa mga kaibigan nya ng sasakyan para may magamit lang kami kung kailangan namin. So yun, someday, somewhere, if I have the money I will definitely give my dad his dream car.
ADVERTISEMENT - CONTINUE READING BELOW ↓
Edsel Marte Saavedra: Land Rover. My father worked in extremely dangerous places in Africa during the '90s and he had Land Rovers as service vehicles. He worked in Angola, Rwanda, and Congo as a mechanical engineer. A badass Defender for a badass dad.
Kristel Leonardo: Ford Mustang, especially yung mga vintage! For over 40 years na isa syang mekaniko at nagtatalyer, yan lang ang kotse na lagi kong naririnig sa kanya na gandang-ganda sya. It's my dream to see him drive one, kahit test drive.
Alexis Cruz: A Mercedes-Benz 180D Pontoon. Because in the midst of him suffering from Alzheimer's, it's the car he says he really wants with certainty. I still hope to give him this someday before he's gone.
Marjun Indino Caculba: My father has always wanted a Mitsubishi Montero so that he could take my mom for a long drive and maybe find their way back again the second time around because they have been separated for almost a year now. It would be the greatest gift, not just the car, but a tool to create something beautiful again and that would be a whole family again. :)
ADVERTISEMENT - CONTINUE READING BELOW ↓
Aaron Eusebio Angeles: CR-V with 10 years of unlimited gas. Kulang pa yan sa lahat ng ginawa niya.
Enrico Pimentel: I would give him a Toyota Land Cruiser since he loved the desert. He was an OFW in Saudi Arabia for 24 years. He envied Arabs driving this magnificent machine on the sand dunes. Unfortunately, he died last year, three weeks after he retired, due to cardiac arrest.
PL Pnsln: Koenigsegg Agera RS. Why? I heard it's one of the fastest cars right now and it might just have enough speed to get him here from heaven so that we can grab a beer or two for one last time.