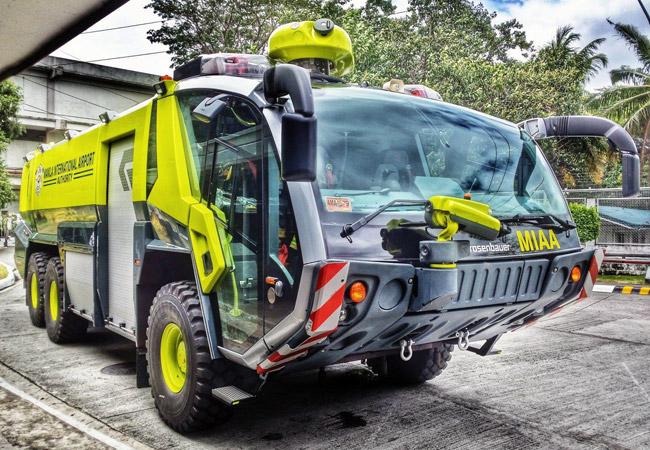 In an online poll conducted by the travel website Sleeping In Airports last year, the Ninoy Aquino International Airport (Terminal 1) was voted the worst airport not only in Asia but in the whole world. Makes you wonder what kind of a president allows an establishment that carries the name of his father to be universally maligned. If you were in PNoy's shoes, wouldn't you do everything in your power to rehabilitate the image of NAIA?
Then again, maybe this is a step toward that direction. Reader Nikki Pili, who works in an airline company, sent us these photographs. In case you're wondering what this colossal thing is, it's a Rosenbauer Panther 6x6 ARFF vehicle. (ARFF stands for "aircraft rescue and firefighting.") We believe every airport is required to have these machines.
The Panther 6x6 measures a humongous 11,470mm in length, 3,000mm in width and 3,650mm in height. And it weighs an astounding 36,000kg! It boasts a water tank that can be filled with 9,200L of water, and it can expel this water at a rate of up to 6,200L per minute.
The engine power output? Seven-hundred horses!
Obviously (and hopefully), this vehicle doesn't get to see a lot of action. But when it does, the amount of human lives and property that it will save will pay for the vehicle's acquisition cost.
Continue reading below ↓
Recommended Videos
Well, at least we can rest assured that, should something go wrong with our plane before takeoff, a Rosenbauer Panther 6x6 will run to our aid. Let's just hope it will have fuel when it happens.