What's this then?
This, my friends, is the first mid-engined supercar designed, engineered and built in India, for Indians. It's called the DC Avanti and is the work of Dilip Chhabria—designer and founder of DC Design—a company better known for building concept cars and prototypes. One day, he decided to put his own supercar into production. The man has guts.
The Avanti was actually launched in India back in 2015, but as we rarely find ourselves in Pune (three hours east of Mumbai, home of DC Design) with a day to spare, we're yet to have a go. No time like the present…
Continue reading below ↓
Recommended Videos
It looks… interesting.
Do I sense cynicism? Okay, so the rear looks like it's been parked up against a radiator, and melted, the front end has a fish-like quality and the ride height is more SUV than supercar (all will be explained), but for sheer traffic stopping drama it does the job, and then some.
Our test car was fitted with the optional aero kit (complete with fixed rear wing that does wonders for lifting the saggy bottom) and painted in Veyron Super Sport black and orange, as the gentleman who walked into the middle of the road, pointed at us and screamed "BUGATTI!" helpfully pointed out.
And the inside?
Fine, so long as you're a fan of late '90s Korean hatchbacks. The build quality is seriously flimsy in places—notably the door handles, cut from the world's thinnest plastic, the spindly steering wheel and the Renault-sourced six-speed manual's oddly long gear lever, which is a shame because the shift quality isn't bad at all.
The seats are covered in plasticky leather with more plasticky colored stripes stitched on top. The satnav is an aftermarket plug-in and the digital instrument cluster does a job, but what's the point in a digital display if you can't alter the information or layout you're looking at?
By far the biggest issue in here is headroom. At 5' 9" I am not a tall man and yet my hair was brushing the headlining. If you spot a six-foot person with a small, polished bald patch right on the top of their head, chances are they drive an Avanti. That's the problem with raising the ride height to 170mm (just 30mm less than a Jaguar E-Pace), but keeping the overall height to 1,200mm (just 30mm taller than a Lamborghini Huracán).
But hey, there's room for your elbows and the view out isn't bad, although there's no rear-view mirror on account of the vision-obscuring louvers on the engine cover. Strangely, I liked that—proper supercar stuff.
Tell me about the tech.
The chassis, developed in-house, is a steel space frame with the emphasis on keeping things beefy rather than light—hence a 1,580kg curb weight despite carbon-fiber body panels. Twin that with the jacked-up ride height and you can see this is a supercar built very much with India's pitted road network in mind. Good thing too, because we soon found ourselves on a back road that resembled the moon. If we'd been in a Huracán, bits of it would still be there, and we wouldn't have made it more than 100 meters before grinding to a halt.
In the DC Avanti though, we ploughed on, albeit slowly, without once scraping its chin on the floor. We also hit a very well hidden speed bump at 80kph and definitely got some air, but the Avanti just shrugged it off and kept on trucking. Honestly, swap the Pirelli P-Zeros and 20-inch rims for a set of Goodyear Wranglers, and it feels like you could take on the Dakar in this thing. Maybe.
Does it have an engine?
Ah yes, the engine. No W16 quad turbo here—in the interests of keeping costs down, DC made the wise decision to buy in a 2.0-liter four-cylinder turbo from Renaultsport. Yep, the same engine as the old Megane RS, available in two states of tune: 250hp and 310hp, the latter available with an automated manual and paddles.
We drove the former, capable of 0-100kph in six seconds and a limited top speed of 204kph, which is plenty given the perpetual gridlock that is driving in India. And the fact that the Avanti has no airbags.
For something that looks so outrageous, there's a disappointing lack of noise—save for some turbo whistle from behind your head. But the engine's linear, smooth, torquey delivery is probably the best thing about the driving experience. It's fast in a middling hot hatch kind of way, but with potholes the size of France lurking around every corner and other road users who can and will make random maneuvers at any given moment, straight line speed isn't high on your list of priorities.
So does it handle like a supercar?
No, not in the European, brimming with feedback and energy, sense. There's nothing wrong with the steering ratio, but the way it offers the same minimal resistance even as you add lock is…odd. As a result you tend to add too much and lurch into corners causing the car to roll a lot initially, before it settles on its outside springs. You can unstick the rear tires with a clumsy boot and a flick, but with body control so unpredictable, it's probably wise to clear the area before doing so.
There's a sense though that final-tenth driving dynamics aren't what this car is even remotely about. It's about combining spirited performance with an affordable price tag and genuinely heroic looks. Honestly, I don't think we would have turned as many heads, or cause the rickshaws to swarm around us in such a crazed manner, if we were in a McLaren 720S. And when onlookers realized the car was one of their own, not some exotic import, smiles turned to cheers.
How much?
Live in India? You could be the proud owner of a DC Avanti from just Rs37 lakh (P2.9 million), although there's an extensive options list that includes such delights as a personalized car cover, color-coded door cards and center console and matte paint, so they tend to sell for a bit more.
And not in tiny numbers, either: 350 have been sold so far and DC is currently assessing exporting it to certain markets. Address the rather glaring styling and quality issues and who knows—it could be the perfect antidote to the UK's hastily declining roads.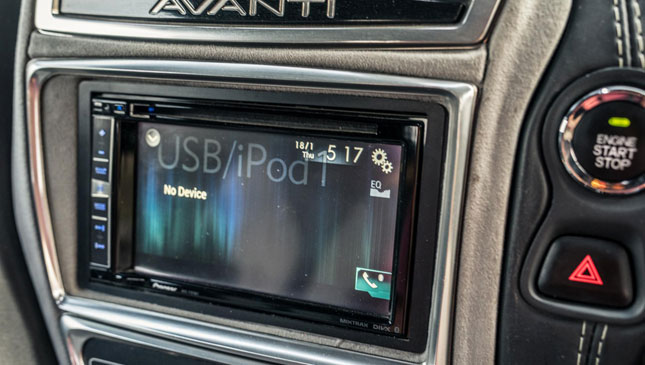 NOTE: This article first appeared on TopGear.com. Minor edits have been made.