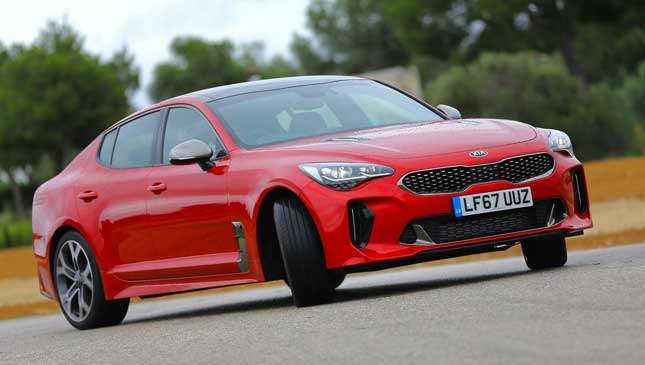 I can actually buy a Kia Stinger GT S now, right?
In the UK, you can for the sum of £40,495 (P2.7 million). For that you get an enormous amount of equipment, and a 365hp bi-turbo V6 engine. So it's more powerful and £5,000 cheaper than the current sports sedan bridesmaids. We're talking Audi S5 Sportback, BMW 440i Gran Coupe (both of which were Kia's performance and handling benchmarks). In the same ballpark, you've got the best V6-powered sporty sedan car out there too: The 375hp Jaguar XE S.
There are four-cylinder gasoline and diesel Stingers too, but 'S' means V6. It's the one you're most interested in, isn't it?
Continue reading below ↓
Recommended Videos
Last time we were presented with a Stinger GT S, it was confined to that racetrack in Germany, wasn't available for order, and was a pre-production car. This time, we got a right-hand drive UK-spec Stinger, (albeit in Mallorca) in showroom trim.
Our early drive already explained the interior is fundamentally sorted (spot on driving position, tastefully put together), but now specs have been finalized we know the equipment levels are faintly spectacular. Stinger GT S models get LED lights, Brembo brakes, heated and cooled seats plus a heated steering wheel, adaptive cruise control with lane assist, a 7in toushcreen with Apple and Android mirroring, an electric tailgate, adaptive suspension… it's absolutely loaded. You try getting that much kit on a German car for the same price.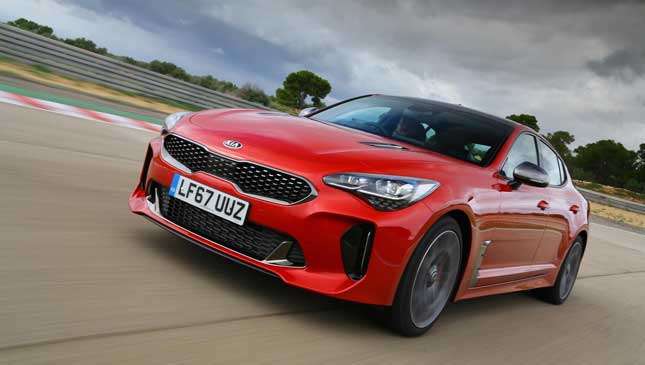 Okay, it'll be good value. Should I buy one?
If I'm permitted to swerve the question like a textbook politician, then bear in mind Kia doesn't actually think it'll sell many of these things. Annual sales target for 2018? 1,800 cars in the UK. Europe as a whole will only account for between seven and 10% of Stinger sales. The US and Far East is where the Stinger's audience awaits.
This is a classic 'brand-builder'. The Stinger will sell in tiny handfuls, and it'll be a rarer sight in Europe than a hybrid hypercar. But when you do see one, it'll probably turn your head, and just having one in the showroom or on the website when you're browsing for a new supermini or crossover might just tip you toward taking Kia a bit more seriously. Because it's supposed to have pedigree, see. Which means we should get on with seeing if the most powerful, fastest Kia ever is any good.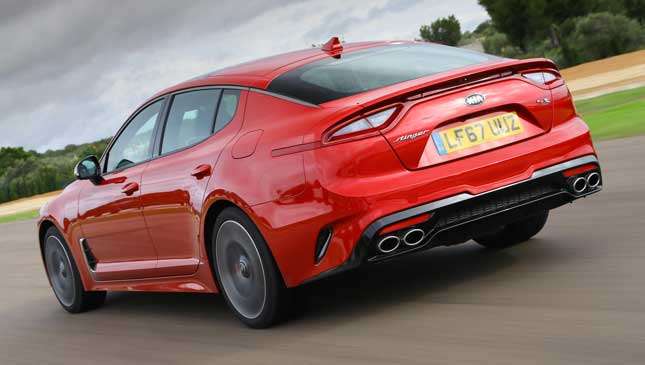 Rattle off some numbers then…
Your 365hp is abetted by 510Nm of torque, which lasts from a low'n'lazy 1,300rpm right through to 4,500rpm. The 3.3-liter V6 only revs to 6,250rpm, but the redline is cheekily rated at 6,500rpm on the tacho. It'll crack 0-100kph in a BMW 440i-matching 5.1 seconds, and tops out at 269kph.
The V6 drives via eight automatic gears—there's no manual option—and even the paddles only override the auto-shifting for 10 seconds. Because supposedly, American and Korean buyers only click a paddle once in a blue moon, for a quick overtake perhaps. Only Europeans like to take full control, we're told. Are we sure? Hmmm.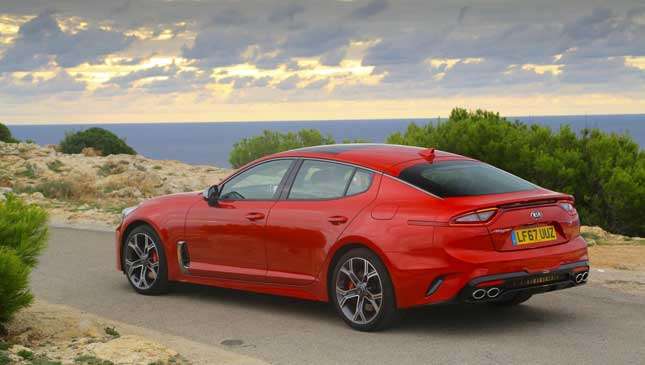 What's it actually like on the road?
The Stinger suffers from a phenomenon we shall call Mode Overload. Or maybe OverMode. Kia's very proud of the many settings you can choose from, but there's not a massive amount of difference between the five mood swings.
Comfort is the standard default. It's not very interesting. Eco dulls the throttle and gives the gearbox narcolepsy. 'Smart' supposedly adapts to your driving style. If you have a sporty driving style, you might as well twist the knob towards Sport, which adds fake noise, stiffer suspension, and slightly heavier steering. Sport Plus keeps all of that on and switches the traction control off.
I spent pretty much all my time in Sport, putting up with the duller weight of the steering to have the fizzier powertrain and tighter body control. It's supposed to be a sports sedan anyway, and the character change between modes is nowhere near as bipolar as, say, a Mercedes-AMG C43.
Settled into Sport Mode, the Stinger sets about pleasantly surprising you. It steers accurately, and the variable ratio set-up isn't so stupidly quick that the front tires get caught out every time you pour it into a corner. Looking at you, C43.
There's a pleasant balance to the chassis, which manages the critical trick of hiding its weight without detaching you from what's going on at the wheels. It floats a little if you're bounding over crests, but the suspension tidies up the movements professionally and there's a lot less body roll than you'd expect for such a sizeable barge. The Brembo brakes aren't brimming with precision, but they're abuse-absorbing, and if you're going to hustle the Stinger, it's reassuring to know the stoppers aren't made from the chocolate wafers BMW M Sport discs are.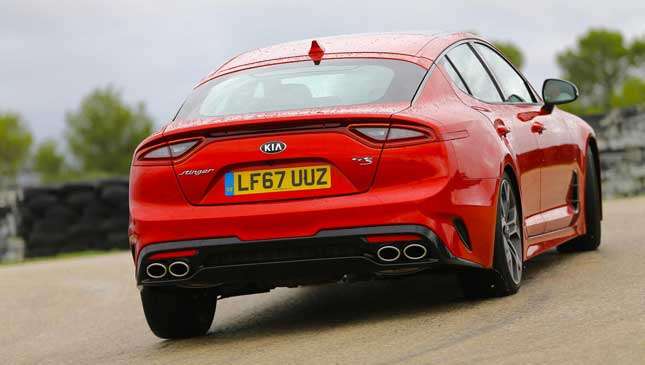 It looks quite big.
On the road, the Stinger doesn't just hide its weight, it also shrinks usefully. It feels no bigger or more cumbersome than a 4-Series. It cruises extremely quietly. And it feels quick too. The V6 is more on the Audi S4 end of the charisma scale than up there with the raucous C43, but it delivers power with a broad, stout linearity, and the eight gear ratios are chosen cleverly. Turbo lag? Not a problem.
The gearbox is less impressive. The changes, manual or automated, just aren't that quick, and because you're denied a true manual mode, it'll get properly flustered if your paddle shift override disagrees with its opinion of what gear to pick next. It always auto upchanges at the (fake) redline, and if you accidentally trigger the lockdown button you might as well stick the hazards on while the transmission fumbles for the shortest gear possible.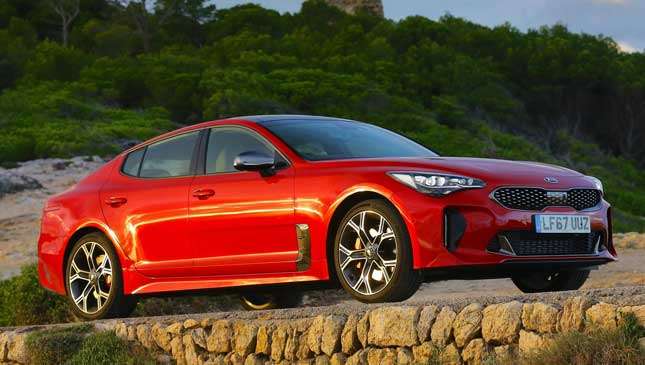 But it's credible? An actual sports sedan, not a cruise liner with red brake calipers?
Yes, albeit one that feels far more at home living up to the 'GT' part of its name than trying to ram its Nürburgring honing down your throat. But it's a sorted road car, on the whole. Not a machine you'd set a 5am Sunday alarm call to thrash, but one you might come off the highway a junction early in a couple of times a week, just to hustle it cross-country. For a first effort in a mighty competitive class, the Stinger deserves credit. Best of all, it actually manages to feel like a lot of car for its price.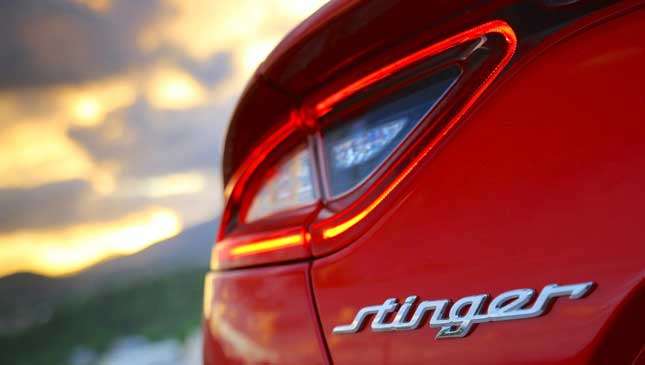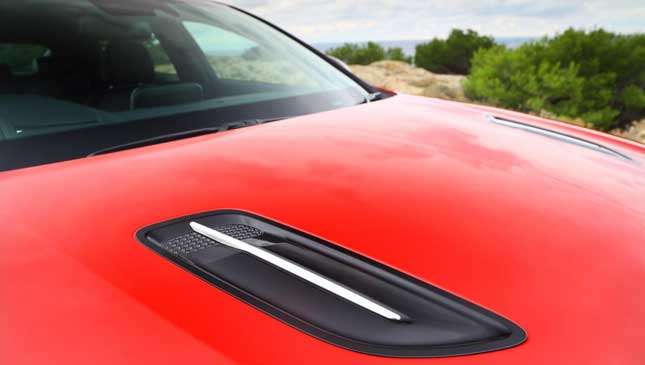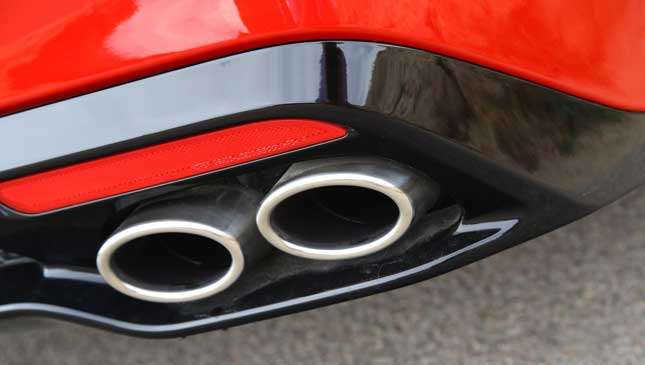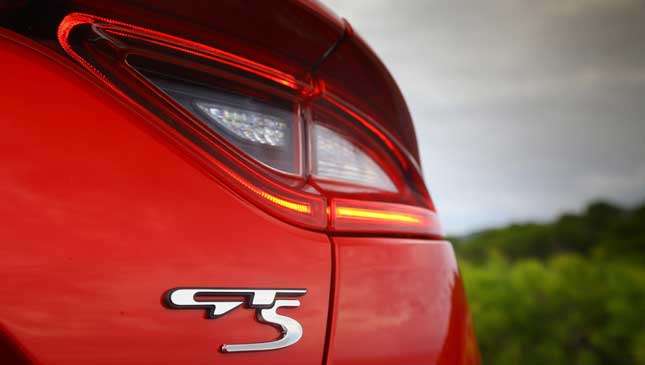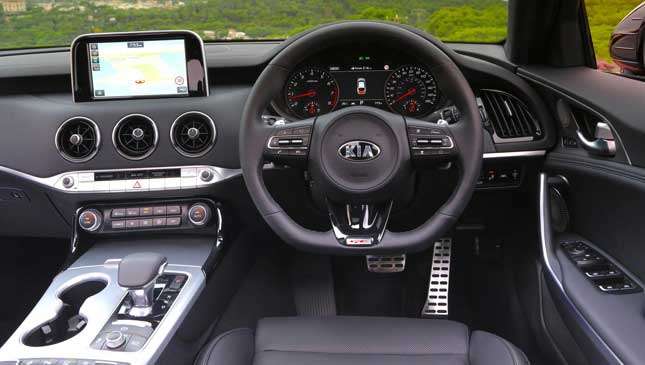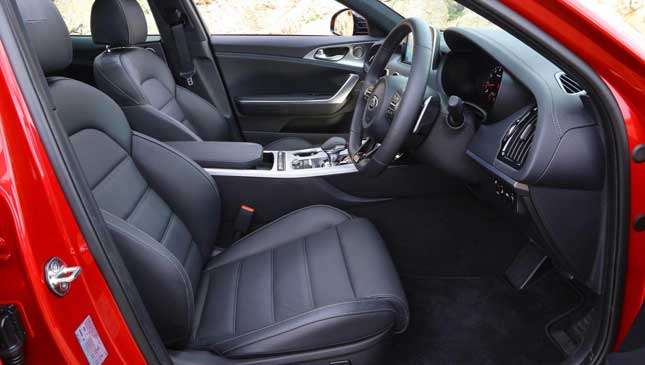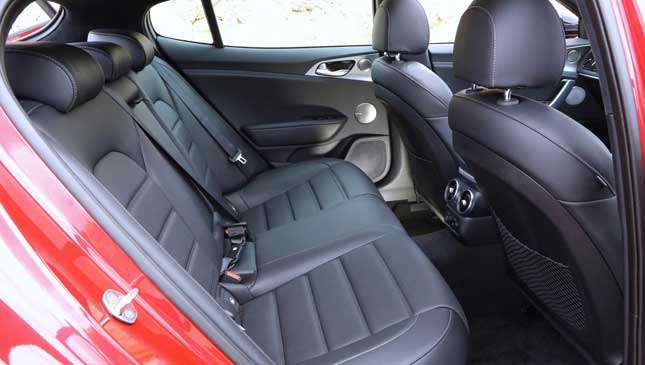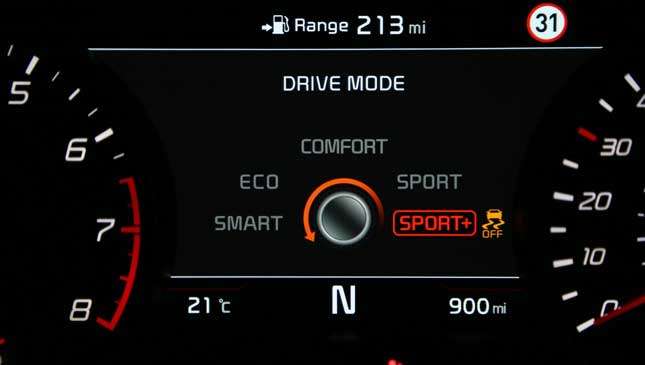 NOTE This article first appeared on TopGear.com. Minor edits have been made.