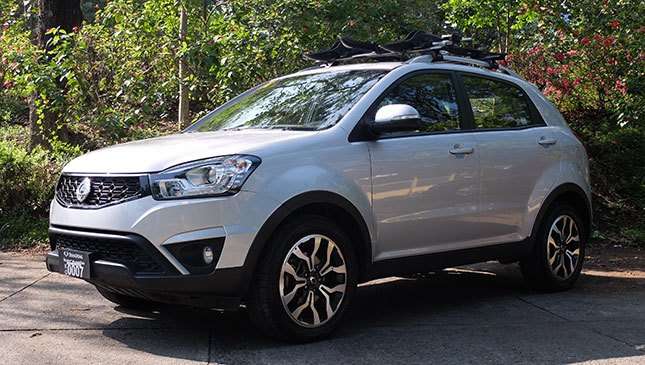 Over the span of my time with the SsangYong Korando, I was faced with one common line of questioning by friends and relatives who'd come across me and the test unit: Is it a China car?
The answer is no, damn it. It's a Korean crossover, and a pretty good one, too, as I learned driving it daily for several days. Just because you don't recognize the badge doesn't mean it's part of the influx of cars coming from the People's Republic.
Emblem aside though, the Korando is a very worthy entry into the local crossover market. Together with the Tivoli, it spearheaded the carmaker's re-entry into the Philippines. Admittedly, I found it to be hit and miss, but those hits come in all the right places, and frankly, the misses aren't that big of a deal considering its price point. Allow me to elaborate further:
Continue reading below ↓
Recommended Videos
1) It's a gateway into the world of AWD crossovers. The unit we're speaking of is the Korando ELX AWD. It's a diesel, AWD, and at P1.390 million is considerably cheaper than most competitors that come with the same drive layout. In terms of price, the closest I can think of from the top of my head is the Subaru XV, and that runs on gasoline.
2) Diesel? We're listening. Actually, you'd hardly be able to tell sitting inside. The ride is surprisingly refined, the engine's acceleration is smooth, and NVH levels are impressive. In fact, I had to double-check its papers to make sure of the powerplant before filling up.
3) Speaking of filling up…The Korando's 2.0-liter diesel engine proved pretty efficient. No specific figures, but after a week of heavy use (including a trip out of town), it still had a good three bars left on its fuel meter.
4) Steering leaves a little to be desired. Don't get me wrong, the Korando's handling is precise. It does tend to lean on the heavy side in city driving, requiring a little degree of effort when maneuvering or parking. On the plus side, its turning radius is smaller than I expected.
5) What's it come with? Bluetooth connectivity, global GPS, automatic power folding side mirrors, illuminated vanity mirrors, and a rear camera for parking. No push-start button, but consider its price and everything it does come with. The one gripe I have is that the unit didn't come with paddle shifters or a traditional toggle for sport mode. Instead, it came equipped with an unconventional switch you flick forward and backward on the side of the shift knob.
6) But what about those looks? What about them? It's a major step up from SsangYongs of old. Alright, we'll admit the Korando is far from the best looking crossover around—it's not edgy or sleek in the slightest. But it does look good with modern DRLs, a nice honeycomb grille, and curvy proportions. It's not bad at all.
7) And on the inside? Lots of hard plastic and a lame attempt at a faux wooden trim on the dashboard. There is plenty of storage space though, and the front features a practical layout. What's more, headroom is excellent, the A/C performs very well, and the rear seats fold flat for ferrying larger cargo. Again, consider its price point.
Overall, SsangYong has put work into the Korando where it matters most. The drivetrain impresses, the ride is quiet and stable, and it handles respectably. At below P1.4 million, you could do a hell of a lot worse. So, what do you think? Is it a Korando, or a Korandon't?
Alright, I've been itching to drop that one since line one.