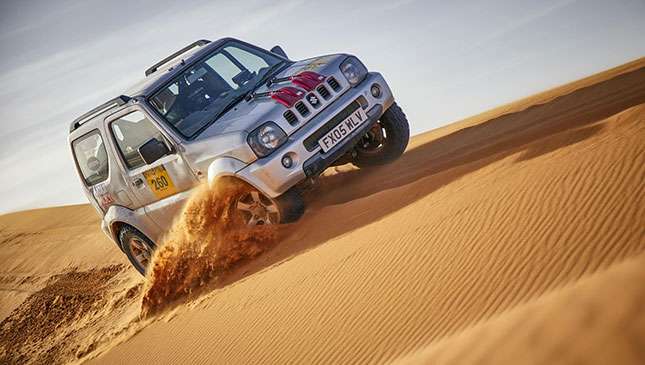 This isn't much fun. I'm wearing triple-layer Nomex, I can feel sweat forming a meniscus between bald head and helmet lining, and I'm on my knees in a desert, desperately trying to shovel sand out from around the back wheel of a Suzuki Jimny.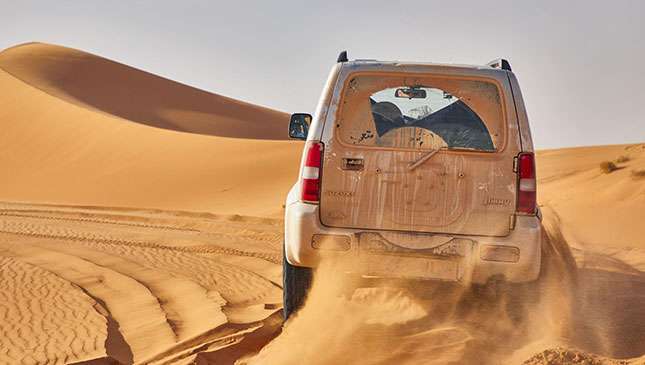 ADVERTISEMENT - CONTINUE READING BELOW ↓
And hell, if I hadn't have got stuck I don't think I could have claimed to have done the event justice. Go into the boundless Sahara and not get stuck? Clearly you're not trying hard enough…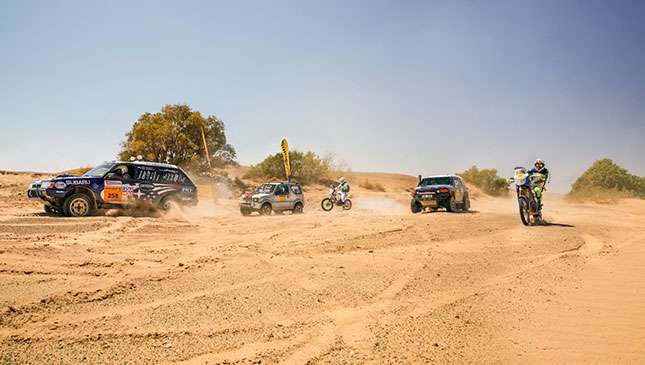 The Tuareg Rallye is like the Dakar for those who don't have Peugeot's budget. It's a fearlessly amateur thing, seven days of belting about Morocco, on routes designed to be challenging, placing the emphasis on driving and navigation rather than money and speed. It was set up by a chap called Rainer Autenrieth 19 years ago. Now, the rally is his full-time job. You don't need a rally license, you'll be far from WiFi, and I guarantee you'll have an adventure just getting here.
ADVERTISEMENT - CONTINUE READING BELOW ↓
Recommended Videos
Now let me introduce you to John Cockburn. He still has a proper day job—driving race trucks for Peugeot on the Dakar and such like. But he, too, realized that normal people wanted to have a go at desert rallying, so a few years back he started buying Suzuki Jimnys and throwing rally components at them. Some of them even stuck.
Ours, an eBay purchase, was £1,400 (P90,000), the secondhand seats were £180 (P11,350), the Old Man Emu suspension was £100 (P6,300) a corner, same for the BF Goodrich tires. The cage was about £700 (P44,100), the running gear is standard. All told, about £4,500 (P284,000) of wobbly investment.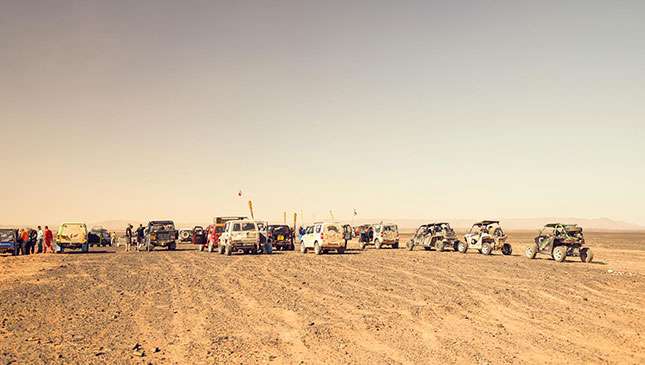 ADVERTISEMENT - CONTINUE READING BELOW ↓
I got to hear about this, loved the juxtaposition of a small car in a huge desert, which is why photographer John Wycherley and I find ourselves in Merzouga at 1:30am, our relief at having a room key waiting for us slightly undermined by the cockroach, mud-and-hay construction, and naked wiring reality.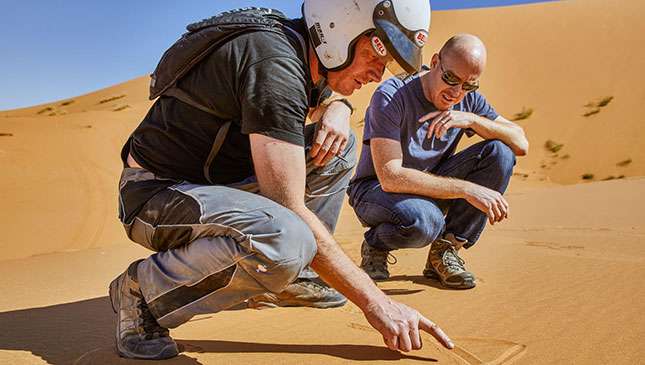 ADVERTISEMENT - CONTINUE READING BELOW ↓
The next morning we walk to the dunes behind the hotel where most of John's Maxtraction team are sleeping in trucks. Wise decision. Apparently we're lucky not to be in the Rose des Sables down the road. An engine swings gently as it dangles from a truck hook. Today for me is about learning; tomorrow I race stage four of the rally.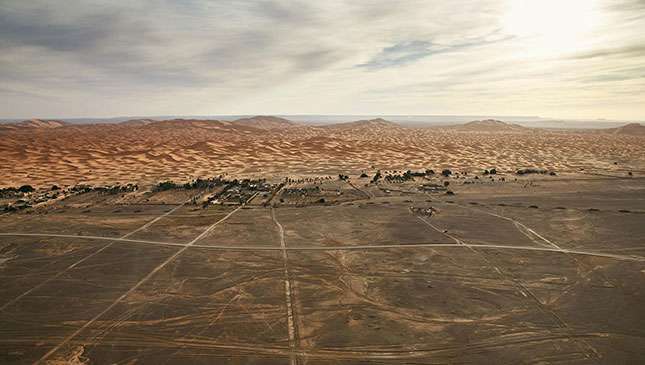 ADVERTISEMENT - CONTINUE READING BELOW ↓
"You need to get a taste for camel poo." Must be some sort of desert survival tip. Sketches in the sand have revealed the importance of working out wind direction, we've shaded our eyes and tried to discern color changes, and seen just how difficult it is to establish depth perception, angle or terrain when you're driving toward the sun, compared with driving away. Driving in sand is hard. Racing in sand is downright treacherous. And camel poo is your friend. "Camels aren't stupid," John continues, "they don't want to walk in soft sand, so follow their poo."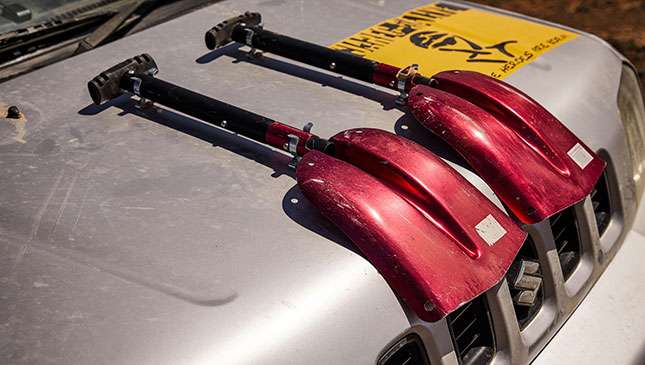 ADVERTISEMENT - CONTINUE READING BELOW ↓
Theory done, it's time for the practical. 'My' Suzuki Jimny has a pair of shovels on the hood, and in the back some carpet and a scuba tank. I kid you not. John claims carpet, laid face down on the sand, is a better solution to help free a stuck car than a sand ladder. And that an on-board compressor is a vastly expensive way of reinflating tires, when a 300 bar scuba tank will do the job in a jiffy.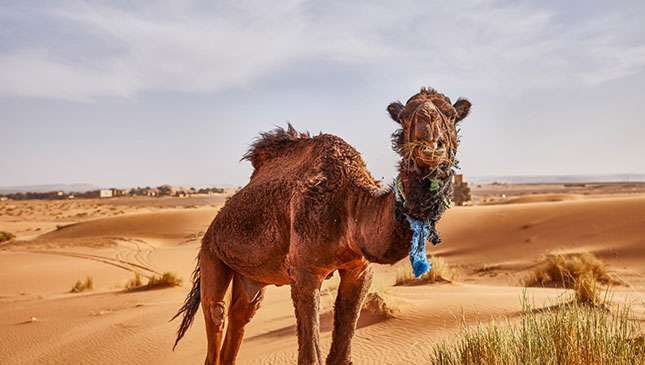 ADVERTISEMENT - CONTINUE READING BELOW ↓
I have a practice with both. A gadget extracts the valve core so you can drop tire pressures from 25psi to 8psi for the dunes. I also learn the Moroccan tire test: Wallop the sidewall and watch for the wobble.
The Jimny is 12 years old, has 133,000km on the clock and will be off to the great scrapheap in the sky soon. John reckons they last three events before scrappage beckons. It is worryingly vague in almost every measurement. The gear lever is gloopy, there's no power, it's tall, short, narrow and deeply unstable. But at least the turning circle is tight—handy when you're in something as restrictive as a desert.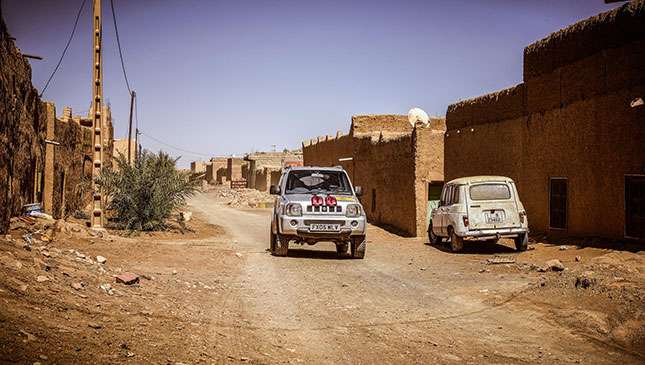 ADVERTISEMENT - CONTINUE READING BELOW ↓
Then I clear Merzouga city limits and head off-road. And you know what? My First Rally Car knows its stuff. It has a real appetite for dusty tracks, for rocky sections, for scrubland—a real can-do attitude. Trail-brake into corners and the back will arc round, the brief wheelbase and soft suspension can be used to adjust trajectory with barely any steering input. You can build a flow with it. This much fun with just 82hp? Come to think of it, power and handling feel well-matched, which probably tells you most of what you need to know: Anything above 96kph is worrying. But it only weighs 950kg. Drop those plump tires down to 8psi and it treads lizard-light on a sand dune.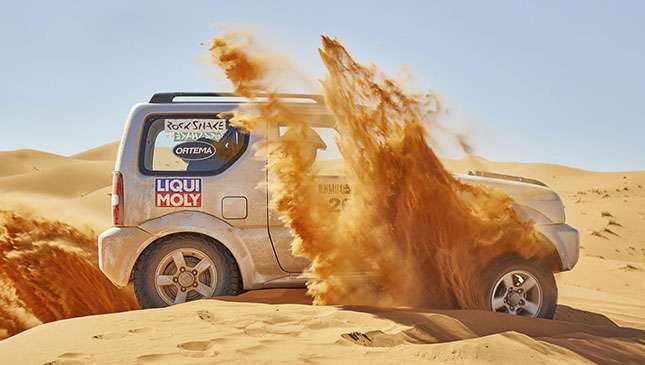 ADVERTISEMENT - CONTINUE READING BELOW ↓
I've rallied before, so am comfortable on the rough tracks, the dust and clay, but sand… it's not just the navigation through it, but the technique for it, the topography of it, the blind crests, the deep, soft, inescapable bowls. It's a maze. Right now I'm bobbing about in an ocean of sand in the rallying equivalent of a pair of water wings.
Luckily I have a co-driver who really knows his stuff. Meet Mike the mechanic, and without further ado let's fast-forward to the stage start. We're counted down and set off with a wheeze of wheelspin. Three kilometers out into this vast plain, Mike has me pull over and stop. He's not sure where we are. Or where we need to be going. We backtrack, we drive in a little circle so we can get an accurate compass bearing, we set off tentatively.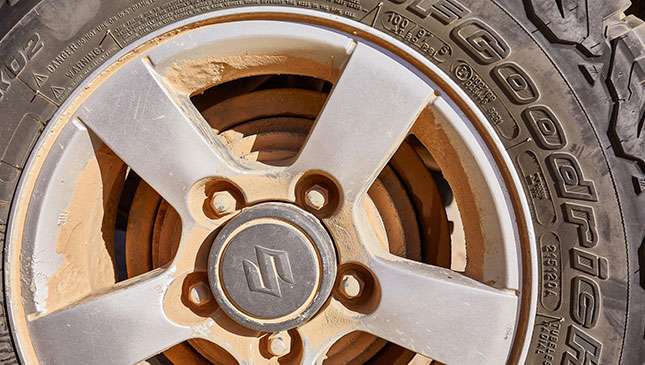 ADVERTISEMENT - CONTINUE READING BELOW ↓
We are our own biblical parable—the blind leading the blind through the valley of rally, our promised land the finish flag some 200km distant. Right now that seems an inconceivable distance. We look up and everyone has scattered like seeds—not a single puff of dust on the horizon. Where the hell has everyone gone? One-minute intervals we went off at. And now no one. Mike regroups, and to be fair the navigation is at once simple (you have a route book and GPS beacons to reach) and fiendishly difficult (no maps, and often no roads, tracks or signs of humanity).
There was a patch of low sand dunes, the kind you can nearly see over. That went on for a while, and then we found a gap in the mountains, went up this big valley popped up onto a ridge, came back off it. Nearly turned back, then carried on, lost our way, found it. I work out that vegetation means water and water means uneven ground. I learn that the hard way.
ADVERTISEMENT - CONTINUE READING BELOW ↓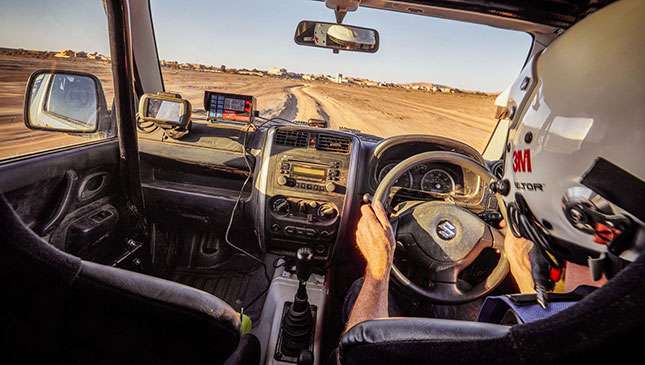 And then there was the big dune section. The GPS checkpoint was only 3km away. It took us 45 minutes and 8km to find it, a fair chunk of that spent digging. Which is where we came in. I thought I'd remembered my dune driving lessons, but as we clambered a narrow ridge it gave way on one side. The car lurched to the right, more heavily than a car with a high center of gravity should, so I threw lock on, gunned it and tried to outrun the avalanche. That went well. And then we got to the bottom, where it was all soft and we were stuck. Looking, pointing, digging, walking, checking and finally reversing and powering, had us out.
ADVERTISEMENT - CONTINUE READING BELOW ↓
Sometime later we finish. This happens much sooner than I expected, and I'm not relieved, I'm gutted. I wanted to carry on for hours more because I was having an absolute ball doing the Tuareg Rallye in my tiny rally car. I have no idea how we've done (and still don't), but we seem to be the second Jimny home. I couldn't give a hoot about the result, because what matters is getting back to camp, tracking down a cold beer and standing around in dusty overalls, shoes still filled with sand, shooting the breeze and telling stories as tall as the dunes.
ADVERTISEMENT - CONTINUE READING BELOW ↓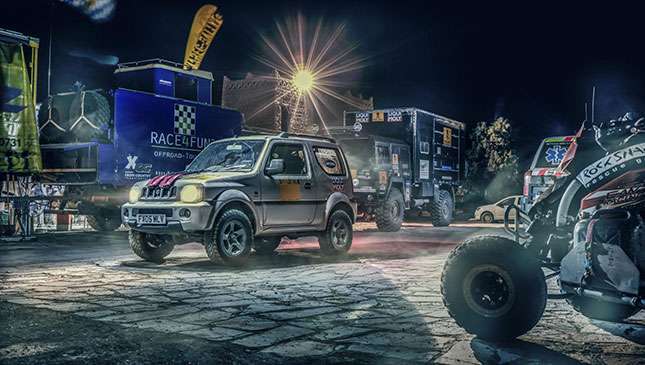 NOTE: This article first appeared on TopGear.com. Minor edits have been made.