What was supposed to be a day spent doing a prenup shoot turned out to be an unimaginable experience: Around 4pm on Sunday, January 12, we were heading to our next venue in Tagaytay—and only then did we find out that the Taal Volcano was erupting.
It was hard to believe until we saw it ourselves. It looked surreal. How many times will you get to witness a volcano eruption firsthand?
By then, the roads were already clogged, partly because of the eruption and partly because it was also a Sunday. After having a quick meal, we decided to postpone the shoot and head back to Manila. Little did we know that we weren't even meant to reach Santa Rosa–Tagaytay Road.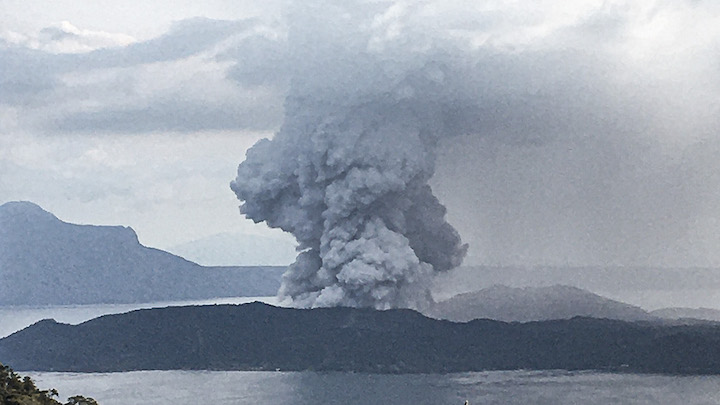 ADVERTISEMENT - CONTINUE READING BELOW ↓
Six others and I were on board a manual SUV, and only two of us were capable of driving a stick. At 5:15pm, traffic was at a complete standstill. The column of smoke and ash rose high above the volcano, and it was already starting to rain ash. After an hour sitting in traffic, we were starting to get worried because it was looking impossible to reach Santa Rosa within the next hour given that we hadn't yet reached Sky Ranch. Darkness was falling quickly, and the ashfall was getting heavier.
At 6:30pm, I reached the Tagaytay Rotonda. The rain of mud and ash was pouring hard. I could hardly see the road, so I decided to pull over as soon I saw the nearest convenience store. I bought two liters of water, which I used to wash the windshield—the wipers were pretty much useless, and I knew the wiper fluid would run out soon. Once the windshield was clean, however, it took only 20 seconds for it to be covered in ash again. We then decided to find shelter, clean the windows, the gauge the situation.
ADVERTISEMENT - CONTINUE READING BELOW ↓
Recommended Videos
I've been driving a manual for years now, but it was my first time to do so in these conditions. I didn't know that wipers are rendered futile, that volcanic particles can damage your windshield, that it takes a lot of water to wash off ash, that you have to turn on your aircon and keep it in recirculation mode, that no matter how new your tires are, they'll still struggle to gain a foothold on muddy surfaces, that you should keep your windows closed so the ash won't get inside the cabin, and so on.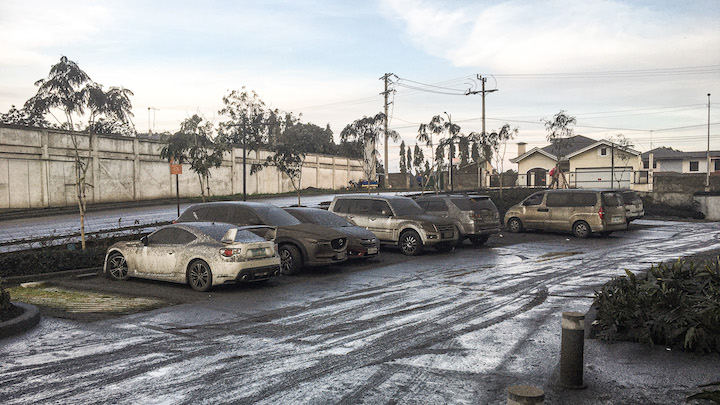 ADVERTISEMENT - CONTINUE READING BELOW ↓
Around 8:30pm, we decided to try our luck because we were afraid that the volcano would have a bigger, more explosive eruption and cause a serious earthquake that could damage roads. We refilled all the bottles of water we had, took a deep breath, and set off.
As soon as I saw a clear path, I accelerated to around 45kph. I knew I couldn't go any faster because in the event that I would need to make a sudden stop, the tires wouldn't be able to get enough traction and we could crash.
The windshield was yet again covered in ash after we had traveled about 700 meters. Left with no choice, I had to slow right down, stick one hand out to pour water on the windshield, and keep the other hand on the wheel. After another kilometer, I pulled over in front of a hotel. There was just no way to make it all the way down to Nuvali in those conditions, so I decided to just head back to where we first took shelter.
ADVERTISEMENT - CONTINUE READING BELOW ↓
Along the way, we ran out of water and washer fluid. This was the highlight of that night for me: I was already exhausted, running out of solutions, and tired of making quick decisions.
We again pulled over and started pitching ideas on how to proceed. The condominium car park we were aiming for was still 600 meters away—and our water supply was down to half of a one-liter bottle and a few smaller bottles. One solution we tried was to use an umbrella, which meant I had to hold the umbrella over my side of the windshield, then steer the car and shift gears one-handed. It was a good idea for a few meters.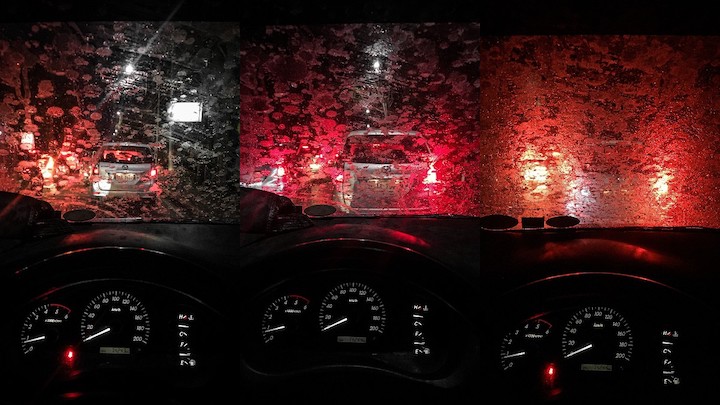 ADVERTISEMENT - CONTINUE READING BELOW ↓
Desperate to reach the condominium, I rolled down my window completely, stuck my head out, and endured the pain of ash getting into my eyes. My shotgun passenger did the same on her side. Eventually, we reached our destination.
We cleaned the windshield, refilled our water bottles and the washer-fluid reservoir, and rested. Because the power was out, the hotel had electricity only in the common areas. All the rooms had no power and we needed to rest. We eventually decided to move to another hotel even if I was extremely hesitant to do so—even if the ashfall was lighter at this point, the hotel was located almost a kilometer away, near the Tagaytay Rotonda.
I had to drive with extreme caution because there was no street lighting and there was practically no other car on the road, which at least meant fewer chances of colliding with another vehicle.
ADVERTISEMENT - CONTINUE READING BELOW ↓
After a small prayer and a deep breath, we quickly made a run for it—windows down, head out, high beam on. The windshield was yet again covered in ash in a few minutes. We had a close call with an approaching vehicle near the roundabout, but we eventually made it to the hotel. It was the first time I felt any relief in the last six hours.
At 1am, we went outside to look for a convenience store, taking a tricycle down the route we had come from. Tagaytay was almost a ghost town, with the only light coming from a few sign boards and the lightning flashing near the volcano. The roads were covered in thick mud.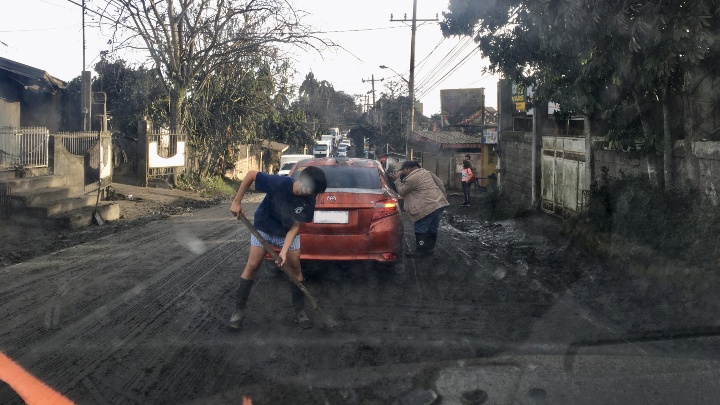 ADVERTISEMENT - CONTINUE READING BELOW ↓
We were awakened by a strong earthquake at 5am, and that only gave us more reason to leave as soon as possible. After getting the car washed by the hotel staff, we quickly left and headed down Santa Rosa–Tagaytay Road. I had to maintain a speed of 20kph since the road was wet all the way down; it was through the efforts of the residents that parts of the highway were mud-free. We saw a number of oncoming cars and buses skidding left and right.
Prior to this, I had already experienced driving a car through a flood and a river. But driving through an ashfall was an entirely different experience and challenge—you really have to set aside your fear and worry in order to make wise last-minute decisions. This sort of ordeal will give you an understanding of what your fellow men are going through. We saw how people went out of their way to offer help and aid, from rescue teams coming from Manila to locals working to serve people in need despite the risks to their own health. In this situation, they were the light in the darkness.
ADVERTISEMENT - CONTINUE READING BELOW ↓
On our way back to Manila, my passengers and I realized how we were able to learn more about each other. It's times like these that you recognize everyone's strengths and weaknesses, and how you can adjust to each other's needs. In the end, we were fortunate to be in a better situation than those who were in or came from the areas near Taal. 
We also learned that if you have the means to provide an act of kindness in the face of harship, you should give it without thinking twice. And if it's not within your capacity, a simple prayer could go a long way.