ROUND THREE: Hot(ish) lap
One at a time against the clock, zero bonus points for style
We could have drafted in The Stig for this one—he couldn't care less whether a car is powered by petrol or electricity, and Califonian Sea Lions are in his top-three otariids—but we made a judgement call. For this lap to be relevant to the overwhelming majority of you who aren't mute racing drivers, and to keep things even, I, a man of adequate driving talents, would set the lap times. This strategy is immediately called into question, mostly by me, as I find myself sideways-beyond-the-point-of-return over a tricky little right-hand crest on Thunderhill's West Course, skating through the boggy run-off area, watching a tsunami of mud rain down on the Tesla like Albatross droppings. Quick hose down, take two.
I'm not entirely to blame. You see, this Track Mode—exclusive to the Model 3 Performance—not only juggles torque to allow drifty shenanigans, it also increases the regen force to 0.3g, which has the hilarious effect of making it lift-off oversteer like an '80s French hot hatch. Using it sparingly tightens your line. Using it clumsily—say, over a blind crest where you've been told to not be a wuss and keep it pinned—results in mild off-roading.
Even so, it's a welcome dose of character in the Model 3's dynamic repertoire, because it's just so capable and ruthless in the way it piles on the speed and dispatches corners with pristine body control, that it's in danger of being dull.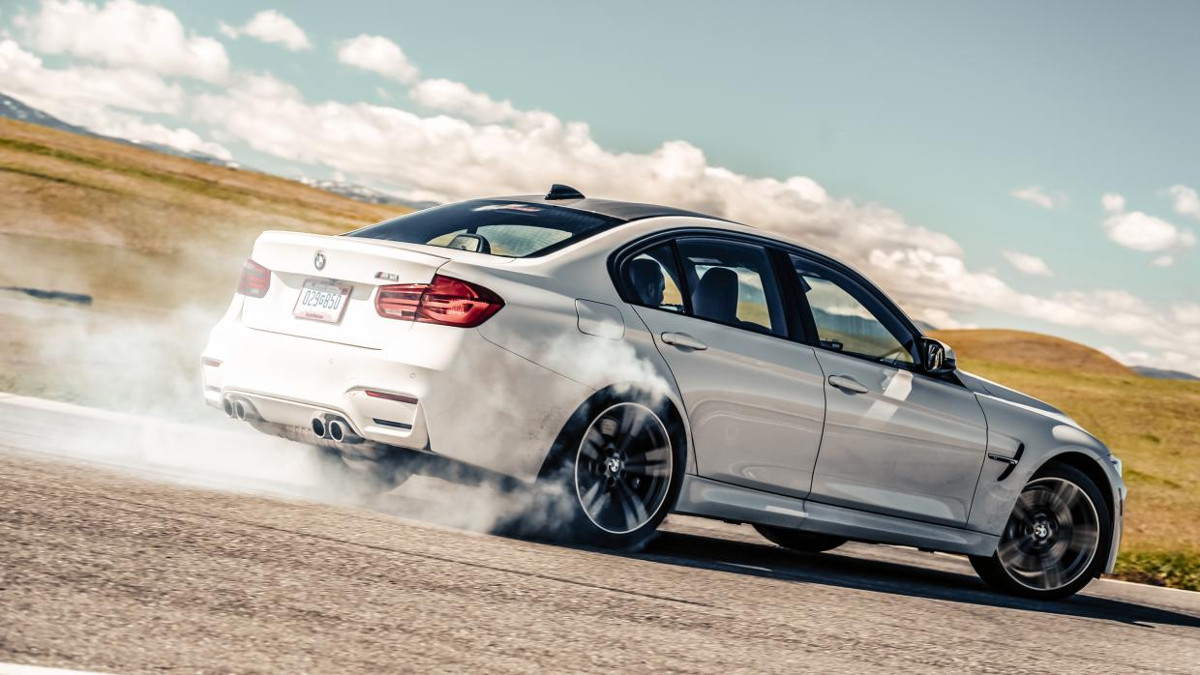 That mule kick of acceleration means that if you're facing the right direction, no matter how much understeer you encounter (quite a lot, if you come in too hot) and how dubious your lines are (creative—I like to call them creative), you can fire out of corners like a marble from a catapult. But there are issues. The steering is without feedback and fast, like Ferrari 488 Pista fast, which gives that feeling of instant agility on road, but slight nervousness on track. Then there's the weight: The center of gravity is supercar-low, so stability is exceptional, but mass can only be masked, not hidden forever.
Once you have the measure of the handling, weight quickly becomes the limiting factor, the thing that stops it from ever feeling truly nimble. Drive an Alpine A110 and one of these back to back for a physics lesson through your fingers and butt cheeks. And then there's the big fat elephant—you can only drive it for a handful of laps (three or four around this 3.2km track) with full-fat performance before heat becomes an issue and the computer dial backs the power by what feels like 30 or 40 per cent. Not ideal.
From the first corner, the M3 feels less tied-down, more up on its toes—unnerving at first, but then you realize you can lean on the front end harder, work the brakes later, and flick it around in places where the porky Tesla demands patience. Unfortunately, when you floor it, the throttle response is glacial by comparison, and the accompanying racket isn't quite as glorious as you remember—more of a distraction from listening to what the tires are doing and getting on with the business of going fast. I bang in a timed lap in each, neither is the tidiest, and given another few hours I could have gone faster in both, but the delta is plain to see: Tesla takes it by almost two seconds.
TESLA : 3 – 0 : BMW