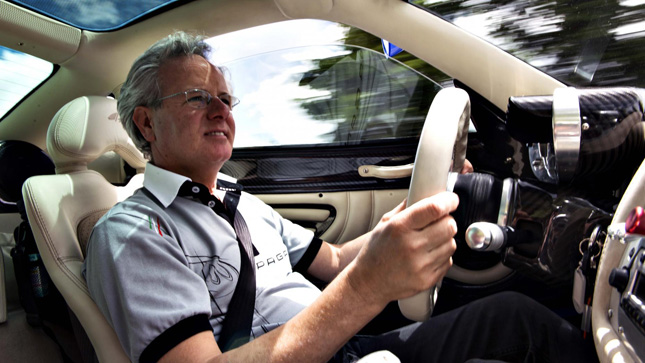 Many of us were too young when automotive legends like Enzo Ferrari and Ferruccio Lamborghini were actively practicing their craft. For many young gearheads today, Ferrari's and Lamborghini's counterparts are Horacio Pagani and Christian von Koenigsegg, and our colleagues in the UK were fortunate enough to recently talk to these guys. The result is a fascinating insight into the minds that create automotive dreams. So grab a hot latte or a cold brew, and enjoy this good read.
Growing up, who were your car-industry heroes?
Horacio Pagani: Juan Manuel Fangio. He was my friend, first of all. He was an extraordinary person and the inspiration for the Zonda. There is a book by Roberto Carozzo called Fangio: Cuando El Hombre Es Más Que El Mito (Fangio: When The Man Is More Than The Myth) that summarizes what he was. He was very rich--intellectually, humanly. A person of great simplicity. Our relationship was very deep. Then Bertone, Giugiaro, Pininfarina, Riva, for example. All of them are great men, not just great designers or entrepreneurs.
ADVERTISEMENT - CONTINUE READING BELOW ↓
Christian von Koenigsegg: My real hero was Reodor Felgen, from an old animated film called Pinchcliffe Grand Prix (Flaklypa Grand Prix in the original Norwegian). Reodor was the bicycle repairman from a small village who built his own amazing race car and went on to win against the odds. That film was my initial inspiration and remains so to this day.
Describe the moment you knew your own car company was going to happen.
HP: When we had the first engine from Mercedes. I realized then we were going in the right direction. I will always thank all our partners who worked with us over the years.
CvK: The day I finally decided to do it was August 12, 1994. I sat down at my Windows 3.11-powered computer and started drawing the design I'd had in my head for so many years into Microsoft Paint. I was running my own import/export company at the time, and I worked on it from that day forward. The car company was incorporated early in 1995.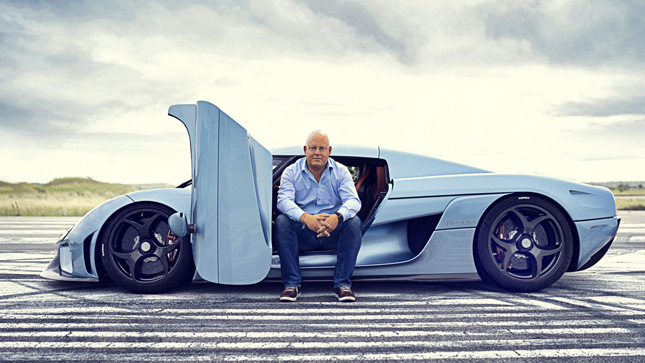 What is the greatest technical hurdle you've overcome?
HP: It's difficult to pick one. We work so in-depth on every single detail that it is very difficult to pick one. Let's say this: The hardest part for us is to give a form to our dreams. Every detail has to be perfect, has to be something worthy to stand alone.
ADVERTISEMENT - CONTINUE READING BELOW ↓
CvK: Can I say everything? Getting our door hinge to work when everyone said it was impossible. Engineering a whole car to fit around a roof that has to be stored in a small front compartment. Subframes, suspension, the extreme curvature of our windshield, fitting our fuel tank into the chassis and making it work with its baffles, etc. It's a massive challenge to design all of this and accept no compromise in terms of weight or performance.
In what way does your home country influence your cars?
HP: Italy and Argentina are very similar in many ways. The passion is, probably, what Latin people share all over the world, so that's why I feel at home here in Italy. But the country where you want to realize your dream is very important. That's why, if we are talking about supercars, we can say that there is a tie with the territory. It is highly improbable that Ferrari, for instance--which is synonymous with Maranello, Modena and Italy--could one day be produced in China. This can also be applied to our cars.
ADVERTISEMENT - CONTINUE READING BELOW ↓
CvK: I wanted to make something that was very clean and minimalistic, which is a very Scandinavian approach, I suppose. Of course, the safety aspect of car design has always been at the top of our minds, too. The ability to control the car and not get into accidents in the first place is very important to us. And it's an important part of Sweden's automotive approach from a historical perspective, with both Volvo and Saab having many world firsts in this area. Ours is an expensive car, obviously, but we consider it to be good value for money in terms of the design input, build execution and performance of the car. I think honesty in design and value is another Scandinavian trait, and one we've adopted.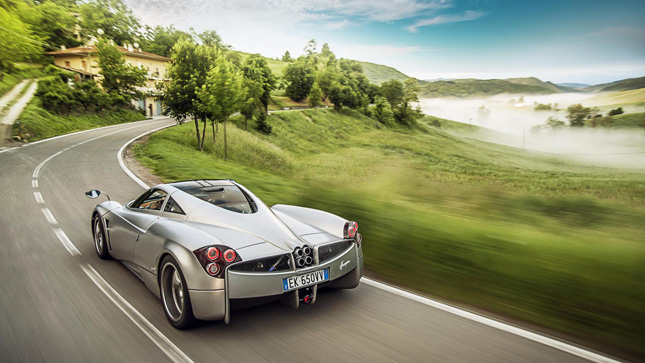 ADVERTISEMENT - CONTINUE READING BELOW ↓
How important are power and performance figures?
HP: Numbers are made to be overcome. Yes, they're important, but the experience is way more important, and it's not related to numbers. The dreams and passions are something that you cannot count--they are timeless by definition.
CvK: I think they're becoming less and less important, especially for us. When you're unknown, it's a way to be visible to the world, but it can't all be hype. A sports car is not simply about transportation. There are other priorities. You have to be able to deliver excitement and enjoyment, especially on the track. The numbers themselves can be reassuring for customers to compare, but more important is the overall performance of the car.
What's the most outlandish request you've had from a customer?
HP: One day, I had a potential customer who asked for a stone cockpit. I had to explain to him that one of the reasons we invest a lot in carbon-fiber technology is to reduce weight and increase safety. And a cockpit made out of a block of solid rock isn't exactly in line with the Pagani philosophy.
ADVERTISEMENT - CONTINUE READING BELOW ↓
CvK: We've had many. A few of the more interesting ones are cigar storage and some protective mesh being placed over some vents to the engine bay because the customer was worried that his cat might get in there and get hurt. As long as the customer understands that it may delay the build and it will cost extra money, we can look at it.
What was the greatest drive of your life?
HP: When I first drove the very first Zonda, with Cristina, my wife. It was something that I will never forget.
CvK: The three most exhilarating drives I've had were: driving my mother's Opel Corsa around our family's small farm in southern Sweden when I was about 10 years old; my first independent drive when I got my license (I was in my dad's Audi 100); and the first time we drove the CC Prototype in 1996. [In the case of the latter] we didn't even have the body on at the time. It was just a chassis, an engine. It was a winding road outside of Olofstrom, where our factory was at the time. You could feel the chassis working, the engine humming. Everything was working together, just as it should be. It was the most amazing feeling, because we'd made this prototype from scratch--and it was really, really good.
ADVERTISEMENT - CONTINUE READING BELOW ↓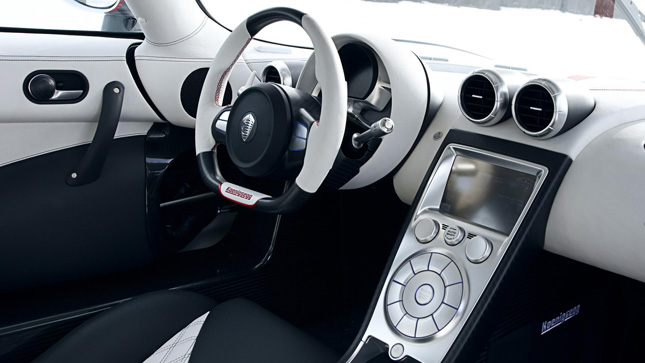 What, besides your own cars, is in your garage?
HP: In my collection, there is a Zonda for almost every version we made. But, aside from that, a 1963 Jaguar E-Type, a Ford GT Gulf Limited Edition and a Porsche Carrera GT. I just bought a Lamborghini Countach 25th Anniversary, a Porsche 918 and a Mercedes-Benz Pagoda. In Argentina, I have a collection of vintage American cars, from Model T and Model A Fords to Chevrolets. I have about 20 in total, because they were the cars I saw as a child, and it is a collection I had made prior to my arrival in Italy. It is not an expensive collection, but it represents what I liked and what was on the streets when I was a young boy.
ADVERTISEMENT - CONTINUE READING BELOW ↓
CvK: A music studio! It's all of my son's gear. I'm not a big collector of cars. I'm not even a small collector of cars. We have a small number of Koenigseggs here at the factory but they belong to the company, of course. I drive the Tesla Model S, but even that belongs to the company. Come to think about it, I actually don't own a car myself at all! On the other hand, as an owner of the company, I indirectly own all of them, I guess.
Describe an average customer.
HP: Low-profile, humble, passionate about cars, but passionate about art in general. A lot of them have the same stories, starting from zero and reaching their goals.
CvK: There really isn't one. We have male and female customers. Younger and older. The only thing they really have in common is a passion for our cars and what we do, plus they have the resources to buy one or more of our cars. They're brave people. You have to be brave and passionate to buy something so unique, so unusual.
ADVERTISEMENT - CONTINUE READING BELOW ↓
What piece of technology could you not live without?
HP: My iPhone where I can check e-mails and everything. But at the same time, I would say my pen, so I can draw my dreams into something that we can make.
CvK: First thought was my iPhone, as it is a really useful multipurpose tool that I fully depend on. However, thinking about it, I have to choose my electric toothbrush! The cleanliness, freshness and vigor it brings every day is unbeatable. It sets the tone for a good day.
Hybrid. Good or bad?
HP: I don't like hybrid cars at the moment--the technology is not ready. A sports car must have, by definition, lightness as one of the features, but the batteries and the electric engines are too heavy at the moment to justify the use. However, I think that technology should move forward. The first mobile phones were very large and, through evolution, they're now quite small. So, at the moment I don't see hybrid application in our cars. But this is just my decision--let's see how the technology will be in the next few years.
ADVERTISEMENT - CONTINUE READING BELOW ↓
CvK: Hybrid in the form of a series or parallel hybrid, the traditional type--bad. One is compromised in terms of efficiency in most driving conditions. The other is compromised in terms of complexity, cost and weight. Hybrid in the form of what we're doing with the Regera--good. What we're doing is new so it will seem complex to some, but, in reality, the Regera will prove to be a car that reduces both complexity and weight.
Ferrari or Lamborghini?
HP: Lamborghini, but I'm in love with Ferrari. I'm a car enthusiast!
CvK: One of my favorite cars of all time is the Ferrari F40. My favorite Lamborghinis are the Countach--and it has to be an early Countach--and then the Miura. On an emotional level, my soul is more with Lamborghini than with Ferrari. That might be because Lamborghini, for so long, has been the underdog in that fight. That resonates with me, given our position against the established players.
ADVERTISEMENT - CONTINUE READING BELOW ↓
What is the most important car of all time?
HP: The Alfa Carabo by Bertone has inspired me a lot, then the Lamborghini Miura, the Jaguar E-Type roadster, and the Mercedes 196 that was raced by Fangio. Some Ferraris and Maseratis, I have always had a passion for them. Porsches, too--I love them. I am a keen admirer of the 917 that won Le Mans and Monza, I love the Porsche Carrera GT and the Ford GT, both of which I have. I love cars and have always liked them. I cannot wait to see new models coming out, to be amazed by them and to buy the scale model.
CvK: The Ford Model T was a game-changer in the way that it introduced mass production and brought cars to the masses. The Beetle would be considered for the same reasons, and because of its amazing lifespan. But for me, it's the Tesla Model S because it is the biggest step change in the history of cars.
ADVERTISEMENT - CONTINUE READING BELOW ↓
What will Pagani and Koenigsegg be like in the year 2050?
HP: Our idea is to maintain low production volumes, even in 50 years. Exclusivity and artisanal processes are some of the most important values we have. We have almost finished a new facility that is five times bigger than the historical one--very modern and classic at the same time--and with the aim to reach 50 units per year, for a demand that is three times as much as that. So why build a stable capable of doubling the production? Because we want to strengthen the R&D sector, making even more in-house tests in a high-tech facility, with extremely high standards of technology. And a working environment for our workers, a very stimulating factory for the people inside it.
ADVERTISEMENT - CONTINUE READING BELOW ↓
CvK: It'll probably be a square living room with no steering wheel. A hovering autonomous chillpod. This is the future of cars, no doubt. But hopefully not the future for sports cars, if they're allowed to exist. I think and hope there will still be room to do something like what we're doing now. A performance car with emotional values in focus. Like handmade Swiss watches today. Unnecessary? Yes. But desirable? You bet.
NOTE: This article first appeared on TopGear.com. Minor edits have been made.