Some of you probably realized it was April Fool's Day last Friday after falling for a practical joke. For car lovers, it meant we had to be extra careful not to mistake pranks for actual motoring news. Honestly, with the level of detail car companies put into this year's jokes, it was a little difficult discerning which was which. But hey, what's a little fun at the expense of unsuspecting car nuts, right?
If you missed those tricks last April 1st, we're sharing some of the best ones below--some outlandish, others well within the realm of reality. From ridiculous tech innovations to illogical new car models, automakers gave it their all to get people to bite. Which ones got you?
ADVERTISEMENT - CONTINUE READING BELOW ↓
The Mini Hipster Hatch. At first glance, the Hipster Hatch might have looked legitimate. After all, some carmakers will go to absurd lengths to get hold of untapped markets. Equipped with a single fixed gear, Instagram filtered windows and a twin-deck cassette player, anyone driving this will surely stand out.
What gave it away? The fixed-gear drive with a maximum speed of 25mph (40kph) and Instagram filtered windows. The stonewash denim seats and the cassette player were pushing it. But if hipsters are willing to pay, why not?
ADVERTISEMENT - CONTINUE READING BELOW ↓
Recommended Videos
Honda UK Emoji license plates. The Japanese carmaker supposedly conducted a study that showed 96% of respondents under the age of 30 preferred Emoji plates to the standard alphabetical and numeric ones. The company said that the new plates would be reflective of a driver's personality and lifestyle, and were sure to be a hit with younger car owners.
What gave it away? Frankly, this was one of the more obvious pranks that surfaced online. The company could have at least tried to make its research figures more believable.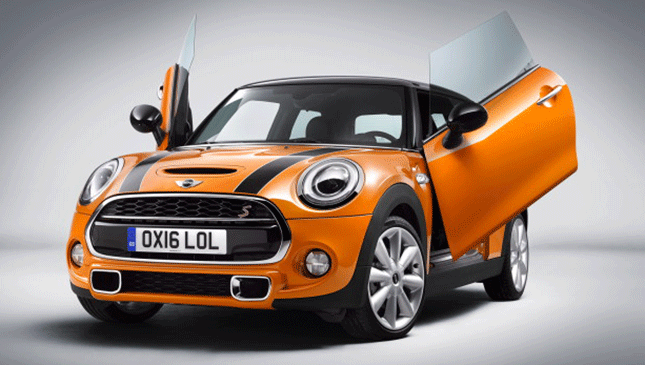 ADVERTISEMENT - CONTINUE READING BELOW ↓
Mini announces scissor doors as a new equipment option. The Paceman, the Hatch and the Convertible will now be offered with an optional remote-controlled electrohydraulically activated wing doors. Yes, Mini owners can now take advantage of ridiculously tight parking spaces without having to worry about how to exit their vehicle.
What gave it away? The company said that the doors will feature a "pyrotechnical emergency exiting" system called PEE, which will blast them off during emergency situations.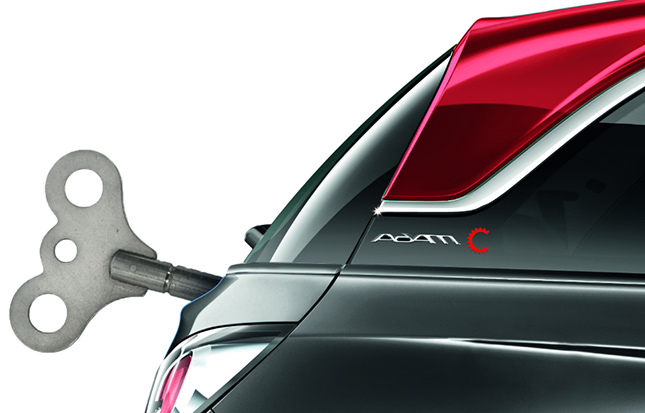 ADVERTISEMENT - CONTINUE READING BELOW ↓
The Vauxhall Adam C kinetic car. Powered by a state-of-the-art kinetic mechanism similar to clockwork toys, the Adam C has no running costs and no emissions whatsoever. All you have to do is wind the car up whenever you run out of kinetic energy.
What gave it away? Honestly, the car looks legitimate--save for the fact it's equipped with a giant wind-up knob at the rear.
If you're viewing this on a mobile device and can't see the video, please click here.
Citroen and the world's first retractable canvas stadium roof. The French automobile manufacturer teamed up with the Arsenal football club to design and produce the world's first car-inspired retractable roof at the Emirates Stadium. The final product will be a 9,000m red canvas roof capable of opening and closing in just 11 seconds.
What gave it away? The football players during their interviews: "Our sports scientists say it will improve our stamina by around 8%." Well, that and the 11-second opening time.
ADVERTISEMENT - CONTINUE READING BELOW ↓
If you're viewing this on a mobile device and can't see the video, please click here.
Lexus V-LCRO technology. Otherwise known as the Variable Load Coupling Rear Orientation system for the driver seat. The seat is designed to hold drivers in position with a holding power of 15psi. How? With Velcro adhesive technology.
What gave it away? We have to give props to Lexus for the very professional video presentation, but using Velcro to keep drivers in place? It's a little too far-fetched, we think. Good try though.