The year was 1971. In the midst of political upheavals, motorsports was emerging to be a popular crowd-drawer. Circuit racing, in particular, had emerged out of the shadows of rallying and had already become a stand-alone event. More and more drivers were joining the races, bringing with them a mishmash of cars of various makes and models. And one particular race in this era stood out not only because it had a eld of close to 30 cars with the cream of the crop of Philippine and Asian racing, but more so because of a dazzling drive hitherto unseen in the short history of local motorsports. It was a drive that would turn out to be the defining moment for a man who would eventually be regarded as the icon of Philippine motoring.
The first-ever Greenhills Grand prix was held at the then-budding Greenhills commercial center that year. A far cry from the malls and condominiums we see sprawling at this shoppers' haven nowadays, only cement roads bounded by sidewalks existed together with a few houses scattered over vast expanses of cogon grass. These were as good as a circuit track to the organizers, competitors and spectators alike. "We closed off Ortigas Avenue," Jose 'Pocholo' Ramirez, who was in contention for the win that day, had said in an interview. With hardly any houses in the area, the track made use of the North Greenhills Village roads heading out back to Ortigas Avenue to complete a 3.2km circuit. The pit lane that day was the service road on the eastbound lane of Ortigas Avenue. A sizable crowd that looked forward to an action-packed race amidst the heat wouldn't go home disappointed.
ADVERTISEMENT - CONTINUE READING BELOW ↓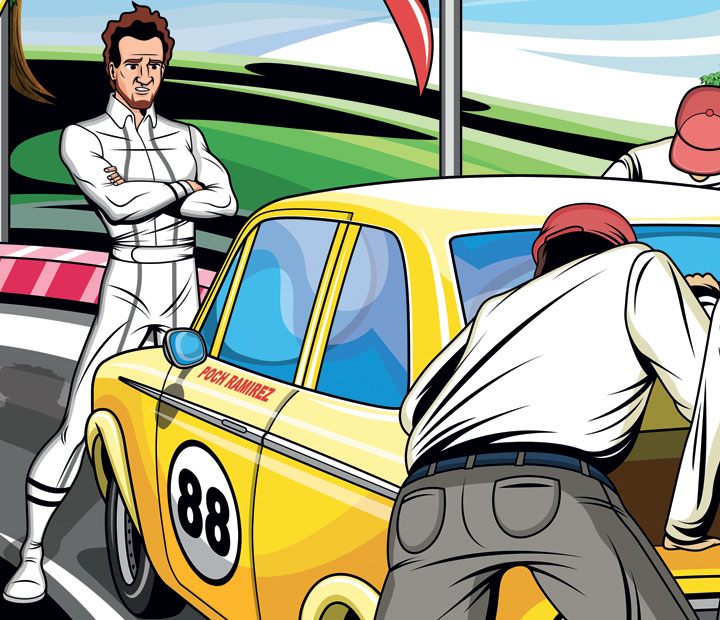 As a racing late bloomer, having only started in motorsports at the ripe age of 30 (eight years prior to this event), Pocholo brought with him something special in this race against the who's who of Southeast Asian racing. Pocholo's 1200 Toyota Corolla had to go up against 1,300cc Ford Escorts, BMW 2002s, 1,300cc Alfa Romeos, Volkswagen Beetles, Mini Coopers, Mazda Familias, Dodge Colts, and even a dune buggy. But that didn't matter to the man. As a natural sportsman, his competitive spirit was his weapon of choice. Even if he had only been racing for less than a decade and at an age today's race drivers would consider retiring at, the will to win gave him the impetus to succeed.
ADVERTISEMENT - CONTINUE READING BELOW ↓
Recommended Videos
Donning the standard "open-faced" minimalist racing helmet of the time and lined up on the starting grid, Pocholo was all set to go when, as he would recall, "somebody goofed and put water in my gas tank." What a nightmare. "They had to push my car into the pits," remembered Pocholo. And for a driver who'd already built up his energy leading to the race, this was as close to a crash as one could get. The race was about to start and his car was getting pushed to the side. Anger and frustration replaced anticipation in his mind. Pocholo's eldest son Kookie, a young lad at that time, recalls how the race was slowly inching away from his father's grasp: "People were excited about the races and not really aware of the drama going on. The Toyota paddock was in chaos, with people running around trying to drain the tank and refuel." But race time had come, and even with Pocholo and his Corolla still in the pits, the race was agged off.
ADVERTISEMENT - CONTINUE READING BELOW ↓
Pocholo's Japanese mechanic worked double- time, and when the crew put fuel and got him ready and going, a lap had already passed. With 29 other cars to pass, it looked bleak for Pocholo, but he was not the type to give up. "I guess part of it was that I was so mad at things because of what happened," he said. And as he went out of pit lane and joined the race from the tail end, he had 50 laps to do what he had come to do—win. But first, he had to pass everyone ahead of him, and he almost did.  "I drove with that little extra!" he proudly said. Demonstrating uncanny skills in racing despite (maybe even because of ) the anger, he found his way up in traffic. He even had luck in his corner as some of the cars fell into retirement during the course of the race.
ADVERTISEMENT - CONTINUE READING BELOW ↓
"To make the long story short, the only one I didn't lap was the winner," beamed Pocholo as memories of that eventful rst Greenhills Grand Prix in 1971 played in his mind one more time. From last place and working his way up to third at the end of 50 laps, Pocholo Ramirez, regarded as "The Godfather of Philippine Motorsports" in his later years, cemented his reputation as one of the best racers this country ever had. However, trivial technicalities robbed him of a third-place nish, as a competitor complained that since he didn't start from the starting line, he was still a lap down on everyone else. The clerk-of-course that day failed to account that starting from the pits still puts a driver on the same starting lap as everyone else. Dejected as he was, Pocholo was still very satisfied. Those who were there knew who raced the best.
ADVERTISEMENT - CONTINUE READING BELOW ↓
A major comeback happened that day, and Pocholo proved that with a competitive spirit, passion and determination, one can go against the odds and make something out of nothing. He would later compete in more circuit races both here and abroad, win second place in the Macau Grand Prix, and even be hailed as its best Southeast Asian driver in 1978 and 1979. With a career spanning 45 years punctuated by brilliant performances and astonishing drives, nobody will forget that the man with the beard was the racer to be feared. (Mikko David)
Note: This story first appeared in Top Gear PH's June 2010 issue.