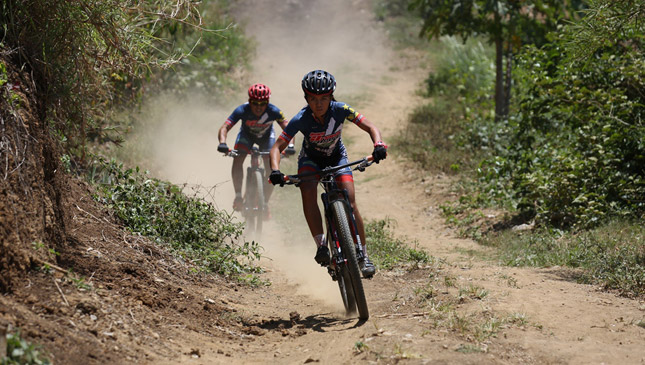 If you're into the cycling lifestyle, finding new places to ride around in is a constant pursuit. You're familiar with the drill: You fit your car with a bike rack, you mount your two-wheeler, and you drive to the next track to conquer (preferably with your riding buddies).
So, may we suggest a new destination for you and your bicycle?
This is the new Twin Lakes Mountain Bike Trail, located in what is said to be the country's "first-ever vineyard resort township community." It's a 2.5km loop that is touted to test one's riding skills and endurance. The description alone already excites us: "The trail takes riders deep into the lush forest, from the mountain top where Twin Lakes' establishments are situated, up until the foothills going to Taal Lake."
Because Twin Lakes is a Megaworld-owned property, you can be sure the place is worth a visit.
"The new trail guarantees to put bikers' riding skills to the test as they need to tackle a narrow and often bumpy path that runs between bushes and trees all throughout the track," the press statement said. "It also offers all sorts of off-road cycling challenges from fast downhill descents, berms, off-camber turns, switchbacks, short and steep climbs, swooping curves and sudden elevation changes, making it suitable for both beginners and advanced riders."
The bike trail, best of all, offers amenities you won't normally find elsewhere, including restaurants and free parking spaces.
How to drive to this bike trail? According to Megaworld, there are two ways you can reach this place:
ADVERTISEMENT - CONTINUE READING BELOW ↓
* Using Cavitex, you drive straight to Antero Soriano Highway after the exit, then turn left to General Trias Drive, turn right to Governor Ferrer Drive, and then make a right turn to Mahogany Avenue before turning left to Tagaytay Nasugbu Highway; or
* Taking the Tagaytay-Santa Rosa Road, you turn right to Tolentino East Tagaytay Road, head straight to Buho-Talon Road, turn left to C. Delos Reyes Avenue, and then turn right to Tagaytay-Nasugbu Road.
See you on the trail, guys?