Crawling down an unassuming suburban residential street of timber-clad gable-front houses in Sleepy Hollow, upstate New York, the overly demanding, shrill voice of the satnav pipes up. "You have arrived," the lady in the dashboard barks. Surely not?
The only giveaway that Mrs. Waze is in fact correct is a small plaque on the side of an old beverage warehouse that's been whitewashed into allusiveness. From it, Lady Liberty's torch burns on a marble background with three letters below: SCG. A knock on the door summons the venerable leader of Scuderia Cameron Glickenhaus--Jim Glickenhaus-- who politely gestures me in. My pupils take time to adjust to the vast darkened room, but when they do, I quickly realize I have very much arrived.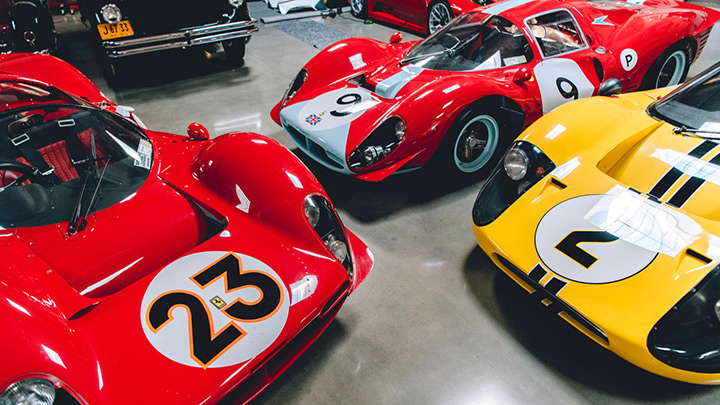 ADVERTISEMENT - CONTINUE READING BELOW ↓
All available space is draped with iconic memorabilia, trophies, thought-to-be-lost chassis and some of the rarest and most expensive cars on the planet. Dead ahead, a 166 Spyder Corsa--the third Ferrari ever made and the oldest continually existing Ferrari on the planet. Next to it abright yellow duckbilled 1967 Ferrari 206 Dino Competizione. To the right, a Le Mans-contesting, ex-Donohue/Bruce McLaren 1967 Ford Mark IV, the Queen of Yugoslavia's Model J Duesenberg, and, behind that, a Thirties Stutz DV32 from The Great Gatsby.
Then there's the proper bite-the-back-of-your-hand stuff : Ferrari's Sixties endurance racers. Notably, the P3/4 and 412P. One of which being the highly controversial binned and resurrected chassis #0846--a car that made Prancing Horse forums have hairy babies. Finally, and where your saliva glands' afterburners really kick in, Jim's latest acquisition-- Ferrari's equally batshit and beautiful Seventies wedge, the Modulo.  But aside from being hysterically expensive and significant gems of the automotive world, there's one thing that all these incredible cars have in common: every single one of them has a registration plate and is driven on the road. Even the Modulo has a dull yellow New York plate, a concept car now registered on the DMV's system as a 1972 one-door sedan. "Not driving your Ferrari is like not having sex with your girlfriend so she'll be more desirable for her next boyfriend," Jim quips.
ADVERTISEMENT - CONTINUE READING BELOW ↓
Recommended Videos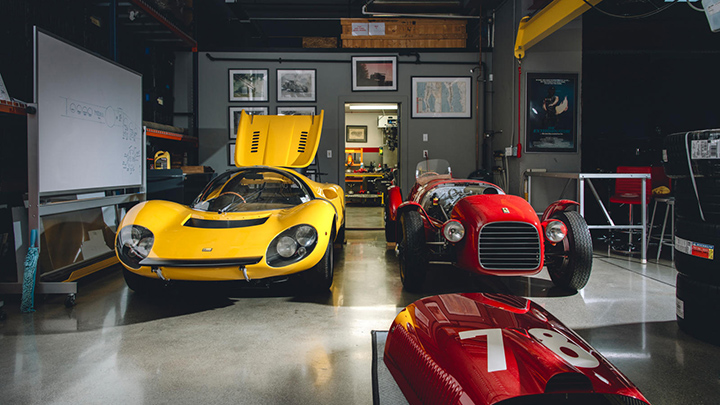 His collection is a lifetime's work and the tragic reality of being bitten by the car bug at a young age. The son of one of Wall Street's hardest-working warriors, Seth Glickenhaus, Jim grew up in a suburb of New York City a short bike ride from legendary Ferrari dealership, Luigi Chinetti Motors. As a kid, Jim would stand, jaw agape, endlessly ogling at Maranello's nest. Until one day in 1962, when the heavens literally and metaphorically opened. Concerned that 12-year- old Jim would get wet, Luigi Chinetti took one of his Ferrari racing jackets off the wall and handed it to him. It's a jacket that still hangs proudly in Jim's office today.
ADVERTISEMENT - CONTINUE READING BELOW ↓
A relationship was forged. And by the time he was 15, Jim would help Mr Chinetti work on his cars. Cars like the 1965 NART 250LM, the last Ferrari to win first overall at Le Mans. Outside the shop, Jim would modify his own '54 Studebaker to run on rocket fuel and demolish drag strips in order to satiate his need for speed. Turning 21, Jim went into the film business as a producer and director, specialising in violent B-movies. Coffers lined, he purchased his first Ferrari, a yellow and purple psychedelically striped 275. Purchase price? $6k. Value today? Many, many millions. Yet Jim drove it 65,000 miles back and forth to school in the snow and rain. Sometimes rebelliously.
Being a boho child of the Swinging Sixties, as an act of civil disobedience and hoping to get arrested in exchange for some publicity for his films, the day that the US government dropped the national speed limit to 55 miles an hour, Jim drove from Boston to New York City in the middle of the night at an average of 107mph.  "Luckily the statute of limitations has passed, so I don't think I can go to jail for it now," says Jim, exhaling with laughter. Making money in films, which he then invested in Wall Street, Jim started buying notable racecars like the Lola T70 and Ford MkIV, but converted them to drive on the road.  He'd add comforts like aircon and ticket windows so he could pay tolls... in cars that  competed at Le Mans. However, Jim, secured wider notoriety within the car community in 2003 with the gorgeous Jason Castriota- designed P4/5, a $3m coachbuilt Enzo.
ADVERTISEMENT - CONTINUE READING BELOW ↓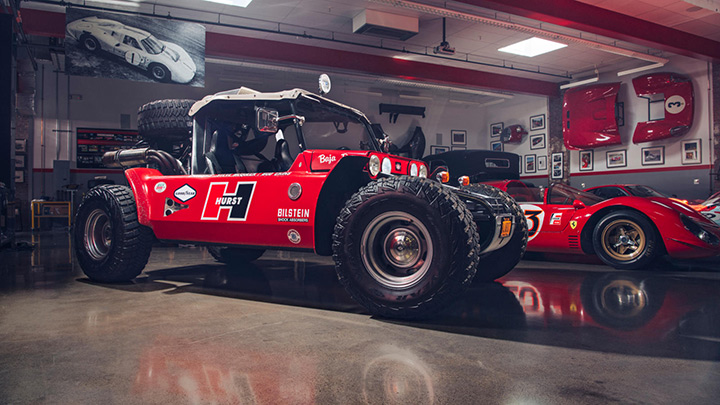 If that wasn't enough, Jim is also getting into the SUV game. Jim owns Steve McQueen's 1967 Baja Boot. When he bought it at auction he also got its technical drawings. Being designed by the same man who penned cars for the Moon, it's an incredibly capable bit of kit (big wheels, low centre of gravity, engine forward of the rear axle, hydramatic gearbox). Jim is now using these blueprints to make a modern interpretation (SCG005) to compete in next year's Baja 1000, then scale a volcano in Chile as a Guinness World Record attempt. After, it'll be sold as a G-Wagen alternative for the road. Finally, there's SCG006, a retrotastic Sixties-style drop-top with 650bhp which--you guessed it--Jim wants to go racing with, as well as use on the road.
ADVERTISEMENT - CONTINUE READING BELOW ↓
Note: This article first appeared in Top Gear UK's October  2018 issue. Some edits have been made.