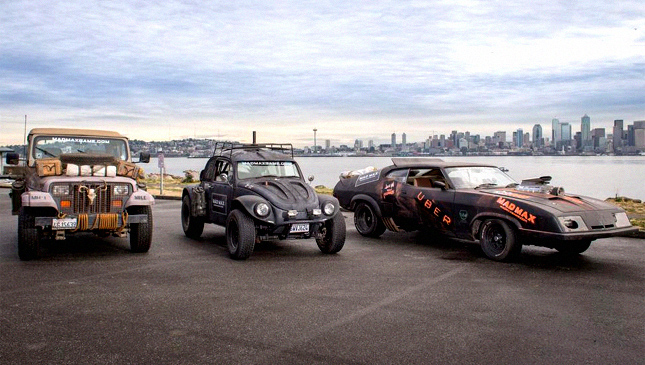 When Mad Max: Fury Road came out several months ago, our jaws dropped: The film was a car nut's dream come true. George Miller took just about every action-flick cliché in the book and threw it in your face. Guns, fast cars, explosions, beautiful women--the movie was oozing with all these elements.
What really caught our attention, however, was the amazing attention to detail Miller had put into creating the Wasteland's post-apocalyptic vehicles. From Max's iconic Interceptor and the silly Doof Wagon, to Immortan Joe's freakish twin-V8 Gigahorse and Furiosa's 12-wheeler War Rig, the cars were so ridiculously over-the-top that they must have left some moviegoers questioning the very sanity of the man behind them.
Now, imagine the look on people's faces when these same vehicles drove around Seattle ferrying passengers across the city!
Uber Seattle and Warner Brothers recently rolled out some Mad Max-themed vehicles, giving clients the opportunity to soak in a post-apocalyptic riding experience for free. Yes, that's right: Seattle Uber users got to ride around in sick Mad Max vehicles free of charge, provided their destinations were within the city's downtown area. Take a look at these wheels:
ADVERTISEMENT - CONTINUE READING BELOW ↓
Thanks to all who requested Mad Max today. The Warboys will be back again tomorrow from 10am - 6pm! #MadMaxatPAX pic.twitter.com/TEIhjbAfFQ

— Uber Seattle (@Uber_SEA) August 29, 2015
Hell, even the drivers were in character...
Need a ride? These guys are ready for ya. #MadMaxatPAX pic.twitter.com/65AWKd6JZu

— Uber Seattle (@Uber_SEA) August 31, 2015
The rides were limited though, so only a few lucky passengers got the opportunity.
If you're looking for a similar post-apocalyptic passenger experience, we're pretty sure some of the jeepneys roaming Metro Manila will suffice. You'd get the full package, complete with the arid heat, unmistakable wasteland smell, and marauders trying to rob you of your belongings!
ADVERTISEMENT - CONTINUE READING BELOW ↓
Recommended Videos