History
In 2009, the Genesis Coupe entered a Philippine market starved of affordable rear-wheel-drive sports cars, the last being the Nissan Silvia, which entered in tiny numbers a decade earlier. The Hyundai was a surprise hit. And within a few short years, it got a major overhaul, gaining more aggressive looks, a slightly better suspension, and much more power.
Sadly, despite trumping Japanese and American alternatives costing over a million more, it was phased out in 2016, with no replacement until 2020 at the earliest. Thankfully, there are a number of units floating around on the secondhand market. Not all of them are 'stock,' however!
Value and costs
The first-gen Coupe stickered from P1.3 million to P1.8 million, ranging from a 2.0-liter turbo with a six-speed manual to the top-of-the-line V6 with a six-speed automatic. Brembo brakes were an option for the V6. The 2013 second-generation car listed from P1.5 million to nearly P2 million. The 2.0-liter turbo received an additional 50hp and optional Brembos, while all engine variants were offered with a new eight-speed automatic. Nowadays, GenCoupes list for under and around the P1-million mark. Very little money for such a capable grand tourer!
Because this is not a common car, parts are not easy to come by outside the dealership, but there is strong support among local enthusiast clubs for importing parts. All orders are indent, so prices will vary.
Continue reading below ↓
Recommended Videos
THE LATEST HYUNDAI NEWS:
All-new Hyundai Tucson arrives in PH, diesel variant spotted
The futuristic Stargazer MPV could be Hyundai's answer to the Xpander, Rush, Ertiga
Exterior and interior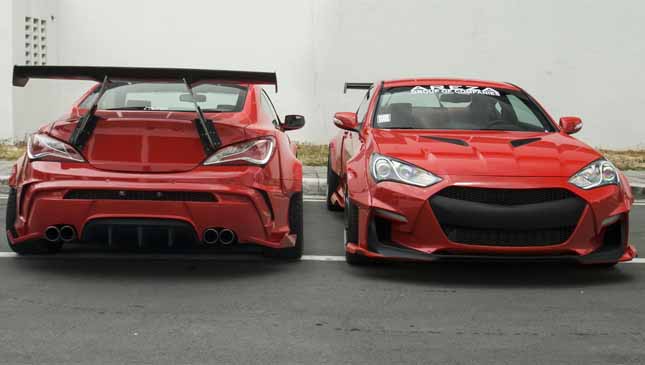 Where the original Genesis Coupe was sleek and inoffensive, the 2013 was brash and in-your-face. Granted, the fake hood vents were a bit much, but the hexagonal grille and the projector headlights gave the fascia massive presence. The profile still retained the same kinked beltline and high rear as the original car, but it was much more attractive. Obviously, our feature car is not factory-stock, sporting a 'Rocket Bunny' bodykit that is indicative of the wide range of cosmetic modifications available.
On the inside, the Genesis turns the 'tuner' vibe up to eleven, with deep-set instrument gauges, a low-slung driver seat, and auxiliary console gauges with readouts for things like oil temperature (moderately useful), power, and torque (totally rice). Red cloth and leather come as stock. Yup, no need for dressing up here! Legroom is surprisingly generous, even in the backseat, although the rear hatch can catch you on the head, even if you aren't anywhere close to six feet tall. Pay attention to squeaks and rattles in the trim. They won't be dealbreakers, but you'll want to address them eventually.
Engine
This unit is powered by the RS Turbo engine, a 2.0-liter four-cylinder co-developed with Mitsubishi and which uses the same architecture as the 4B11 in the Evo. Hyundai's version puts out less power, but 258hp is more than enough get into silly serious trouble. The weaker first-generation 2.0-liter unit had some sensor issues due to our punishing weather, but the updated engine is more robust. Just check for running issues—most notably wastegate chatter—when test-driving in traffic.
The 306hp 3.8-liter V6 has no notable foibles. It hits 100kph in 6.5sec—about half-a-second quicker than the straight-four. It sounds much better, too, with a lovely rasp when the variable-valve system opens up at high revs.
Early manual transmissions were a bit notchy, especially in higher gears. Post-2013 manuals, on the other hand, have excellent action. The clutch can also take a lot of abuse, though it's not cheap to replace. For automatics, earlier six-speeders had a livelier feel, but the eight-speed slushbox allows for much better highway economy, though most variants will still see from 4-6km/L in traffic.
Driving impressions
In daily driving, the Genesis Coupe actually rides quite comfortably, except over the deepest potholes. The extra width can be a problem on tight city streets, however, and the low ride height makes spiral parking ramps a tricky affair. 
Despite big tires and lots of grip, this car can prove a handful to the uninitiated. There's a degree of understeer on turn-in, but an aggressive limited-slip differential makes for easy on-throttle oversteer with the traction control switched off. We suggest you keep it on at all times on public roads! Early Coupes had a softer rear end, and snap oversteer could be an issue on uneven roads. Later cars had a firmer suspension and were more stable. While not as nimble as the Mazda MX-5 or the Toyota 86, the Genesis Coupe is quicker on the track, with more aftermarket potential to boot.
MORE USED CAR FEATURES:
7 Reasons your used car online listing isn't getting any hits
10 Secondhand vehicles under P1 million that a car guy would buy
Verdict
There is no guarantee of trouble-free ownership with the Genesis Coupe. Hard driving can wear out tires, brakes, bearings, and suspension parts in short order, but the car is more reliable than you'd expect, especially the post-facelift models. For the price of a top-of-the-line subcompact, a secondhand Genesis Coupe is sure to put a big smile on your face—and a big dent in your gasoline budget.
Price new: P1,500,0000 (2.0T 6 MT)
Price now: P800,000 to P1,000,000
Engine: 2.0-liter turbopetrol I4 Transmission: 6-speed manual
Power: 256hp @ 6,000rpm
Torque: 353Nm @ 2,000-4,500rpm
Estimated economy: 4-7km/L (city); 14-18km/L (highway)
On sale: 2013-2017
Rivals: Mazda MX-5, Toyota 86, Subaru BR-Z
Best resource: www.gencoupe.com 
Parts: Brake pads/Brembo: P9,000; Front shock absorber: P10,000
Quick fact: Lateral Drift Productions made it all the way to the finals of Pilipinas Got Talent back in 2013, driving bone-stock Genesis Coupe drift cars.