History
In the Philippine car market, General Motors' sedan offerings have always been associated with Daewoo's—small wonder considering it is common knowledge that GM has a stake in Daewoo. In a sense, then, one could actually say the Chevrolet Optra's predecessor—at least here in the country—was the Daewoo Racer,  a vehicle name that brings to mind an abused and beat-up white taxicab. However, with the introduction earlier in the decade of the Optra, that particularly unappealing picture of the Racer was gradually erased from one's mind. The Optra—also known as the Daewoo Lacetti—was, for both GM and Daewoo, a winner from day one. Along with other Daewoo offerings, the Optra/Lacetti helped bring GM and Chevrolet to the global forefront of the automotive world. Meanwhile, the revised Optra Wagon introduced locally in the last trimester of this decade (as seen here), while not as popular as its sedan sibling on Philippine roads, was one of the better-value buys one could make.
ADVERTISEMENT - CONTINUE READING BELOW ↓
Value and costs 
With a sold-as-new price of P869,000, the Chevrolet Optra Wagon LS with automatic transmission was a good bargain if you were in the market for a station wagon that offered flexibility and a host of standard accessories, like a tonneau cover, cargo net, foglamps, multiple-disc CD player with auxiliary input; factory alarm with immobilizer; and roof rails for roof racks. Consider also the amount of carrying capacity available—the only vehicles that could come close to competing with it were MPVs and crossovers. Fast-forward a few years and a few hundred thousand pesos off the original price, and the Optra Wagon becomes a better bargain than when it was new. Combine that with the renewed vigor of the Chevrolet brand brought about by the new local distributor, the Covenant Car Company, and the prospective preowned- unit buyer won't need to be wary of parts or service support being a problem once they nd a suking Chevrolet dealership as a go-to shop.
ADVERTISEMENT - CONTINUE READING BELOW ↓
Recommended Videos
Exterior and interior
To the onlooker acquainted with Chevrolet's domestic-market offerings both past and present, the Optra Wagon presents a face that's quite familiar, coupled with body lines that mimic those of its bigger stablemates. The honeycomb mesh grille and front vent covers say that despite the familial look it shares with other Chevys, the Optra is a vehicle of the new millennium. Integrated foglamps and sleek ovoid headlamps, as well as side-mirror turn signals, add to the impression. Prominent fender ares and arches give it less of a mom-mobile look and more of an autobahn estate cruiser vibe. Door-ding protector strips add a touch of practicality, while roof rails add value for those looking to enhance the workhorse nature of the station wagon with the addition of crossbars and a cargo carrier. From almost any angle, the Optra Wagon is handsome despite the throwback- to-the-'90s 15-inch alloy wheels instead of the norm-for the-millennium 16s found on almost every other car in this category.
ADVERTISEMENT - CONTINUE READING BELOW ↓
It is the inside that may lead to something of a love-hate affair. It's not that there's anything really wrong with the interior amenities, of which there are plentiful, but the issue is with the less-than-glamorous feel of the surface nishes. The plastic on the dashboard feels new, but somehow, you can't escape the feeling that the plastics used elsewhere in the cabin are a bit less resistant to scratches. It's not exactly a deal-breaker, but is something to be cautious about if you plan to capitalize on the utility aspect of the vehicle.
Engine
On paper, the 1,598cc four-cylinder mill powering the Optra Wagon isn't on par with more modern offerings from other marques, but the numbers don't tell the whole story. Anyone who has had a car from both the current and previous decade will tell you that 110hp at 5,800rpm and 150Nm at 4,000rpm isn't shameful, but neither is it outstanding. In any case, a test drive is the best way to know how a car performs, and a comparison based on spec sheets is simply armchair racing.
ADVERTISEMENT - CONTINUE READING BELOW ↓
Driving impressions
Driving the Optra Wagon is a surprising experience, because it does not at all feel like there is only that much power available on tap. Acceleration is brisk and sprightly, and movement over rough roads is pleasantly well-dampened and isolated—quite akin to the behavior of a Euro offering. What's also  a welcome attribute is how well it handles
and how quickly it responds to throttle input. Handling is sharp and predictable despite being almost a ton and a third in mass. Credit goes to the engineers who've chosen the transmission's gear ratios wisely, as there really is no hint of sluggishness. You'll only feel the burden when you overload the vehicle.  Quite frankly, the Optra Wagon deserves high marks as far as driving dynamics go. It's a pity that more people didn't give it a second look at the dealership showrooms.
ADVERTISEMENT - CONTINUE READING BELOW ↓
Verdict
The Chevrolet Optra Wagon is a good bargain for anyone looking for a vehicle that offers lots of cargo space, with the more precise handling of a car than a crossover or an MPV. (Ferman Lao)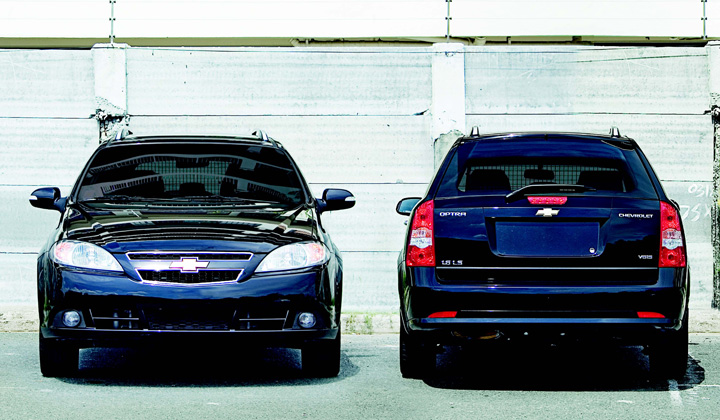 NOTE: This article first appeared in Top Gear PH's August 2010 issue.
ADVERTISEMENT - CONTINUE READING BELOW ↓