We knew that Inigo Anton would become a racer, just like his multi-awarded dad Carlos when we had dropped by to visit them at their house in Baguio City so many years ago. The little Inigo was just a toddler then, but was already sliding around and pulling 180-degree turns on his tiny plastic drift kart in the living room. The smile on his face pretty much said it all.
When Inigo began competing in Flat-Out Race Series—using a specially-made booster racing seat so that he could reach the pedals—and embarrassing veteran drivers four times his age, Top Gear PH wrote about it. The title of our story was 'Is this the fastest 10-year-old in the world?' And then we also documented the father and son plan to break the lap record of Tarlac Circuit Hill, which was a success. You can check out that video here.
In such a short span of time, Inigo has been wracking up the accolades. He bagged Cadet Karter of the Year in 2016 in the National Karting Series, but decided to move away from karting for a while. Since then, he also bagged 2017 Novice Class National Slalom Champion and 2017 Front Wheel Drive Class National Slalom Champion, the latter class was against experienced drivers. He recently participated in the Philippine Endurance Championship, too. Inigo is currently leading the Front Wheel Drive Class of the 2018 National Slalom Championship with three wins. He is also leading in the Novice class of the 2018 Philippine Autocross Championship Series (PACS) with four wins.
ADVERTISEMENT - CONTINUE READING BELOW ↓
It's safe to say that his dad Carlos is a pretty awesome driving coach. The video here was taken during the second round of the PACS earlier this year. Inigo is only 13 years old. Let that sink in for a moment. Here's a peek at what you have to do to be quick on the autocross course. Study the video, or just be amazed. Plug your device into speakers or headphones for this. Your mind will be blown at the kind of expert-level control that Inigo exhibits. And he will only get faster with experience.
"Just continue being the humble kid that you are," is Carlos's message to his son. "You've done more than enough, and you make us so proud." Happy Father's Day, everyone!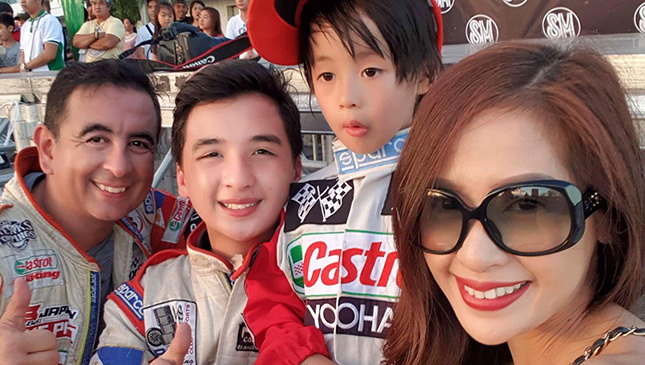 ADVERTISEMENT - CONTINUE READING BELOW ↓
Recommended Videos