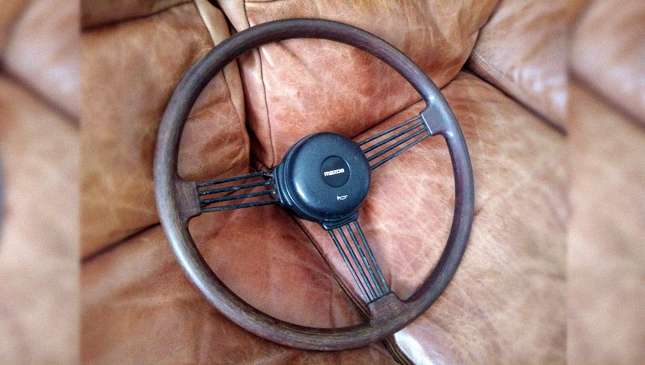 Some enthusiasts collect cars, while others collect scale models or badges. I collect steering wheels. At first, I didn't intend to collect them--it just so happened that I already had a couple.
And then I saw a blog by a fellow enthusiast in the US. He was collecting steering wheels and building custom frames in which to display them in his home. I then thought to myself, "I could build a collection of my own."
I was thinking I'd build a collection of race car driver signature wheels. The Italian specialty steering wheel manufacturer Momo used to have such a line, so I started looking around.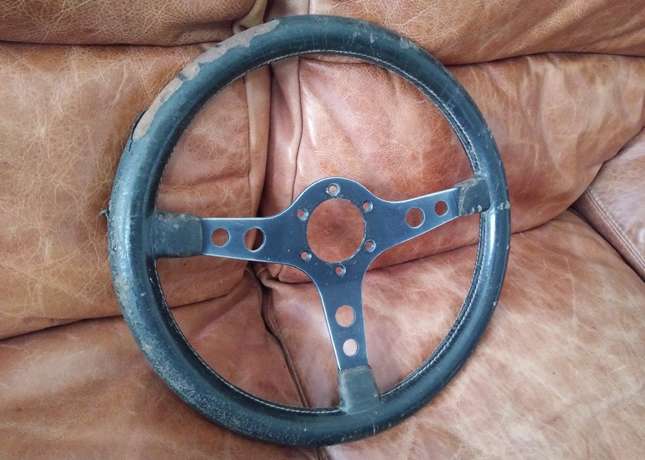 IMAGE Joey Bernardez
ADVERTISEMENT - CONTINUE READING BELOW ↓
One of the most popular wheels from Momo is the Prototipo. It's the wheel Porsche uses in its race homologation cars. The design has changed over the years and I much prefer the older ones.
Here's a Prototipo from the '70s. The seller said it came from Japan. It is a well worn wheel. Some would even call it dilapidated. Others would say it's patinated, meaning it has a lot of history. Sometimes, I'd like to have the leather restored, but maybe I'll just keep it as is. Think of all the track battles this wheel has endured.
Another thing that attracted me to this wheel is that it is the Prototipo model used for the Clay Regazzoni signature wheel. Clay Regazzoni was an F1 driver from the '70s who won five grands prix. Although this isn't a signature wheel, it's close enough for me.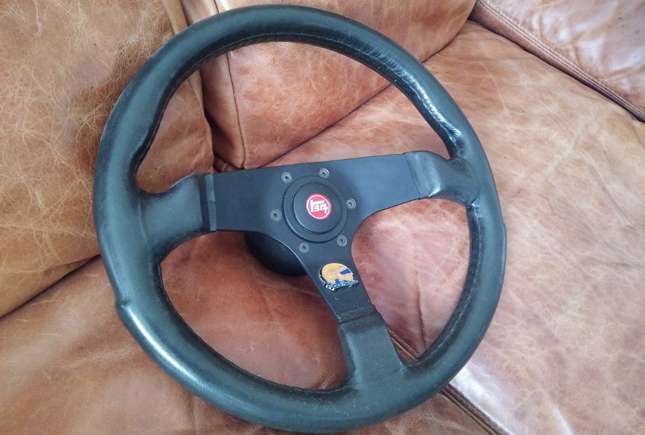 One of the first wheels I bought was a Personal Fitti E3. I think I got this in the late '90s. This is an Italian steering wheel made by Personal and is designed by Emerson Fittipaldi, a Brazilian racer who won the Formula World 1 championship and the American CART (Championship Auto Racing Teams) series in the '70s.
ADVERTISEMENT - CONTINUE READING BELOW ↓
Recommended Videos
This is a well designed and comfortable wheel. The wheel rim is thick and intricately shaped for ergonomics. It's one of my favorites for daily driving as it's not too small and not too big (350mm). It is also a deep dish wheel, meaning the spokes are shaped to bring the wheel rim closer to the driver. These wheels are still available, but no longer have the Fittipaldi badge shaped in the form and colors of the driver's racing helmet with his signature.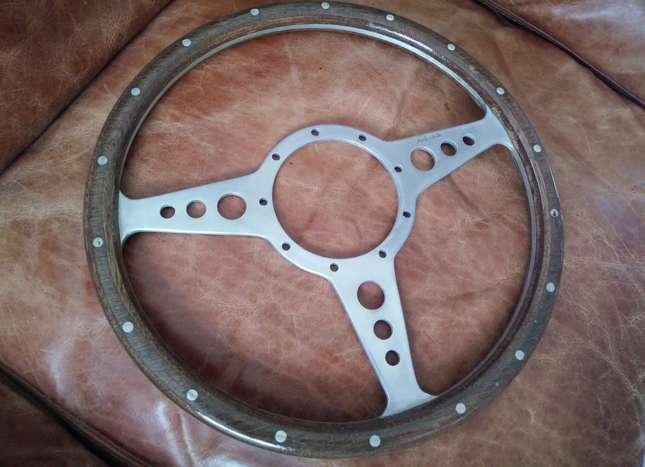 Another wheel manufacturer that I'm particularly fond of is the British manufacturer Moto-Lita. I liked the Mark III and Mark IV with the lightening holes in the spokes. I got this wheel from the used market, and it probably came from an old Austin Mini. It was in horrible shape when I got it: There were varnish drippings on the wood finish and varnish overspray on the aluminum spokes. It was in such a sorry state that I had to strip and refinish it. The restoration job isn't finished.
ADVERTISEMENT - CONTINUE READING BELOW ↓
I think I want to refinish the wood and polish the aluminum. But even in its unfinished state I think it's beautiful. At 13 inches in diameter, this wheel is no good for a regular daily driver. But it's the perfect size for a sports car. Also, I much prefer the vintage look of a flat spoked wheel, one where there's no dish to the spokes.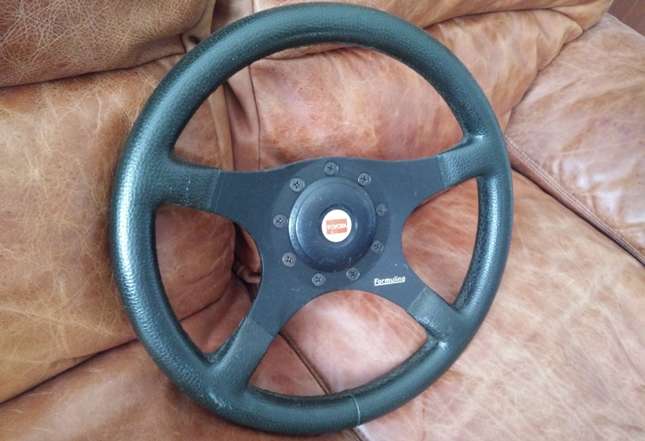 Another manufacturer I'm fond of is Formuling France. It's difficult to find steering wheels by this company, but one day, I was messaging a seller about another item I was buying. After we finished the transaction on that wheel, I asked him if he had other wheels like a Formuling France. I did not expect a positive answer, but lo and behold, he said he had one hanging on his wall. He had purchased it in the US a long time ago and never mounted it. I bought that wheel too, and here it is. It took some effort to find and import an adaptor for it from France, but I did get one.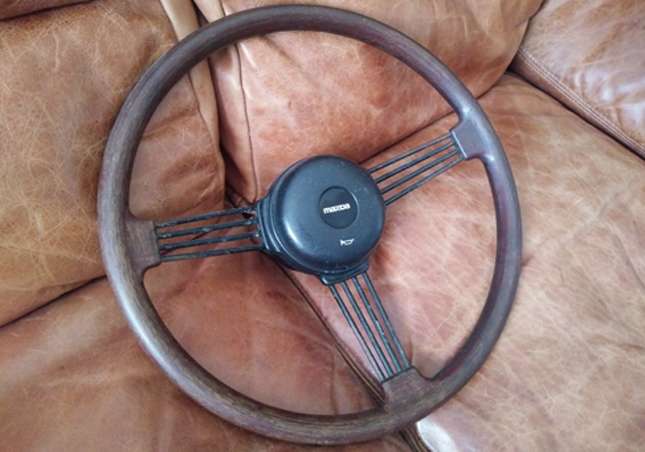 Here's a very interesting piece. This one is an OEM from Mazda. Since I own an NA Mazda Miata, I've always wanted one of these. This is what's called a banjo wheel, because the spokes are much like the strings of the musical instrument.
Banjo wheels were very popular in sporting cars from the '30s all the way to the '60s. And Mazda was one of the last manufacturers to put them in sports cars in the '70s. This wheel probably came from a Mazda RX-5 Cosmo. I got it from the used market in New Zealand.
This is by no means the extent of my collection. I have a few more wheels and I can talk about them endlessly. Do you also collect steering wheels or any automotive
ADVERTISEMENT - CONTINUE READING BELOW ↓