Riding a motorcycle is, by anyone's definition, a ride on the wild side. It does not matter much where you ride geographically. Climates may differ as may road conditions and traffic density, but there are constants. It's dirty and dangerous, and you share the thoroughfares, highways and byways with all manner of lethal objects, both moving and stationary. Add to that a variable—some of those moving objects are piloted by space cadets!
Given these basics, it's little wonder that motorcycle riders are such a sensitive group of individuals because they have a highly developed awareness of imminent danger. On a local level, there are four vehicle categories that really raise my ESP levels: those buses with the 30-degree list to starboard racing to pick up the next passenger; trucks with broken axel studs that crab toward you like an optical illusion showing front and rear wheels on separate tracks; jeepneys with drag slicks for tires driven by guys with a fistful of coins; and the ubiquitous tricycle. So dear reader, borrowing a phrase from the world of slick-speak, you know where I'm coming from...
Continue reading below ↓
Recommended Videos
One of my fellow Top Gear PH editors hell-bent on giving in to mischief decided I needed a change of attitude and should spend a day riding one of those vehicles on my list of things to avoid at all costs—a tricycle. After all, it is powered by a motorcycle. This mind-altering event took place on Katipunan in Quezon City, a haven for tricycles and their mahouts plying their trade on the streets of suburbia. Our guide and co-pilot was Gerry, a 40-year-old father of two girls and sole provider for his family. He used to work in a factory in Laguna until it closed about four years ago. When he took his severance pay, he bought a tricycle and entered the world of public transport.
Gerry gave me an insight into this tough profession. His normal working day is from 6am to 6pm, although that may extend into the evening if it has been a lean day. Passengers are hard to come by and there is a lot of competition that's just as eager to pick up fares. There are two choices available in the endless search for fare-paying customers—you either cruise the streets looking for casual fares, or line up at one of the transit points and wait your turn.
Gerry's tricycle is built around a  125cc, four-stroke Suzuki motorcycle. We had a quick familiarization discussion, and then it was off to find someone prepared to get in and risk body and soul with a foreigner in control of their conveyance and, even more important, prepared to pay for it.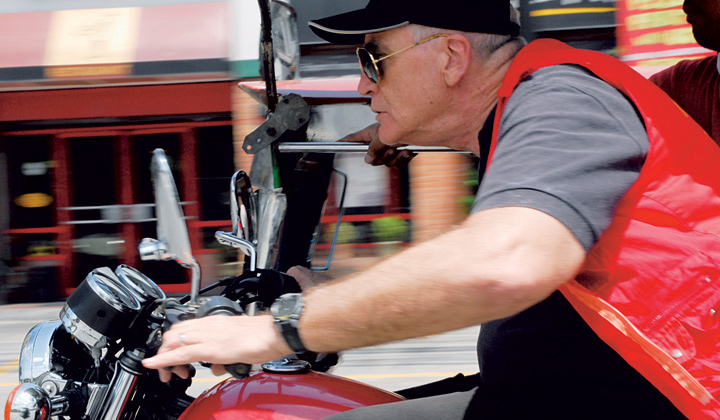 Easier said than done. I had to come to grips with the idiosyncrasies of this three-wheeled monster: front brake almost gone, rear brake nonexistent, chain slapping away in desperate need of adjustment and lubrication, no horn, no lights, no rear vision mirror and a battery that was flatter than a pancake. I found it a tight fit to get under the canopy, but with Gerry riding pillion I had a constant source of information and good humor. He was especially informative about the location of the third wheel, probably a good move. I did hit one of the traffic barriers but managed to miss all the parked cars. The geometry of the tricycle has been designed around price and load-carrying space. This results in opposing forces, such that at any speed over about 20kph, there is a battle between the direction the bike wants to go and that of the sidecar wheel. Interesting stuff. Ergo, stay below 20kph.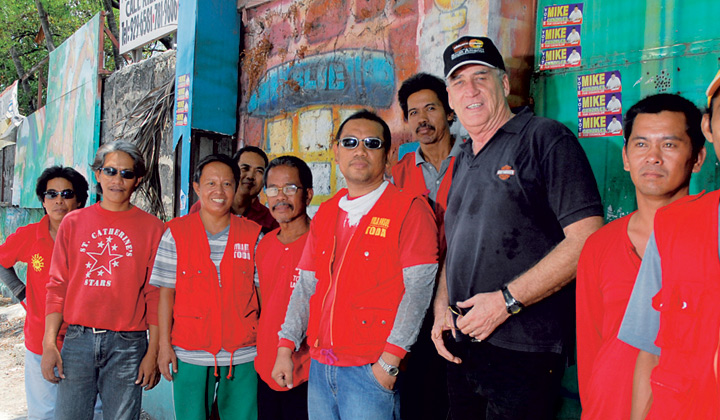 I enjoyed my day as a tricycle driver, but I am not so sure I would be all that successful as a full-time jockey. I did get some passengers, albeit with a certain amount of trepidation in their faces. I earned P27 in a two-hour period, not even enough for a pack of branded cigarettes. When I am on my motorcycle these days and I see tricycles, they still scare me. They are on the lookout for fares, they can turn without any signal and their vision is limited by the structure that surrounds them. But I do have a newfound respect for the guys that drive these vehicles for a living. They work a long day, are subjected to incredible levels of pollution and abuse from fellow road users, and they earn just enough to maintain themselves, let alone their vehicles.
Tough life, but they do it with good humor. Cheers, guys...thanks for letting me drive with you. (Les Croyston+)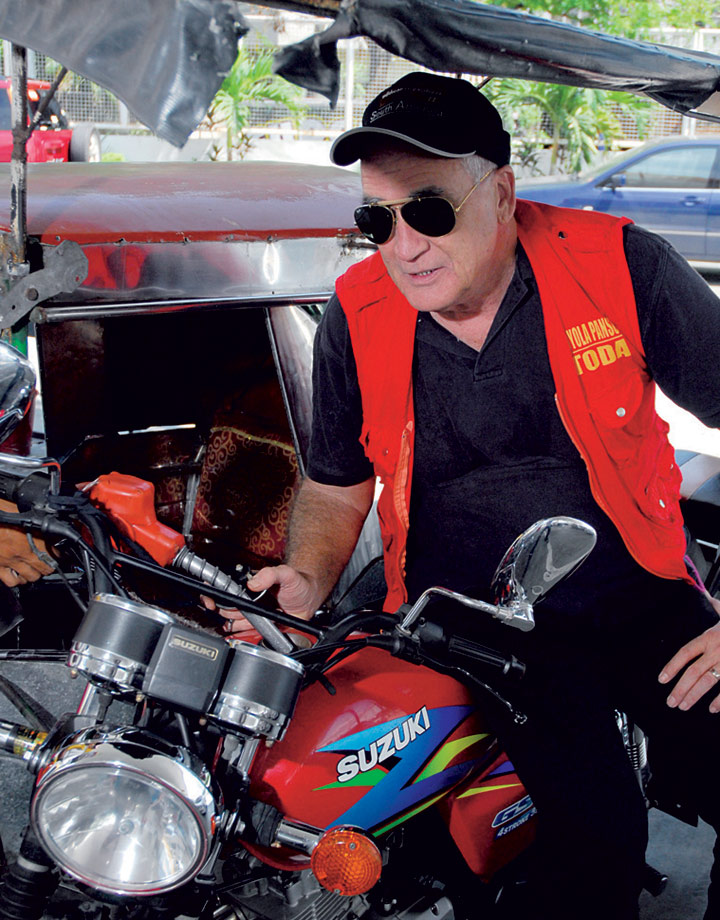 NOTE: This article first appeared in Top Gear PH's September 2007 issue. Minor edits have been made.