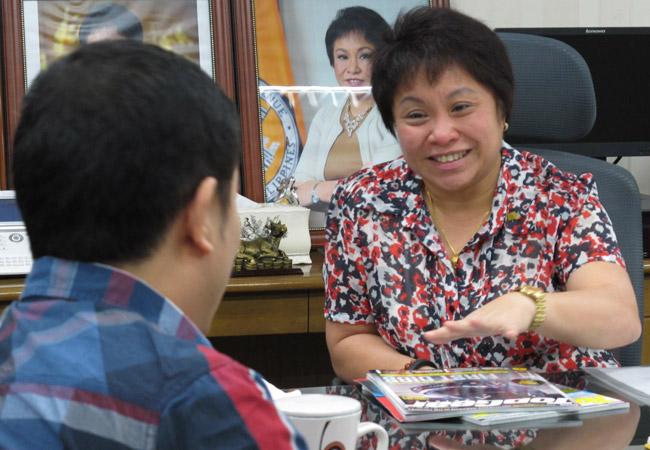 The other day, we were received by Bureau of Internal Revenue commissioner Kim Henares at her office in Quezon City for an interview for the June issue of our magazine. We found her to be very pleasant and accommodating, without a trace of the school-principal image we had created in our heads.
In the middle of our interview, we threw her this question: "How many cars do you have?"
We were expecting her to be all coy and evasive, especially since any information about her personal assets might be misinterpreted negatively.
We followed the question up with a bait, thinking she'd be defensive: "We read in an article that you have six cars."
That was when she promptly corrected us: "Oh, that was last year. We have more than six now."
This was a pleasant surprise--not so much her reply as the manner in which she delivered it. She seemed very comfortable discussing private details about her, appearing and sounding like somebody who had nothing to hide.
"But all our cars are secondhand," she quickly added. "Well, except for one--the Toyota 86, which we bought brand-new only because there were still no units on the secondhand market. I don't like buying new, simply because I don't like the idea of spending. We'd rather let someone else shoulder the depreciation cost."
Continue reading below ↓
Recommended Videos
The BIR chief also told us that she doesn't drive in Metro Manila because it's too much stress. She does enjoy driving whenever she's out of town, like in the United States.
And her favorite car brand?
"I really like Honda," she said. "But the models I really want are not available here."
And like a true fan of secondhand cars, she mentioned the Del Sol and the S2000 as the Honda models she'd like to put in her garage.
Ah, but she did also bring up an upcoming Honda model that she's particularly interested in, and that's the NSX, which could be available globally by 2015. (Honda Cars Philippines, we hope you're taking note.)
Anyway, our full interview--including which car companies are a little "creative" in paying their taxes (you'd be surprised like we were)--will be featured in our upcoming June 2014 issue. Watch for it.
Photos by Elaine Lara