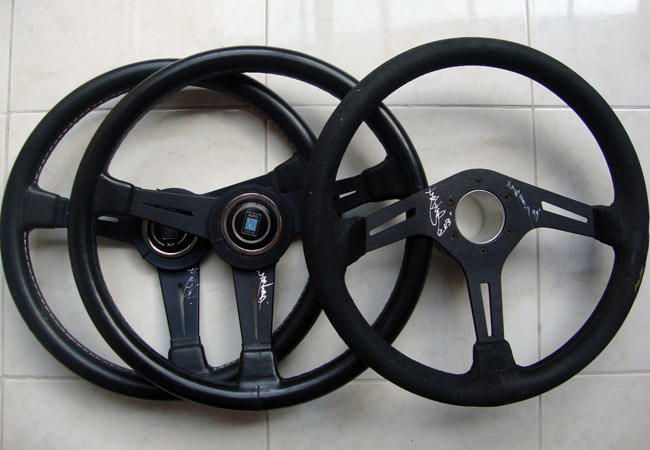 The love of cars is a proven money pit. If you're not buying actual automobiles, chances are you're collecting car-related stuff. Many of us put together a lifetime's heap of die-cast scale models; some of us regularly purchase car-themed apparel. Anything that screams "cars," we snap up.
This 43-year-old Filipino from Fairview Park in Quezon City, for his part, collects steering wheels. You read that right: steering wheels. Yes, those multispoke round tillers we hold in the cockpit to control the car's direction. If you think about it, the steering wheel is the most intimate part of our car since it's the one object we face and touch the longest when we're operating our motor vehicles. It is perfectly understandable, then, how anyone would be absolutely nuts about them.
Anchie Cerrada began his love affair with cars in the mid-'80s, he tells us.
"Like any typical teenager back then, I tried to update myself with the latest automotive trends by going to Transhow at Philcite or Motorshow at Folk Arts Theater," he recalls, pointing out that these car shows were the place to be aside from Banawe, Greenhills and AutoCentro in Cubao. "Those were the prime places to visit if you wanted to see the best cars in Manila."
Continue reading below ↓
Recommended Videos
When he was in high school from 1984 to 1988, Anchie would observe older guys set up their cars with original aftermarket steering wheels with matching shift knobs.
"Momo steering wheels were very expensive at that time, their prices ranging from P3,000 to P6,000--back when a liter of gasoline cost about P5," he remembers. "I couldn't afford to buy those steering wheels back then. The cheapest Italian steering wheel was Luisi, which cost around P800 to P1,500 brand-new."
In 1994, Anchie and his father opened a car-parts store in Fairview called Autobianchie.
"We sold car parts and some car accessories, and the store operated until 2006," he volunteers.
But it was only a decade ago, in 2004, when Anchie started collecting steering wheels as a personal hobby.
"The first aftermarket wheel I had was a Momo Pilota," he shares. "These steering wheels were sourced from Japan, purchased from friends who are importers of used parts from Japan. Some steering wheels are purchased through Yahoo auctions. Most of the steering wheels are used."
Anchie says that he has kept a record "of all the steering wheels I've ever had, totaling 525 to be exact."
He has already sold most of that tally, keeping in his current possession some 50 pieces.
"When friends come by the house and see the wheels that I have, they try to buy some," he reveals. "I still keep some of the best ones--the most prized of which, I think, are a Watanabe Falcon steering wheel and a Kei Office suede steering wheel with Keiichi Tsuchiya's autograph from 1999...very rare."
Some of the hard-to-find steering wheels still with Anchie today include a Carl Kittel steering wheel, a red-stitch Momo Monte Carlo from a Porsche, Ferrari steering wheels, and a Lorinser steering wheel.
As for his cars, Anchie discloses the metal that's parked in his garage right now: a 1982 Mitsubishi Lancer, a 1993 Honda Civic EG hatchback, a 1989 Nissan Crew Cab 720 Pickup, a 1988 Toyota Sprinter AE91, and a 1990 Toyota Corolla XL5.
Currently unemployed, Anchie is able to make a living from buying and selling car parts online. As to what turned him on to steering wheels in the first place, he remarks: "I just like the designs and the way that some of the steering wheels were handcrafted the old-fashioned way."
If you wish to get in touch with Anchie to check out his steering-wheel collection or compare notes, you may send him a message through his Facebook page. Hopefully, his story will help steer you in the right direction as far as car-related hobbies are concerned.