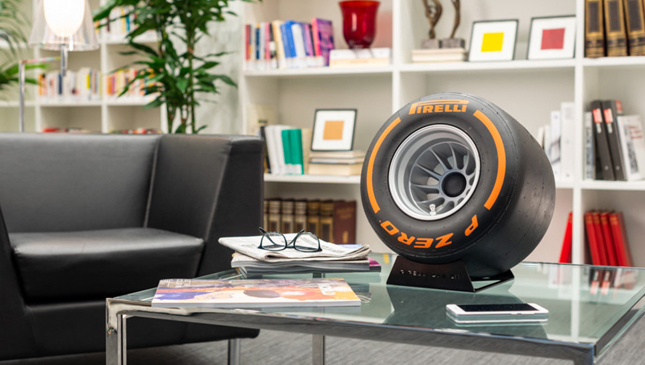 When it comes to tires, noise isn't usually something to brag about. The less you hear inside the cabin, the better. People want their tire noise quiet, subtle and uneventful--a concept that Pirelli is turning upside down with the release of its Wind Tunnel Tire speaker.
A collaboration with Italian high-end car audio specialist IXOOST, the Wind Tunnel Tire speaker is inspired by the, well, wind tunnel--a tool used by F1 racing teams and car manufacturers to conduct aerodynamic testing.
Pirelli calls the product "a mini tire that sets new standards of design and technology, traveling its own road when it comes to music." Frankly, we just think it'd make a great piece for any car guy's man cave or garage. It'll fit in perfectly, and you have plenty of colors to choose from: Soft Yellow, Supersoft Red, Hard Ice Blue, Intermediate Green, and more.
Continue reading below ↓
Recommended Videos
The speaker is Bluetooth capable, packs a 100-watt digital signal processor, an amplifier, and a 100mm midwoofer. There's plenty of hand-crafted bits to admire as well. So whether you just want a new centerpiece to show off or want to blast tunes while you're working on your ride, the Wind Tunnel Tire speaker has you covered.
No price yet, but by the looks of Pirelli's marketing (only rich dudes still have shelves lined with encycopedias), this is going to cost a pretty penny. Would you buy this?