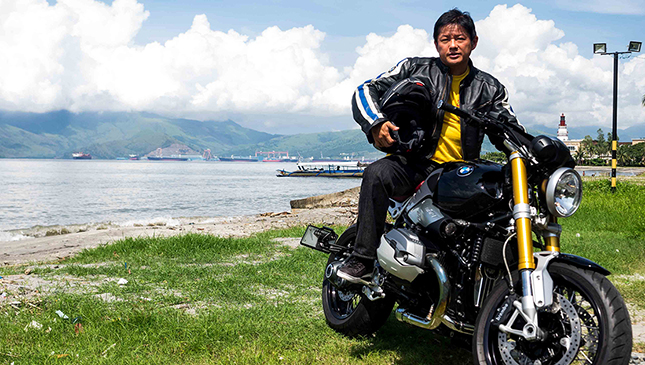 Jethro Tan Dionisio started raking in championship medals from practical shooting competitions at age 16. Two years later, he bagged the US Steel Challenge World Speed Shooting Championship and won it again for two consecutive years.
Fast forward to 2016 and Jet, now 44 years old, still led the Philippine contingent in winning golds at the prestigious Australasia competition in Indonesia last August.
ADVERTISEMENT - CONTINUE READING BELOW ↓
Imagine this: With his handgun holstered from surrender position, he can down five steel plates in 1.7 seconds. Now let's find out if the world's fastest gun can also ride his big motorbikes with the same speed and accuracy.
TGP: When did you purchase your BMW R NineT?
Jet: I got my bike February 2016.
TGP: What was your first motorbike? When did you buy it?
Jet: My very first motorbike was a Honda Magna 250 way back in 1997, followed by Shadow 750 in 1998. I sold both bikes in 1999, and since that time I really had no time for other hobbies due to my shooting commitments. It was only in 2014, almost 15 years after, that I finally decided to give it another shot. I got a Yamaha Tri City scooter, and a GTV Vespa later on. In 2015, I got a Ducati Scrambler and soon after, my BMW R NineT.
ADVERTISEMENT - CONTINUE READING BELOW ↓
Recommended Videos
TGP: How does riding help you in your shooting skills?
Jet: Riding the bike is more of getting away from my usual routine. So when I get back, everything will be fresh again and exciting.
TGP: What was your top speed in your R NineT? How did it feel?
Jet: I peaked at 200kph. Mixed emotions I guess; it was exhilarating, hair-tingling and yes, scary!
TGP: Who inspired you to engage in motorcycling?
Jet: Since I was a young boy, I was fascinated by two things—guns and bikes. But my parents wouldn't allow me to get into motorbikes. They said my being into guns was already enough danger. I tried to be a good son and concentrated on my shooting. Up until I came of age and had the courage to get my first bike.
TGP: What did you do to change their mind?
Jet: I just waited for the right timing.
ADVERTISEMENT - CONTINUE READING BELOW ↓
TGP: What modifications did you install on your R NineT?
Jet: Roland Sands for breast plate, engine cover, headlight cover, and the body plugs. Basically, I like the look that Roland Sands gives to the bike. For the exhaust I chose Zard for the titanium look and the sound that is gives when you accelerate.
TGP: What do you like about the R NineT? Does the seat height bother you?
Jet: I like the classic/retro look of the R NineT. Regarding the handling, it looks like a big bike but when you are on it, it feels otherwise. The height is also perfect for me.
TGP: What are the things you hate about motorcycling? What are the things you like?
Jet: The traffic really gets to me sometimes. I have a big bike so it is still hard to get in and out of traffic. The heat too—especially the sweating after the ride. But even with the hassles, there is something about riding that only a rider can understand. Truth is, I can't quite explain. But it is something that I know most riders also feel. For a moment, you are so in control, yet so free.
ADVERTISEMENT - CONTINUE READING BELOW ↓
TGP: What is your worst fear about motorcycling?
Jet: The accident. Not really for the rider but more for the car drivers who are reckless and who don't respect motorcycles on the road.
TGP: What are your best highs?
Jet: Riding my R NineT on the highway with no cars at 80kph.
TGP: We see your pattern of liking retro, naked motorbikes over sport and adventure machines. Why?
Jet: I'm not a speed guy when it comes to bikes. They're very different when it comes to guns. It's probably because of the accidents that I see with bikes. I find beauty in the form of bikes, that classic look which blends with the wind and the human rider.
TGP: Do you entertain thoughts of racing on motorbikes?
Jet: No.
TGP: Do you see any similarity between motorbikes and guns?
Jet: You've got to respect both guns and bikes. If you don't, it's gonna hurt you.
ADVERTISEMENT - CONTINUE READING BELOW ↓
TGP: How do you control yourself against possible road rage?
Jet: Even in shooting, I'm very cool-headed. I just tell myself there's nothing good that will come out if I allow myself to be affected by crazy drivers.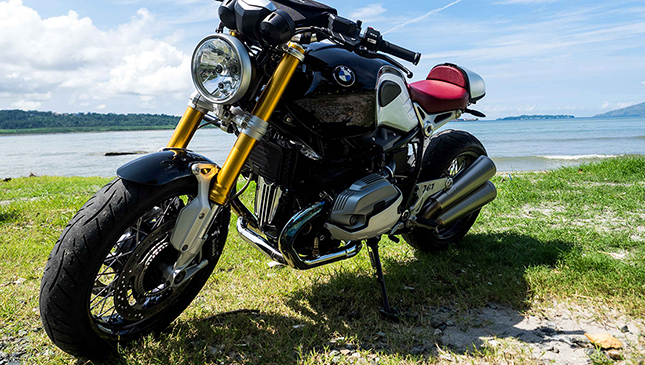 ADVERTISEMENT - CONTINUE READING BELOW ↓