Early this month, our company, Summit Media, began a new scheme that allows its full-time employees to work remotely for two days a week—meaning we don't need to be behind the wheel for an hour or so to get to the office, spend another couple of hours trying to get home after work, then pass out and repeat everything the following day. Admittedly, we're fans of this setup. It has made us more productive, and because we can get right to work first thing in the morning, we can digitally clock out earlier than before.
As part of the new arrangement, we're also in line to be given new laptops for work that we can use while we're out. If, like us, you also work remotely and will be upgrading your laptop soon, check out the new offerings from Lenovo below. And for the paranoid users out there who've taped or stickered shut their laptops' cameras, you'll be relieved to know that some of these models have built-in camera shutters for online safety and security.
ADVERTISEMENT - CONTINUE READING BELOW ↓
1) Lenovo Yoga series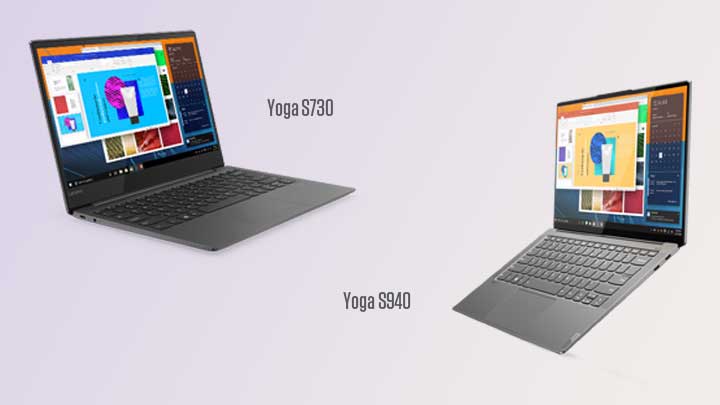 The Yoga welcomes two new additions to its lineup. The first one, the 1.2kg Yoga S940, features contoured glass that stylishly wraps around the display for smoother edges and thinner bezels. The model also features facial recognition for users to be able to log in hands-free. It boasts 15 hours of battery life for the nine-to-five grind, and when it's time for play, there are front-facing speakers and a 14-inch HDR 400 Dolby Vision display for the requisite Netflix binge. The S940 runs on an eighth-generation Intel For i7-8565U processor, and retails for P115,995.
ADVERTISEMENT - CONTINUE READING BELOW ↓
Recommended Videos
For a thinner, lighter, and more budget-friendly option, you might want to check out the Yoga S730. At 11.9mm thin and weighing 1.1kg, it's designed for people who like to hustle on the go. During long hours of use, the S730's cooling system pulls air through vents hidden in the keyboard. This model also has thin bezels for optimal viewing on its 13.3in Dolby Vision display. It has a 12-hour battery life and comes with a rapid-charge feature, too. You can get an S730 for P69,995.
2) Lenovo Ideapad series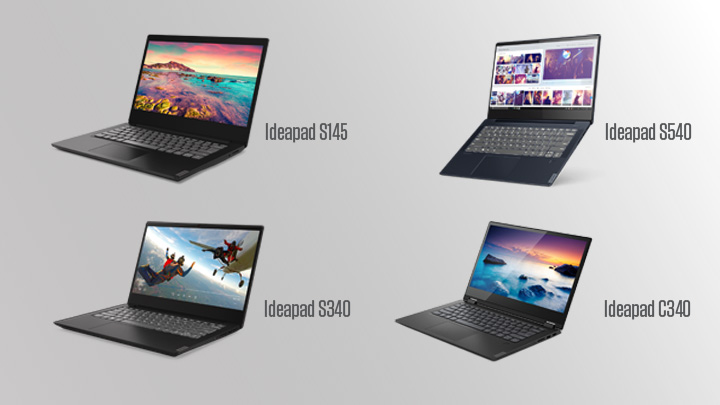 ADVERTISEMENT - CONTINUE READING BELOW ↓
For its Ideapad line, Lenovo has introduced four new laptops.
First up, the Ideapad S540 is powered by an eighth-generation Intel Core processor. This model boasts 12 hours of battery life, and with its rapid-charge technology, you can get two hours' worth of charge in just 15 minutes. The S540 has a 15-inch display with narrow bezels, plus an option for an NVIDIA GeForce MX250 graphics. Price starts at P59,995.
The Ideapad S340 is also equipped with an eighth-generation processor, and comes with a 14-inch display and a Dolby Audio speaker system. And if you're paranoid about the Internet watching you, you can do away with the masking tape on your webcam because this model comes with a physical shutter that covers your camera. You can get the S340 for P52,995.
The Ideapad C340 comes with a 360-degree hinge so that you can switch to tent mode, stand mode, or even tablet mode. Buyers can opt to purchase a digital pen so they can sketch or take notes directly on the screen. The C340 is priced at P25,995.
ADVERTISEMENT - CONTINUE READING BELOW ↓
Finally, if you're looking for a laptop that won't make a dent in your bank account, you can check out the Ideapad S145. It weighs 1.8kg and is 19.9mm thin. And despite being the only Ideapad model priced below the P20,000 mark, it still features Dolby Audio and a 14-inch anti-glare full-HD display—for just P18,995.
3) Lenovo Legion series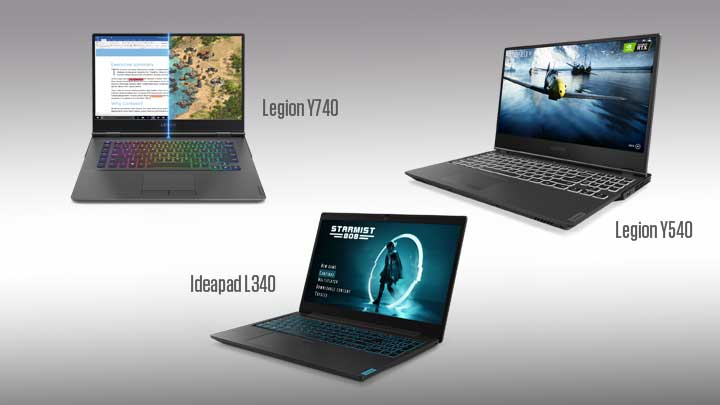 ADVERTISEMENT - CONTINUE READING BELOW ↓
Are you a gamer? Then you'll be eager to meet the three gaming beasts under the Legion line.
The Legion Y740 comes with an NVIDIA GeForce RTX 2060 graphics card, and is equipped with ninth-generation Intel Core i7-9750H processor that will provide gamers 56% higher frames per second and 38% higher game turn times versus older models. You can get the Y740 for P119,995.
The 15.6-inch Legion Y540, on the other hand, comes in three variants with different specs of graphics cards: an NVIDIA GeForce RTX 2060 (P99,995), an NVIDIA GeForce GTX 1660Ti (P89,995) or an NVIDIA GeForce 1650 GTX (P69,995). All three are equipped with ninth-generation Intel Core processors.
For gamers on a budget, the Ideapad L340 Gaming is something they might want to check out. It's equipped with NVIDIA GeForce GTX 1650 graphics card and also comes with a ninth-generation Intel Core processors. Plus, Dolby Audio that will come in handy when you're not playing League of Legends and simply want to rewatch episodes of The Big Bang Theory.
ADVERTISEMENT - CONTINUE READING BELOW ↓
Of course we won't be using these laptops because we don't play games or watch Friends because it's the show's last year on Netflix while we're working remotely, no. 
4) Lenovo Thinkpad series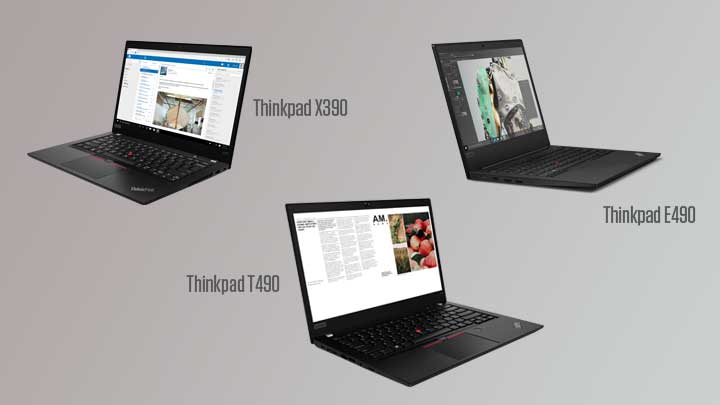 For its Thinkpad series, Lenovo has launched five laptops for buyerss to choose from.
ADVERTISEMENT - CONTINUE READING BELOW ↓
First up is the Thinkpad X390, which could well be the remote worker's ideal laptop. Its battery life on paper is 17.6 hours, and the unit is easy to carry around thanks to its slim 16.55mm build and light weight of 1.22kg. The X390's hinge also allows the screen to be tilted by up to 180 degrees. Priced at P77,990, the X390 comes with a fingerprint reader and a 720p HD camera with mic.
The Thinkpad T490 is equipped with an Intel Core i5-8265U processor. It has a 14-inch of full-HD display, and can be spec'd with optional NVIDIA GeForce MX250 graphics. Price starts at P73,990.
With the Thinkpad L390, users will breeze through tasks thanks to the eighth-generation Intel Core i5 processor, 32GB DDR4 memory, and up to 512GB PCIe SSD storage. The 13.3-inch touchscreen display will also allow you to work on the go easily. You can get the L390 for P69,990.
ADVERTISEMENT - CONTINUE READING BELOW ↓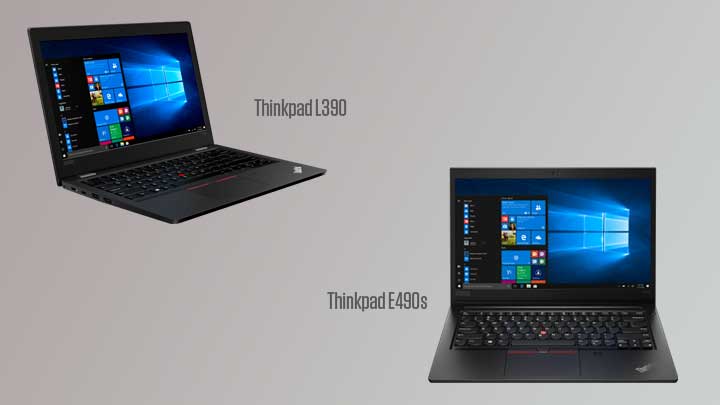 The Thinkpad E490S is equipped with Integrated Intel graphics or with Discrete AMD Radeon 540X graphics with 2GB VRAM, and up to 32GB DDR4 memory and 512GB SSD storage. You can get the E450s for P57,990.
Last but not least, the Thinkpad E490 is considered as the entry-level Thinkpad, priced at just P43,990. It comes with an eighth-generation Intel Core i7 WHL Processor with optional AMD Radeon RX550X graphics. With 8GB DDR4 memory and 1TB HDD, this 14-inch laptop will be able to keep up with the daily hustle.
ADVERTISEMENT - CONTINUE READING BELOW ↓