When we think of video-game consoles and racing games, the first things that pop into our minds are the Sony PlayStation and the Microsoft Xbox--as well as their Gran Turismo and Forza racing series, respectively. But some of you might remember that Nintendo had a delightful racing game called Super Mario Kart in 1992, way before the Gran Turismo series became popular.
Super Mario Kart wasn't a serious racing simulator, but more of a wacky competition using the colorful characters in the Super Mario world. You can race as Mario, Luigi, Princess Peach, Yoshi, Bowser, Donkey Kong Jr., Koopa Troopa, and Toad. We remember that the first Mario Kart game was loads of fun, and one of the most hilarious competition games in the Super Nintendo Entertainment System in the '90s. (Yes, we're that old.)
Last May, Nintendo released the latest installment of its popular racing series, Mario Kart 8, on its latest console, the Nintendo Wii U. And on August 27, exactly 22 years after Super Mario Kart first debuted in Japan, Mercedes-Benz will allow players of the latest game to download three Mercedes kart cars free of charge. This also marks the first time that cars from the real world will be available in the Mario Kart series. Who would have thought Benz knew how to have fun like this?
ADVERTISEMENT - CONTINUE READING BELOW ↓
The first playable car is the Mercedes-Benz W25 Silver Arrow, a legendary racing car which Benz built in 1954. It had a 3.4-liter eight-cylinder engine good for 350hp. The second is the 300SL Roadster that replaced the iconic "Gullwing" 300SL. It had a top speed of 250kph and went zero to 100kph in 10 seconds. The last playable Benz is the GLA-Class, a modern Mercedes that competes in the competitive crossover segment.
The download date will coincide with an exclusive online tournament called the "Mercedes Cup." Here, Mario Kart fans can compete against each other using the Mercedes karts.
As Mercedes-Benz proves with this unprecedented partnership with Nintendo, you're never too old to have some silly fun.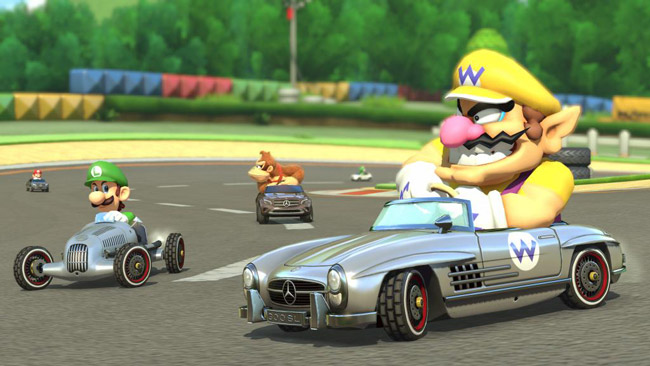 ADVERTISEMENT - CONTINUE READING BELOW ↓
Recommended Videos
ADVERTISEMENT - CONTINUE READING BELOW ↓