There are two things that make each piece in any type of collection special: value and story. It's not always that you hit those two birds with one stone, but this latest timepiece from Oris lets you do just that.
The Swiss watchmaker has announced the final piece in the Oris Ocean Trilogy: the Blue Whale Limited Edition wristwatch. This isn't a racing watch, but it's a timepiece that has a great story behind it—it supports a cause. The collection that this new watch completes aims to raise both awareness and funds in support of the advocacies of various agencies.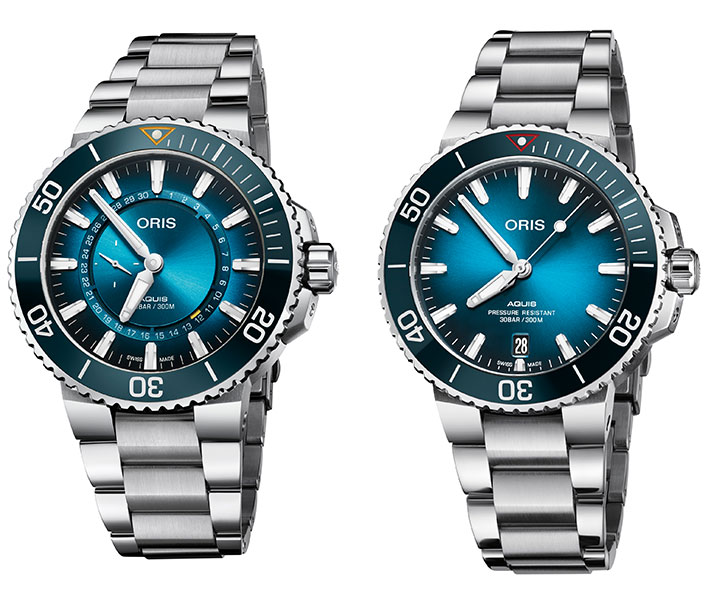 The first two watches in the trilogy—the Great Barrier Reef Limited Edition III and the Clean Ocean Limited Edition—are meant to help restore coral reefs and clean up our oceans. This third and final piece was created in partnership with the Whale and Dolphin Conservation (WDSC) in support of the protection of the world's largest animal: the blue whale.
ADVERTISEMENT - CONTINUE READING BELOW ↓
The Blue Whale Limited Edition is based on the Aquis diver's watch. It has a 45.5mm stainless-steel case with a water resistance of 50 bar (500 meters). Its bezel is finished in aqua-blue ceramic, and features a graduated aqua-blue dial. It's also the first Aquis chronograph with a 3,6, and 9 dial layout.
And it doesn't come cheap, priced at CHF9,600 (more than P498,000).
Only 200 pieces will be made, and each will be available as part of the complete Oris Ocean Trilogy set. Each set will be packaged in a special box made from recycled PET plastic.
"We've been very intentional about our mission to bring change for the better," said Oris co-chief executive Rolf Studer. "The environmental challenges the world faces are real, and we believe that both individuals and corporate entities have a responsibility to overcome them. The Blue Whale Limited Edition is a very special watch, produced in unusually small quantities for Oris, and the perfect symbol of the dangers facing the blue whale. We're extremely proud to be working with (WDSC) and look forward to seeing the change our partnership will bring."
WDSC marine biologist Fabian Ritter explains the need for protecting these marine mammals. "Blue whales are iconic animals and a symbol of the plight of our planet," he says. "You could say that saving blue whales for the long-term would give us hope. Ecologically, blue whales play an important role in the ecosystem, increasing the resilience of the seas. We're only just beginning to realize how important these large animals are in regulating the equilibrium in the oceans' ecosystems."
ADVERTISEMENT - CONTINUE READING BELOW ↓
Recommended Videos
What better way to spend on a hobby or expand a collection than to help a good cause while you're at it, right?