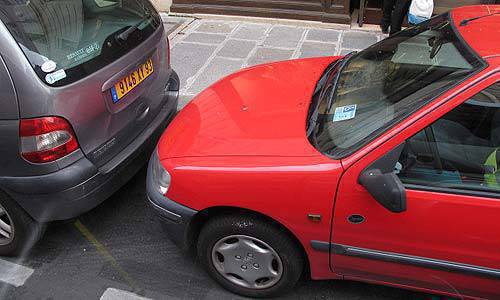 PARIS--If you're the type to fuss over a car, Paris is not a good place to live in. Here, cars get a lot of dents and paint scratches because their owners treat them as disposable tools of mobility. Countless Smart Fortwos and other subcompact cars are parked literally bumper-to-bumper along Champs-Élysées with hardly any space between them. If you're wondering how on earth their owners manage to extricate them from the parking line, you only need to watch them do it to get your answer.
As one car owner was about to leave his tight parking slot, we watched in amusement as he repeatedly nudged the car in front and the one at the back. He did this until he was able to wiggle his way out of his tiny parking space. Apparently, this is normal practice here. No wonder the bumpers of cars have paint chips and dimples.
We don't know about you, but we can't possibly bear seeing our car getting hit by another vehicle, no matter how gentle the contact may be. Now we understand why really small cars are so popular in Europe, particularly here in the capital of France.
Another proof that Parisians regard their cars as mere utility objects is the fact that the cars here are all stock. You won't see a vehicle sporting aftermarket bodykits or alloy wheels. And the cars are usually covered with a thin film of dust, suggesting that car owners here can't even be bothered with a car wash.
ADVERTISEMENT - CONTINUE READING BELOW ↓
Ah, cars in Manila suddenly seem so spoiled.
Photo by the author