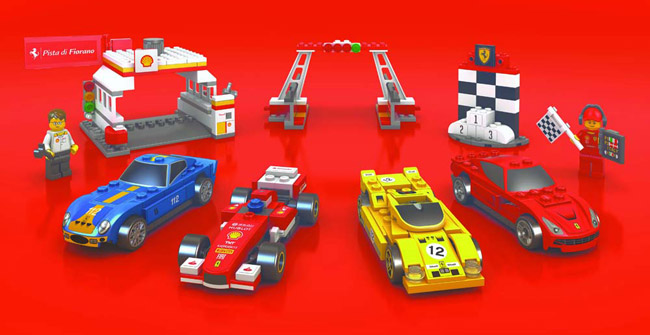 Shell Philippines has launched its latest--and last--partnership with Lego locally with its "2014 V-Power Nitro+ Lego Collection."
For this year, the collection has four Ferrari cars and two playsets with a minifigure each. Like the previous Lego Ferrari cars, this year's collection also has a pull-back mechanism for the cars. And since these are Lego models, some assembly is required to put them all together.
The four Ferrari cars in this year's set are:
* F138 Formula 1 car
* 250 GTO
* F12 Berlinetta
* 512S
As for the playsets and Minifugures, these are the Shell Station, which recreates the real one found at Ferrari's Fiorano racetrack with a Shell scientist minifigure, and the Finish Line and Podium with a Ferrari minifigure holding a pit board.
To avail of these Lego Ferrari cars or playsets, a customer needs to fill their car with P1,500 worth of V-Power Nitro+ or FuelSave, and add either P150 (with V-Power Nitro+) or P180 (with Shell FuelSave). Customers can also get two free Lego models for every purchase of a four-liter Helix Ultra or six-liter Helix Diesel Ultra pack, or one free Lego model for every purchase of a four-liter Helix pack.
The Shell V-Power Nitro+ Lego Collection is available at all Shell service stations starting today, October 30, until January 15, 2015.
Continue reading below ↓
Recommended Videos
We figure this year's collection will become future collectibles since Shell's partnership with Lego ended earlier this month following Greenpeace's campaign, which called for the toymaker to end its association with the petroleum company.
Watch the video below.
If you're viewing this on a mobile device and can't see the video, please click here.