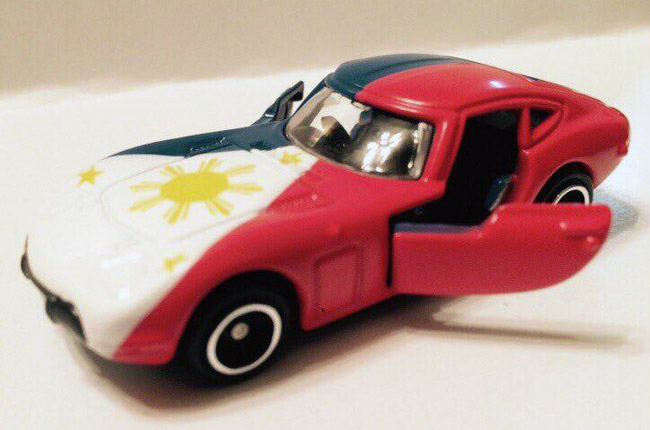 A follower of our Facebook page by the name of Tacky Nakata sent us these images to inform us that Japanese toymaker Takara Tomy has released a Tomica Toyota 2000GT liveried with the Philippine flag. When we saw the first photo, we thought it was just a hand-painted piece by a Tomica collector. But then we also laid eyes on a couple of pictures that showed official packaging for this die-cast toy car.
Apparently, Tomica has been releasing its "flag series" for Apita and Piago, which are supposedly Japanese general merchandise stores. The line has already released UK, Canada, Australia, Germany, Argentina, Brazil and Japan flags, as far as we know. Think of these as collaboration pieces, not unlike what Mattel regularly does for Target and Toys 'R' Us in the US.
Anyway, we don't know if this Philippine-flag Tomica Toyota 2000GT will ever make its way to our toy stores here, but we won't be surprised if we see some at specialty toy shops in Shoppesville (Greenhills). If you're a serious Tomica collector, you might want to check out eBay, but be prepared to spend more as this looks like a hot item (at least among Filipino collectors).
Good luck hunting!
Continue reading below ↓
Recommended Videos
Photos from Tacky Nakata