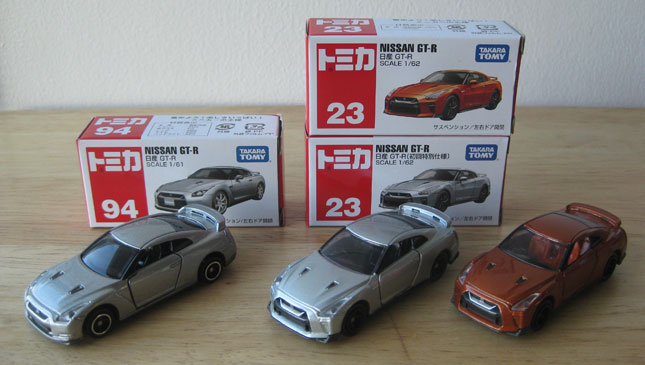 Last September, Tomica gave Toyota 86 fans a reason to smile with a replica of the refreshed car. Around the same time, the toymaker also revealed its new Nissan GT-R, set for release in Japan a month later. Perfect timing, as the latest model of the real thing arrived in our market around the same time.
Tomica first released replicas of the R35 GT-R in 2008 and re-issued it in 2014. That model only came in silver. The updated version also comes in silver as the limited color, plus orange as the regular one. The new toy also has a smaller scale, 1/61 compared to 1/62 for the previous release. The result? The new one looks slightly more elegant, and has a more aggressive and realistic stance, thanks to all-black wheels. Taking out the chrome lip made a big difference. Other notable changes include the new V-Motion grille, front bumper, fenders, rear bumper, spoiler, and body kit.
ADVERTISEMENT - CONTINUE READING BELOW ↓
With the current GT-R set to stay in the market until at least 2020, it's wise of Tomica to update the toy as well. After all, Godzilla always sells. Apart from the regular version in the past, a dealer's edition was also released, as well as one for Tomica Toy Dream Project and a couple of Tomica Event Model versions. Interesting to see what they have in store for this new one.
While the latest release is still available in some toy stores (retailing for P230), a source close to us said that stocks are all out at the distributor's warehouse. So if you want to score this replica, you better not wait too long. Most are drawn to the orange on orange interior, but we suggest you pay more attention to the silver on black. It's the one that that will have more value.