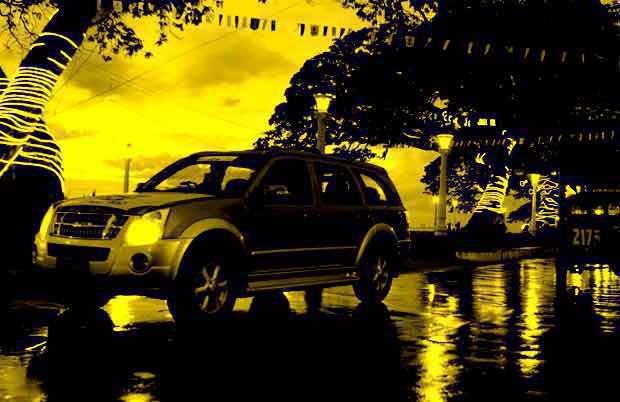 One of the best treats one can get on TV during Halloween was Magandang Gabi Bayan's special feature on the scariest places in the Philippines. With the show's demise, a void has been left come All Soul's Day as, like children sitting in front of a campfire, our longing for scary ghost stories were left unsatisfied.
ADVERTISEMENT - CONTINUE READING BELOW ↓
TopGear.com.ph can't provide scary visuals a la MGB but we've come up with a list of the five scariest places in the Philippines you can visit for a bloodcurdling road trip.
1. Balete Drive, Quezon City. This is perhaps one of the most well-known roads in the entire country. Balete Drive is so famous it even spawned a movie in the 1980s--Hiwaga sa Balete Drive--under Seiko Films with Zsa Zsa Padilla in the lead role. Urban legend has it a maiden took to haunting the road after she was raped and killed. One version blames Japanese soldiers during World War II and another on a nameless taxi driver in the 1950s. There may be other versions but the common denominator was that the "white lady," in a flowing white dress with a face obscured by her long black hair, often appeared either in the back seat of the car or in the middle of the road whenever a lone driver traversed Balete Drive at dawn. Aside from the "white lady," old, abandoned and decaying mansions complete with vine-draped wrought-iron gates and fences add to the creepy atmosphere in the New Manila area. Balete Drive is also known for lines of balete (banyan) trees which, according to folklore, shelter supernatural creatures--the perfect setting for a perfect fright night.
ADVERTISEMENT - CONTINUE READING BELOW ↓
ADVERTISEMENT - CONTINUE READING BELOW ↓
Recommended Videos
2. Manila Film Center, Pasay City. As the story goes, the Film Center was constructed by the Marcos government on the whim of the former First Lady Imelda Marcos, who fancied the Philippines as Asia's film industry hotspot. Fast-tracked to meet the opening of the first Manila International Film Festival in 1982, the hurried construction eventually took its toll as on the morning of November 17, 1981, a portion of the construction collapsed, entombing some 200 workers in the still-wet and setting concrete. The film center now serves as a "gay" theater show venue but stories of apparitions and unnatural sounds and wails coming from within the structure still sends chills down one's spine.
3. San Jose Village, Muntinlupa City. It's not unusual to hear about a specific spot or a lone stretch of road serving as a haunted location, but an entire village? Scary but true as the now-desensitized residents of San Jose still avoid traveling on certain roads within the village just to be safe. A "white lady" is known to hitch a free ride with the tricycles traveling down St. Bernadette Street past midnight, with her favorite spot supposedly being right behind the driver. Sometimes, a "red lady" roams the street and follows people walking late at night. On St. Clemence St., a different "white lady" with a seemingly angry disposition and whose hair seems to stand on its ends is said to roam at night. An apparition of a headless priest haunts St. Joseph St. while disembodied voices may be heard near a cave on St. Peter St. Capping off these ghostly presences is the appearance of a large black bird known in local folklore as a tiktik whenever there's a pregnant woman in the village.
ADVERTISEMENT - CONTINUE READING BELOW ↓
4. Baguio City. The old Diplomat Hotel located roughly a kilometer from Burnham Park is one of the most popular haunted places in Baguio. It served as a vacation house for the Dominican Order in the early 1900s and as a refugee camp where several priest and nuns were killed during the Japanese occupation. It's probably their restless souls often seen as headless apparitions in the area. Another known haunted location in Baguio is Teacher's Camp, which is said to be located on an ancient battlefield fought by native Igorot warriors. Their spirits are known to roam the area at nighttime. A "white lady" is also said to haunt the stretch of Loakan Road, specifically near the old, seemingly forgotten cemeteries. Truth is, driving down the dimly-lit, fog-shrouded road with tall, dark pine tress on one side and the ghostly white silhouette of tombstone crosses on the other is scary enough--and that's speaking from personal experience.
ADVERTISEMENT - CONTINUE READING BELOW ↓
5. Clark Field, Pampanga. Clark only recently became known as a "ghost-rich environment" thanks to the United States-based Ghost Hunters International's arrival in the country last February to visit the old hospital the American military forces. What prompted the American group's visit were reports of babies crying and women screaming as well as ghost sightings in the abandoned hospital. Other areas in Clark Field are also known to be haunted including the Clark Development Corp. compound, specifically near the press center building. A cellphone video camera even captured one ghostly apparition as it roamed around an office building within Clark Field. Known as the 'Ghost in Clark Field' video on YouTube, it has already garnered close to 200,000 thousand hits.