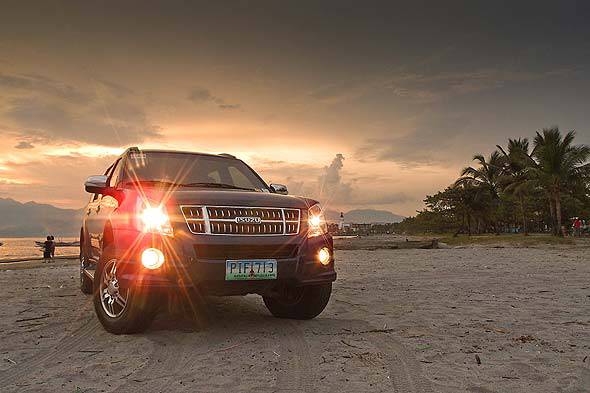 While this job can get pretty stressful at times, it is no secret it also gives us time to unwind while exploring the capabilities of different vehicles being offered in the market. One such opportunity came during Isuzu Philippines Corporation road-trip series with the Alterra.
I can imagine you shaking your head right now and getting ready to compose a comment to tell Isuzu about the vehicles you'd rather see in its showrooms or the "real" upgrades that should go with each model the Japanese carmaker offers. After all, the 2011 Isuzu Alterra still sports the same 3.0-liter engine that has been powering it for years. So what's new with the 2011 version? Front and rear chin spoilers and additional choices of new exterior colors.
But this particular drive with the Isuzu Alterra isn't just about the vehicle. Representatives from various media organizations were gathered by Isuzu to prove that more than just the metal, it's actually the journey that matters. For this series of road trips, Isuzu pick spots in Tagaytay, Batangas, Laguna, Quezon and Subic, the last being our ultimate destination in a day-long drive.
The journey
We hit the road early to avoid the maddening traffic Metro Manila has long been known for. Just before we get to the long and straight expressways to Subic, we drop by Caltex in Balintawak to ensure our Isuzu Alterra's tank is filled to the brim. We also visit Caltex Mini Mart to get essentials for the trip--bags and bags of potato chips, and chocolates.
Continue reading below ↓
Recommended Videos
As expected, the drive's smooth along the North Luzon Expressway and the Subic-Clark-Tarlac Expressway. Being behind the wheel, I feel the Alterra's engine release a grunt when I push toward the highway's speed limit. Our unit is a 4x4 Urban Cruiser, which allows us to enjoy the power of 144 horses.
Old as the Alterra may be in the Philippine market, the road trip proves that it remains to be a capable and responsive sport-ute. It brings us to our destination with no problem at all.
The food
Loading up on potato chips while on the road hardly affects our appetite for what awaits us are two of the best food destinations in Subic today.
For lunch, we head on to Segara Villas for exotic Asian cuisine. The dishes include fried Vietnamese spring rolls, beef rendang and chicken satay--which we all down with a refreshing glass of pandan iced tea.
We go west for dinner with slabs of steak and spicy chicken wings at Texas Joe's House of Ribs. To say we were stuffed for the entire day is an understatement.
The experience
Besides the food, non-driving activities are, of course, necessary in spicing up any out-of-town travel.
One such activity chosen for the Subic leg of Isuzu Alterra's road-trip series is sailing. This isn't entirely a new experience as I've gone sailing back when Friendster was still hip. I mention this because remember proudly posting our group photo taken while we were sitting on the sides of the boat.
This time, however, I do more than just lounge and watch the waves. We enjoy the opportunity of learning the most basic terms we need to remember when steering a boat--bow and stern, starboard and port. Our guide tells me to keep the bow (front end of the boat) pointing toward the lighthouse. It's not an easy task. Quite frankly, sailing on a vast ocean without being exactly sure where to go makes one miss traffic lights, street signs and road markings.
The detour
The post-lunch activity involves a luxurious massage at Ritz Tropical Spa. Like other spas that have sprouted in Subic throughout the years, it offers Swedish and Shiatsu massages to its customers. It also offers exotic pampering regimens like the Chinese traditional foot reflex while soaked in herbal tea and the Honey Body Glow body treatment.
This relaxing activity is something I skip. My childhood hometown was just a few kilometers away and the trip presented an opportunity to take the Alterra farther north.
The short sidetrip I take shows me how much our little town of Subic has commercially evolved since the last time I was there. A fast-food restaurant now occupies the area where our old neighborhood bakery used to stand. The town plaza where I used to run around with my playmates has been renovated to accommodate more government buildings.
I also visit our school to secure documents I need for personal reasons. There, I see the building where our third-year classroom used to be has now been demolished to give way to a new one. A roof now fully covers the basketball court where we used to suffer the scorching heat of the sun during flag ceremony.
As my trip is very brief, relatives who are still staying in Subic come to where I am parked to say hi. I also get a chance to greet some old friends who just happen to be passing by.
Overall, it's an awesome experience. And more than just the excitement of sailing and the delights of eating, it's this impromptu detour during the journey that makes my Alterra drive to Subic matter even more.
Photos by Mikko David and Isuzu Philippines
[gallery]1110[gallery]