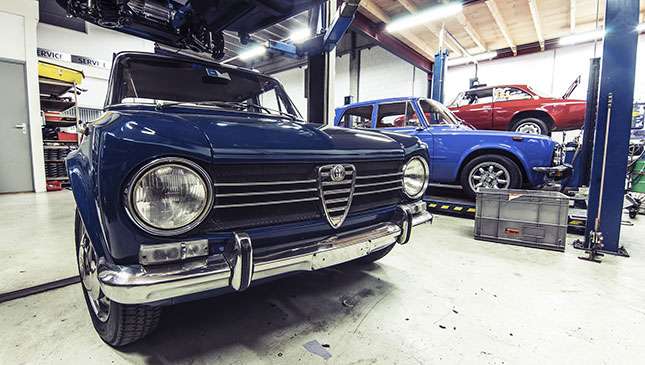 There are many reasons one would want to get into the business of fixing cars. You could be a car enthusiast who dreams of owning a high-end custom auto garage, or you could be someone looking to open a service shop simply for good business. Whichever side of the fence you're on, these are some of the things that you need to consider:
ADVERTISEMENT - CONTINUE READING BELOW ↓
* How much cash is in your wallet?
They say it takes money to make money, and this holds true for any automotive business venture as well. You can start with as little as a several thousand pesos worth of basic tools to enable you to do automotive repair and maintenance jobs as a self-employed owner/mechanic--if you've got the know-how for it, of course.
Tools would include a floor jack or two, jack stands, a collection of open, box, socket and torque wrenches, catch basins, some simple diagnostic tools, as well as other basic hand tools. A budget of P15,000-P20,000 will be enough to get you rolling.
If you prefer to be a business owner, multiply the above equipment cost by the number of automotive technicians you want to have in your shop.
Scaling things up a little further, you'll also want a lift or two, maybe more depending on how many work bays your facility will have. Having a lift will reduce repeated task-related stress on your staff, enabling them to do their jobs faster and better. A new lift is going to be in the neighborhood of P150,000.
ADVERTISEMENT - CONTINUE READING BELOW ↓
Recommended Videos
A wheel alignment machine is also a good investment as many common undercarriage repair works will require this and camber correction afterwards. It will require a much more significant cash outlay, which can reach seven figures.
* Location, location, location.
Your target market is going to be as important as your physical address. If you prefer to serve a broader market, or an all-makes and -models client base, a high-visibility location with easy access is a must. On the other hand, if you serve a niche market, any reasonably convenient location that fits the space requirements of your shop will do.
* Knowledge is power.
If the path you take is that of the self-employed craftsman, then you should already know your trade. If you don't, a little time at technical schools such as MFI Foundation or Don Bosco for a TESDA-accredited automotive course or two is in order. Several hundred to a few thousand hours of working experience will help, too.
ADVERTISEMENT - CONTINUE READING BELOW ↓
Going the business-owner route, you can forego both if you've got pockets deep enough to employ a qualified shop supervisor. However, knowing the ins and outs is preferred even if you don't necessarily get grease under your fingernails.
* It's not all under the hood.
The success of your automotive venture doesn't all happen under the hood. A good part of it relies on treating your customers right by providing high value, quality work. Keep your clients happy and always encourage them to bring others along.
Be aware that it's not always going to be all sunshine and blue skies when you venture into any business. When the dark clouds loom, it is your passion and dedication for the craft that will keep you going and allow you to weather the storm.