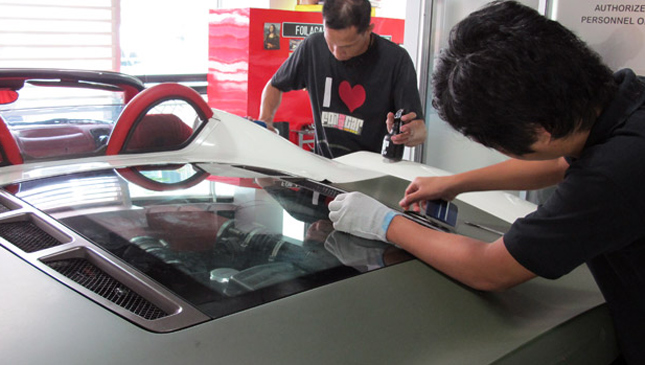 They can be loud, or they can be subdued. We are talking about vinyl vehicle wraps or protective films. This product is pretty much the norm nowadays. Just a few years ago it was a service reserved for people with cash burning holes in their pockets. But now, it is fairly common. You can get wraps with crazy designs, matte surfaces, or even good-old clear. You can choose to have the entire car wrapped, or just select surfaces that are prone to stone chips and door-ding damage. You are only limited by your budget and imagination.
Continue reading below ↓
Recommended Videos
Naturally, a full-body wrap is a more involved process. The headlights, taillights, door handles, emblems, side mirrors, and other exterior trim pieces need to be removed carefully and then put back on after the wrap is installed.
With this kind of extensive work, the question is: "Can I do a full-body wrap even if I am still paying off the loan on my brand-new car?"
According to Rodjie Calica, service manager of Mitsubishi Motorplaza Baguio City, it is no problem at all. He says that getting a wrap is is okay with the banks, because that doesn't concern them at all. The bank is only about the money matters (financing and chattel mortgage) attached to your ride.
When it comes to the actual vehicle, then it is the dealership you need to consult. So, will a vinyl wrap void a car's warranty? Rodjie tells us: "No, not at all. A vinyl wrap actually protects your car's paint, and it is removable. But having it done by an unprofessional installer will likely damage the paint since vinyl wrapping requires precise cutting for it to be installed properly. An amateur may leave rough edges on panels and curves, and may scratch the finish of the paint. You should consider having it done by a professional and have a premium vinyl brand installed."
However, do note that any damages done by improper installation is not covered by the warranty. It also advised not too keep a wrap on for more than a few years, because removing it from plastic parts like bumpers can lead to slight damage.
Now that you know, does doing a vinyl wrap seem more enticing?