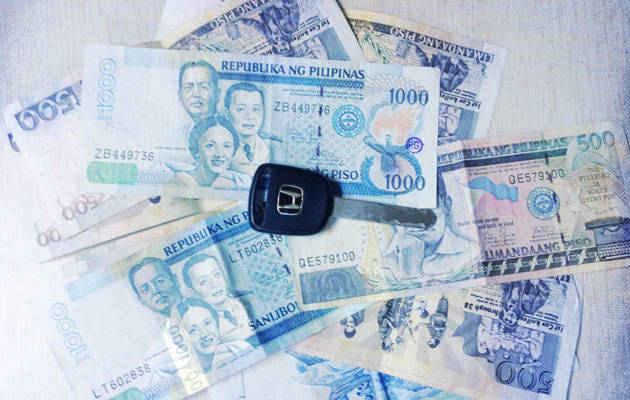 One of the big drivers behind the growth in sales in the automotive industry is easy credit. Banks are lending out money more readily, with flexible terms and payments. Of course, for the first-time buyer, navigating the maze of financial instruments for in-house dealership financing, bank financing and whatnot can be a daunting task.
Let's try to break it down to the last peso.
While some dealers have their own financing arm, most "in-house" financing is done through a partner bank. "In-house" financing ensures fast approval and easy processing, as well as free registration and chattel mortgage and insurance. Sometimes you get promos like low-down-payment schemes, zero-percent interest (typically for one-year periods only), and straight monetary discounts.
But the dealer still needs to make money. Thus, "in-house" financing often costs 4-5% more than bank financing. While the free insurance, chattel mortgage and registration package for our sample case is worth about P32,000, you're spending more than that in interest.
Borrowing directly from the bank always gives you better rates. Most banks require a minimum of P40,000 in household income to acquire an auto loan. This minimum is sometimes waived for the benefit of first-time car buyers, who may not be making much. So let's limit our purchase to something cheap, like a Mitsubishi Mirage.
Continue reading below ↓
Recommended Videos
A monthly payment of under P10,000 should get us through loan approval even with a relatively low salary. So, let's pick terms that will get us there. We can also knock a few percentage points off by paying a one-month advance. Given how much we're spending, this makes a lot of sense.
We don't have space to include all the banks offering auto loans. So we'll just show here the best rates at the moment, compared to average rates. Let's look at a five-year loan with the minimum down payment acceptable, which is 20%.

Metrobank and Chinabank had lower rates earlier this year, at 25% to 26% over five years, but those promos ended in June. Going by the lowest bank rates available at this time, we can save over P60,000 by going straight to the bank. Banks typically don't cover insurance and registration, but it may be possible to negotiate for those from your dealership, or to get them via promos.
But we're still paying over P100,000 in interest. To lessen that, let's look at shorter terms, to limit add-on interest. Let's look at the three-year loan table:

Now, that's much better. You're only paying P62,000 in interest, going by the lowest rates, but this scheme now has a monthly payment of nearly P13,000. As we're making less than P40,000 a month, that's a big hit on our budget.
One solution is to go for a higher down payment. Perhaps you have an old car you can sell, or perhaps you can wait a few more months and save up an extra P150,000. Ideally, you should pay straight cash, as long as you're not using it for business, but first-time buyers usually don't have that much money, and they'll need to keep some in the bank for emergencies. If we stretch it, maybe we can make a 50% down payment. Let's see where that gets us.
Now we only have to pay P8,000 a month over three years or just P5,000 a month over five years. Either term would make loan approval easier and payment less painful. Again, as first-time buyers may not be making P40,000 a month, every little bit counts.
Mind you, banks specify household income instead of salary, so you can count your wife's or your parents' income (or both if you still live with the latter). And if you or your family already has a long-standing relationship with the bank, you can get faster approval and negotiate even lower rates. Don't expect huge discounts, but if you're an important client, getting add-on rates of around 4% per annum isn't far-fetched. Even if your personal bank isn't as cheap as the market leaders, it pays to take advantage of that relationship.
It can't hurt to try. It's best to bring data and amortization tables from other banks, and at the very least, you can get them to match the lowest outside rates.
Don't underestimate the importance of promos, but be warned: You've got to crack the numbers to figure out if they're worth it. While promos like "P49K all-in!" sound great, these are often bundled with high monthly payments--payments so high that just a few months' worth could cover a 50% down payment. You don't want to be that guy desperately trying to sell a one-year old car with a P20,000 monthly payment attached to it.
On the other hand, if you don't mind buying secondhand, you can find some sweet deals on nearly-new cars at the bank foreclosure lots. Cars purchased by buyers who didn't do their homework and defaulted on their loans. Even better, you can inquire about bank financing on the spot.
Just be careful. If the buyers were careless about financing, they could have been careless about other things, too. But for the smart buyer, one man's folly is another man's Fortuner.
Happy hunting!
UPDATE as of June 11, 2018: Buying a brand-new car is no easy task. Forking over the down payment and committing to a monthly installment for a few years is a big step, and one that shouldn't be taken lightly. Luckily, getting a car is actually affordable for most budgets right now. Here we've compiled a list of the best cars you can get for P10,000 or less a month. Each loan runs for five years and has a 10% downpayment agreement. If you're able to set aside around P13,000 a month for your vehicle, you'll already have a number of quality options available to you. With that in mind, we've compiled a short list of cars from a variety of segments which you can pay at more or less this rate over a span of five years. We've set the downpayment at 10% using a loan calculator.